The Mediterranean region has long captured the hearts of travelers, offering a mesmerizing blend of sun-kissed coastlines, rich cultural heritage and enchanting island vacations. With a plethora of charming islands dotting its azure waters, the Mediterranean offers a dream destination for every wanderer.
From the idyllic white sand beaches and thrilling watersports to historic ruins and delectable cuisine, there's something for everyone to explore. Let's dive into nine of the best Mediterranean islands that deserve a spot on your bucket list. Pack your bags and prepare for a journey through the best islands this enchanting region offers - courtesy of our partners at Windstar.
1. Santorini, Greece
With its iconic blue-domed churches and white buildings perched on cliffs overlooking the caldera, Santorini is undoubtedly one of the most picturesque islands in the Mediterranean. It's renowned for its stunning sunsets, volcanic beaches and ancient ruins, making it a dream destination for every traveler. Let's look at some of Santorini's best features.
Most Beautiful Beaches to See
You'll definitely want to explore the sunny shores of Santorini:
Kamari beach: A volcanic black sand beach with crystal-clear waters and a vibrant atmosphere.
Red beach: Known for its unique red cliffs and pebbles, Red beach offers a dramatic backdrop for relaxation.
Best Places to Visit
If you're going to Santorini, be sure to make a journey to these two places:
Oia village: A picturesque town known for its iconic blue-domed churches and stunning sunsets.
Ancient Akrotiri: Explore the well-preserved ruins of an ancient Minoan city buried under volcanic ash.
Popular Dishes to Taste
The Greeks are known for their exquisite food — here are two of our favorite treats:
Souvlaki: Grilled skewers of succulent meat served with pita bread and tzatziki sauce.
Fava: A local specialty made from yellow split peas and garnished with onions and olive oil.
One Thing Not to Miss
Enjoy a sunset cruise on a traditional wooden boat to witness the island's beauty bathed in golden hues.
---
2. Corsica, France

Corsica, known as the "Isle of Beauty," captivates with its rugged mountains, pristine white sand beaches and charming coastal towns. Corsica is a part of France, but some visitors assume it is part of Italy because of its closeness to Sardinia. The island's natural splendor offers outdoor enthusiasts and beach lovers a playground.
Most Beautiful Beaches to See
Don't miss out on these two stunning white-sand beaches:
Palombaggia: Renowned for its turquoise waters and fine white sand, Palombaggia is framed by pine trees and is a beautiful spot to visit.
Beach Rondinara: This crescent-shaped bay has shallow, crystal-clear waters.
Best Places to Visit
Make sure to stop by these places in Corsica:
Citadel of Calvi: Explore the ancient fortress overlooking the charming town of Calvi.
Scandola Nature Reserve: Visit this UNESCO World Heritage site to see stunning red cliffs and diverse marine life.
Delicious Dishes to Taste
Even though Corsica is in France, it is richly influenced by Italian culture. Here are two unique Corsican dishes:
Cassoulet Corse: A hearty Corsican variation of the French cassoulet featuring white beans, Figatellu sausage and slow-cooked pork or lamb in a rich tomato and herb sauce.
Fiadone: A traditional Corsican cheesecake made with brocciu cheese, eggs, sugar and lemon zest, creating a delightful balance of sweetness and tanginess.
One Thing Not to Miss
Hike the challenging but rewarding GR20, one of Europe's most famous long-distance trails, to see Corsica's rugged beauty.
---
3. Sardinia, Italy
Sardinia, the second-largest island in the Mediterranean, lures travelers with its pristine beaches, rugged landscapes and ancient ruins. Known for its turquoise waters, impressive granite cliffs and unique cultural heritage, Sardinia offers a captivating blend of natural beauty and historical treasures.
Most Beautiful Beaches to See
Let's take a look at two of the best beaches in Sardinia:
Spiaggia La Pelosa: A paradise-like beach with white sand and clear, shallow waters, perfect for swimming and sunbathing.
Costa Smeralda: A glamorous stretch of coastline with stunning coves and upscale resorts, attracting celebrities and jet-setters.
Best Places to Visit
Sardinia is filled with stunning sites to see. Here are two of the top-rated places to explore:
Su Nuraxi di Barumini: Explore this UNESCO World Heritage site, an ancient Nuragic complex dating back to the Bronze Age.
Cagliari's Historic Center: Wander through Sardinia's capital city's charming alleys and historic landmarks.
Popular Dishes to Taste
Italians are known for their flavorful dishes, made with passion and heart. Tickle your taste buds with these two favorites:
Porceddu: Suckling pig slowly roasted over an open fire, seasoned with aromatic herbs and myrtle leaves.
Malloreddus: Small ridged pasta shells served with a hearty saffron-infused meat sauce, a regional favorite.
One Thing Not to Miss
Sail to the Maddalena Archipelago: Discover this protected marine park's breathtaking islands and crystalline waters, ideal for snorkeling and exploring hidden coves.
---
4. Corfu, Greece
Corfu, known as Kerkyra, is a captivating Greek island in the Ionian Sea. With its lush green hills, olive groves and pristine beaches, Corfu boasts a diverse and picturesque landscape. Its charming capital, Corfu Town — also a UNESCO World Heritage Site — beckons visitors with its Venetian-inspired architecture, narrow streets and vibrant atmosphere.
The island's history comes to life through landmarks like the Achilleion Palace, while its coastline offers an array of beautiful beaches, including Paleokastritsa Beach and Glyfada Beach. Corfu's culinary delights and warm hospitality make it a Mediterranean destination to be noticed.
Most Beautiful Beaches to Visit
Corfu has some of the best beaches in Greece. Take a look at these two gems:
Paleokastritsa beach: A picturesque bay with crystal-clear waters and lush green surroundings.
Glyfada beach: A stunning sandy beach with shallow waters.
Best Places to Visit
Full of history and life, Corfu boasts some very unique sites. Here are two of the most popular places to visit:
Old Town of Corfu: Explore the UNESCO-listed historic center with its charming alleys and Venetian architecture.
Achilleion Palace: Visit the opulent palace built for Empress Elisabeth of Austria, offering beautiful gardens and panoramic views.
Popular Dishes to Taste
Corfiot food boosts Greek food to a higher level. Here are the top-rated dishes to try:
Pastitsada: A traditional Corfiot dish with beef or rooster cooked in a spicy tomato sauce, often served with pasta.
Sofrito: A savory dish with thinly sliced veal cooked in garlic, white wine and vinegar.
One Thing Not to Miss
Take a boat tour to the stunning Paxos and Antipaxos islands, known for their turquoise waters and sea caves.
---
5. Argostoli, Kefalonia, Greece
Argostoli, the capital of the picturesque island of Kefalonia, welcomes visitors with its charming waterfront, quaint squares and vibrant markets. The island's natural beauty, with its rugged cliffs, lush valleys and crystal-clear waters, makes it a haven for nature lovers and adventurers.
Most Beautiful Beaches to Visit

Argostoli offers some of the most breathtaking beach sights, from yellow sand to mountainous surroundings. Be sure to venture to these two shorelines:
Makris Gialos Beach: A lively beach with golden sand and turquoise waters, ideal for beach sports.
Myrtos Beach: An iconic beach known for its dramatic cliffs and stunning blue waters.
Best Places to Visit
Argostoli is a bustling and thriving place and has two very exceptional places not to pass by:
St. George's Castle: Explore the ruins of an ancient fortress and enjoy panoramic views of the town and the sea.
Melissani Cave: Take a boat tour to the underground lake with dazzling blue waters to have a magical experience.
Popular Dishes to Taste
If you love Greek food, be sure to try these two dishes:
Kreatopita: A savory meat pie filled with minced beef or pork, onions and herbs, baked in a flaky pastry.
Robola wine: Savor the locally produced wine, particularly the Robola variety, unique to Kefalonia.
One Thing Not to Miss
Observe the loggerhead sea turtles at Koutavos Lagoon, a protected area that serves as their natural habitat.
---
6. Funchal, Portugal
Funchal, the vibrant capital of Madeira Island — a city in Portugal — captivates visitors with its stunning natural scenery, historic charm and delightful gardens. Set against impressive mountains, the city perfectly blends cultural experiences and outdoor adventures.
Most Beautiful Beaches to See
If you want to experience beaches that stray from the white sand and crystal clear waters, Funchal offers some exciting places to visit. These two beaches are favorites among visitors:
Praia Formosa: Pebble beaches with beautiful views and a lively promenade.
Calhau da Lapa: A natural lava rock pool with crystal-clear waters, perfect for swimming and sunbathing.
Best Places to Visit
Here are two contrasting and beautiful places not to miss in Funchal:
Monte Palace Tropical Garden: Wander through these lush gardens to see a diverse collection of exotic plants and sculptures.
Sé Cathedral: Visit the impressive 15th-century cathedral, an excellent example of Gothic architecture.
Popular Dishes to Taste
Most people are familiar with the spicy flavors of Portuguese dishes, and even though they are famous all around the world, these two dishes are must-try while visiting Funchal:
Espetada: Skewered meat marinated with garlic and herbs, grilled over an open fire and served with fried cornmeal.
Bolo de mel: A traditional honey cake with dried fruits and spices, often served during festive occasions.
One Thing Not to Miss
Take a cable car ride to Monte and enjoy a thrilling toboggan ride back down to the city, a Madeiran tradition.
---
7. Patmos, Greece
Patmos, a sacred and serene island in the Aegean Sea, is known as the "Jerusalem of the Aegean." With its spiritual significance and tranquil ambiance, Patmos attracts pilgrims and travelers seeking a peaceful escape.
Most Beautiful Beaches to See
Patmos is a quiet Mediterranean island to visit. With that in mind, here are two of the most beautiful beaches on the island:
Psili Ammos beach: A beautiful sandy beach with clear waters, offering a serene setting for relaxation.
Lambi Beach: A picturesque pebble beach with shallow waters, ideal for families.
Best Sites to Visit
While in Patmos, make sure to stop at these sites:
Cave of the Apocalypse: Visit the sacred cave where Saint John the Divine received his divine revelation, now an important Christian pilgrimage site.
Monastery of Saint John the Theologian: Explore this UNESCO World Heritage site, a stunning example of Byzantine architecture.
Popular Dishes to Taste
Taste these dishes during your stay in Patmos:
Revithada: A traditional chickpea stew cooked with onions, tomatoes and herbs, often served on Mondays.
Patmian cheese: A local cheese made from goat or sheep milk, known for its distinct flavor.
One Thing Not to Miss
Watch the sunrise from the top of Mount Profitis Ilias, the highest point on the island, to see panoramic views of Patmos and the surrounding islands.
---
8. Canary Islands, Spain
The Canary Islands, an archipelago off the northwest coast of Africa, enchant with their diverse landscapes, mild climate and unique flora and fauna. Each of the eight islands offers a distinct character and a wide range of visitor activities.
Most Beautiful Beaches to See
The Canary Islands are very popular, and you can truly escape reality when visiting. Be sure to venture to these two famous beaches:
Playa de Las Canteras: A lively urban beach in Las Palmas de Gran Canaria, perfect for sunbathing and watersports.
Playa de Papagayo: A series of pristine beaches with clear waters and golden sand, accessible by foot or boat.
Best Places to Visit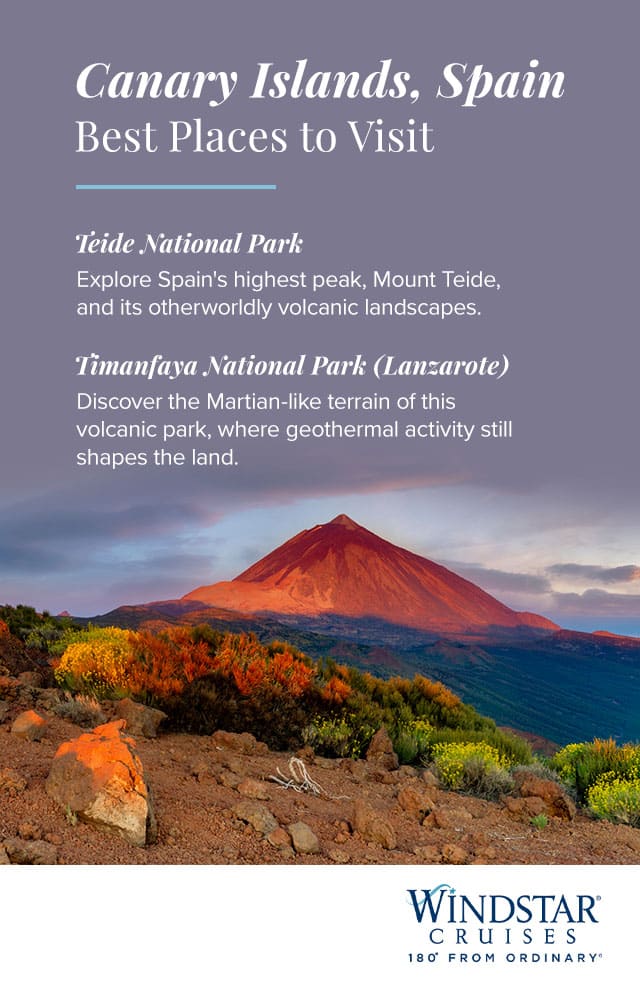 Each island has majestic sites to see with mind-blowing landscapes to explore. Here are two of our top selections:
Teide National Park: Explore Spain's highest peak, Mount Teide, and its otherworldly volcanic landscapes.
Timanfaya National Park (Lanzarote): Discover the Martian-like terrain of this volcanic park, where geothermal activity still shapes the land.
Popular Dishes to Taste
Canarian food is simple and delicious. The Canary Islands offer a fusion of Spanish cuisine and North African dishes. Let's take a look at two of the tastiest treats to try:
Papas Arrugadas: Small, salty potatoes boiled in seawater until their skin wrinkles, typically served with mojo sauces.
Gofio: A roasted corn or wheat flour often used in soups, desserts and savory dishes.
One Thing Not to Miss
The Roque de los Muchachos Observatory is one of the best places in the world for astronomical observations.
---
9. Palma, Spain
Palma, the vibrant capital of Mallorca, is a cosmopolitan city with a rich history, splendid architecture and a lively waterfront. The city blends modernity with tradition, offering a delightful mix of cultural experiences and leisure activities.
Most Beautiful Beaches to See
Picture stretches of yellow glistening beaches and light blue waters. Palma is a fun and exciting place to visit and especially to enjoy these two beaches:
Playa de Palma:

A lively beach with a long promenade, perfect for watersports and beachfront dining.
Cala Mayor:

A popular beach with fine sand and calm waters, ideal for families and sunbathing.
Best Sites to Visit
With Palma being a dynamic place full of energy, it's great to take some time to visit serene settings like the two listed below:
Palma Cathedral:

A stunning Gothic cathedral overlooking the Mediterranean Sea.
Bellver Castle:

Visit the unique circular castle offering panoramic views of the city and the bay.
Popular Dishes to Taste
Palma offers fresh local recipes and an array of ingredients. Local restaurants love to take a unique spin on traditional dishes, and the two listed below are extremely popular among visitors and locals alike:
Sobrasada:

A soft, spreadable chorizo sausage, often served on bread and topped with honey.
Ensaimada:

A sweet pastry filled with cream, chocolate or other fillings, a favorite local treat.
One Thing Not to Miss
Explore the charming Old Town of Palma to see a labyrinth of cobbled streets, historic buildings and quaint squares.
Take Your Pick of the Best Islands
The Mediterranean is a treasure trove of idyllic islands, each offering a unique blend of history, culture and natural beauty. Whether you seek relaxation, adventure, history or delicious cuisine, these Mediterranean islands are sure to captivate your heart and leave you with cherished memories to last a lifetime.
Let our advisors help plan your perfect Windstar voyage in the Mediterranean: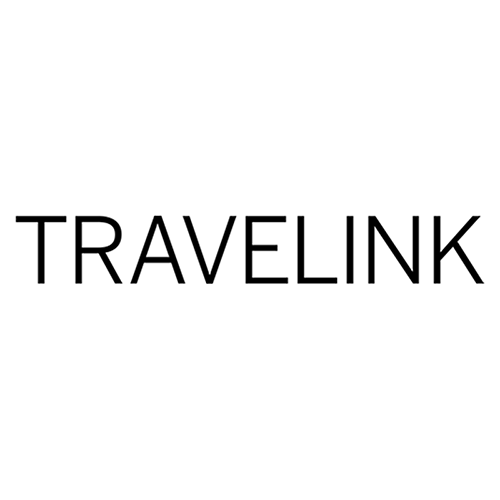 About the author
TRAVELINK
Headquartered in Nashville Tennessee, we operate nationally with a combination of boutique business call centers, vacation travel retail locations, a groups & meetings travel business operations center, as well as our host of experienced virtual travel advisors.
Topics: New, Cruises, Luxury, Travel Tips