Last September, I flew to the Pacific Northwest for an adventure at the Chilko Experience Wilderness Resort, a privately-owned escape deep in the heart of the stunning Chilcotin region of British Columbia, Canada. The six custom-built, luxury log homes are tucked away in the pines surrounding the pure, azure waters of Canada's largest alpine lake. This vast lake, formed by glaciers, has water so pure you can actually drink it directly from the source. The glacial waters also stream into Chilko River, famous for fly fishing, white water rafting, and its grizzly bear population. The Chilko Experience is an unparalleled luxury accommodation allowing the guests to have an intimate wilderness adventure, reconnecting with nature, and leaving behind the mental stress of everyday life. I am always in search of memorable and unique experiences for my customers, so read on to learn more about what you might expect of your own Chilko Experience.
Hello Grizzly Bear!
My journey to Chilko began at 9am in Vancouver from the FBO, a Signature Air Charter Terminal. The group consisted of just six guests on a comfortable nine-passenger charter plane flying over some of the most beautiful wilderness country in North America. Upon landing we were met by Phil Huston, owner of the resort, and his guide, Brad. They loaded our luggage in their vehicles and we drove 75-minutes to Chilko Lodge. Surprisingly, these remote roads were easy to navigate and provided no issues the entire drive.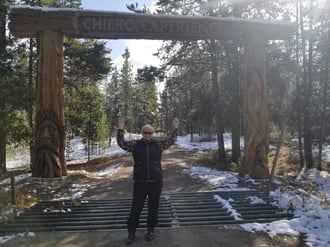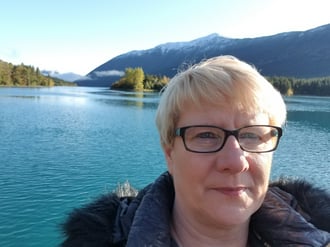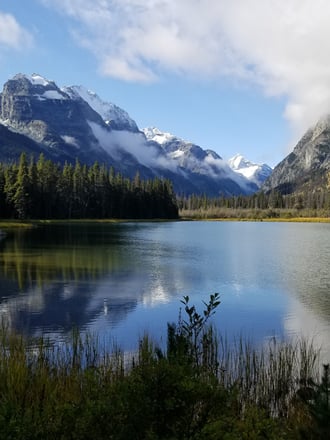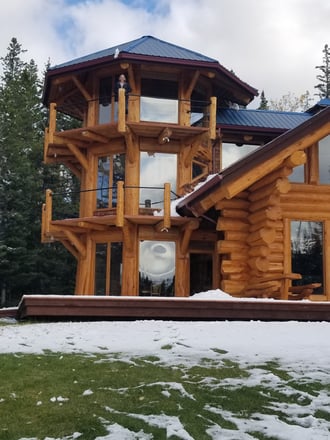 Upon arrival at the luxury lodges, we met the rest of the staff including Phil's wonderful wife, Anne, and Chef George, who had lunch waiting for us. The lodge itself has a welcoming cedar smell, with tall windows providing the sense of bringing the wilderness inside. Lunch was an amazing feast of pancakes, scrambled eggs with bacon, varietal sandwiches, and chili along with homemade cakes and cookies, all freshly prepared.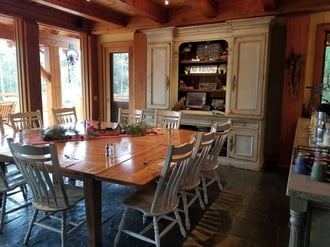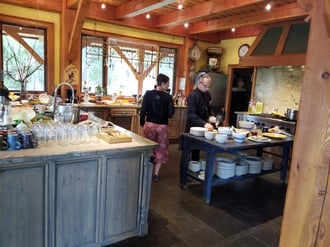 Refreshed from lunch and settled into the resort, we then took trucks down to the lake and board an open canopy boat in search of grizzly bears. September and October are primetime for spotting grizzlies as it is salmon season in the area. It didn't take long for Carly and Brad (our guides and a lovely couple from England) to spot a mother bear with her two cubs. We follow the grizzly family upstream for a while and then amazingly, on the other side of the lake, we spot a large male grizzly! Our guides allow plenty of time for us to take photos and then return to the dock when we are ready to head inside and warm up.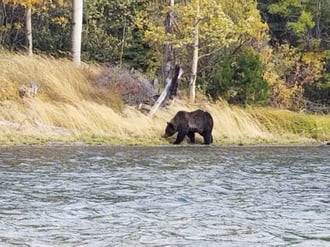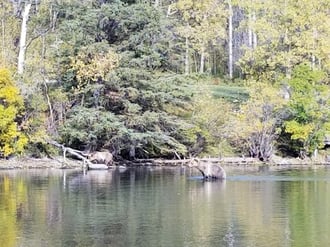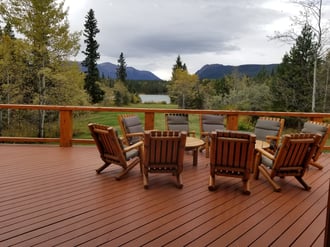 For dinner, we devour tasty noodles with veggies as an appetizer, followed by a fresh salad from their greenhouse. The main course is a butternut squash-filled ravioli with alfredo sauce. We finish with a delicious home-baked brownie cake in buttercream sauce and fresh fruit. The owners and staff ate with their guests, which made us feel part of one large family. A full day of traveling, fresh air, and exciting new experiences has tucked away in our luxurious cabins by 9pm for a deep, peaceful slumber.
Meeting Chendi
Waking refreshed and ready for a big day, we enjoy breakfast at 7:30 am, then set off on an hour and a half boat ride to the South beach on Chilko Lake for our first stop: Muir Lake. Hiking 15 minutes up uneven terrain to the lake, we discover beautiful views and an epic panorama. From here, we venture to the south end of the lake, stopping on a small sand beach to enjoy a Canadian beer, sandwich, and chocolate bars.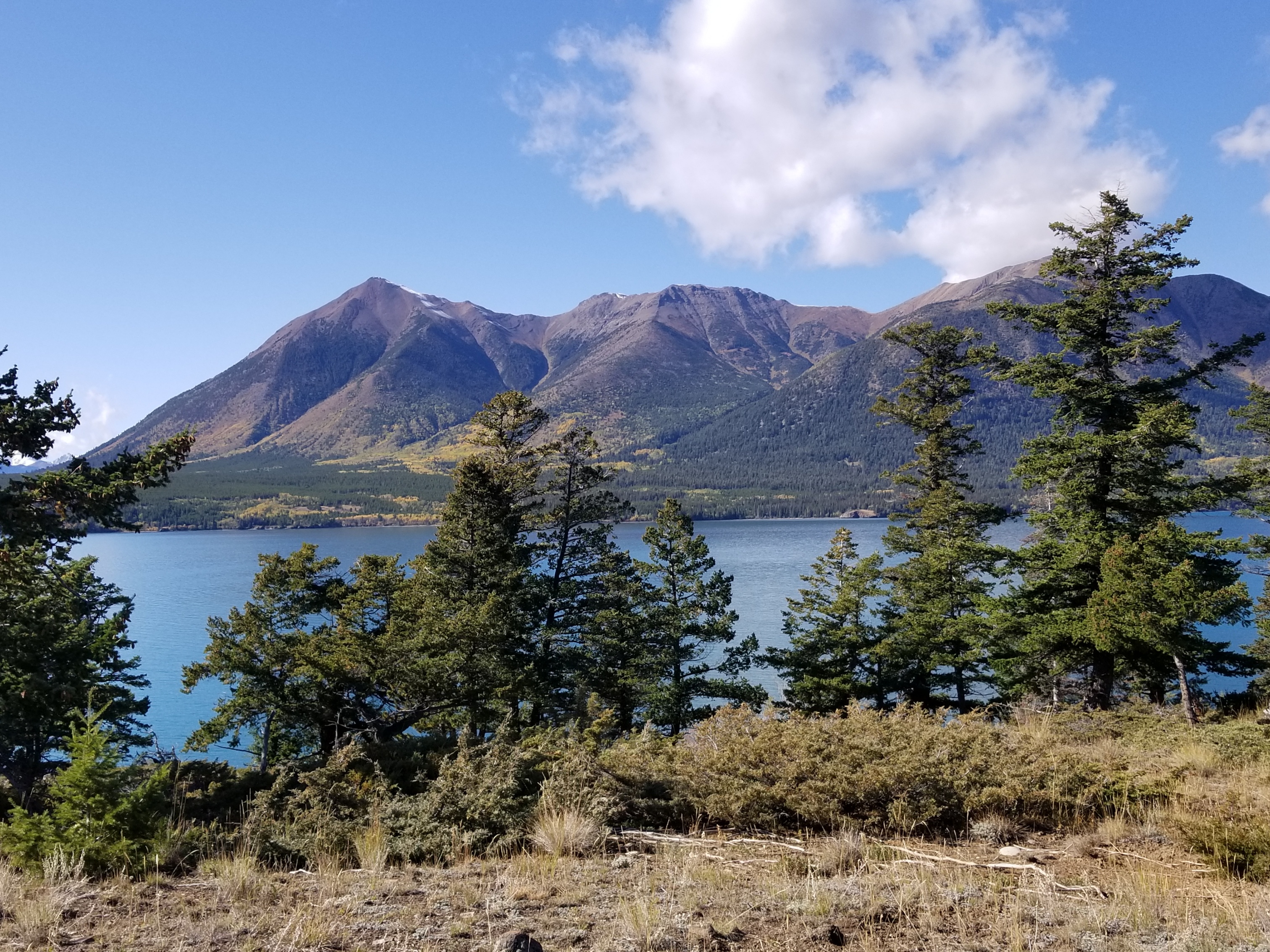 Our next stop is a special encounter with Chendi, one of the most intriguing people I have ever met. I would say he has Bear Grylls' (Man vs Wild TV show) survival skills and Gandhi's persona. Chendi has lived the past 47 years in a self-built cabin on the edge of Chilko Lake. He is 72 years old, does not wear shoes, is a yoga master, and has an incredible organic garden producing almost all of the food he needs. He does not consume sugar, salt, or alcohol. He is a master woodworker who makes museum-quality spoons from exotic woods. Touring his self-sufficient land was an amazing experience. I bought two homemade spoons from him and enjoyed great conversations during our visit. He invited us to stay for dinner, but around 4:30 pm we hike back to our boat for a quick ride back to the Chilko resort where Chef George has our made-from-scratch cheese pizzas hot and ready. We also enjoy creamy parsnip and potato soup, then the main course of baked salmon with scalloped potatoes and fresh vegetables. The finale is a fresh cheesecake with fruit sauce which perfectly completes our very full day.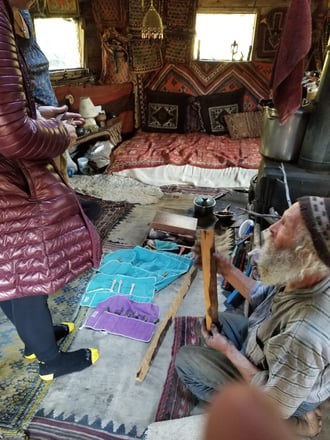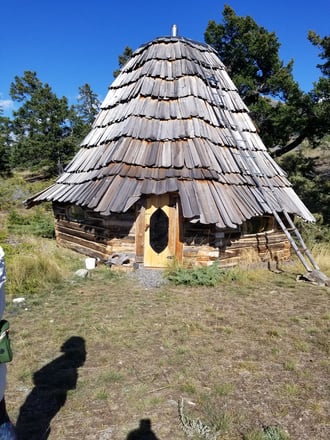 A Beautiful Snow Day
We sleep in a bit the next morning, but awaken to a winter wonderland. Overnight, and throughout the day, it snows a total of 12 inches! A small group of guests decide to go on a short three-and-a-half-mile hike, but I prefer to stay behind and spend the morning with Chef George in the kitchen. He and I converse and cook all morning, as he generously shares his kitchen and cooking secrets. Chef G allows me to help him make lunch, which consists of handcut French fries with grilled ham, turkey, and Havarti cheese sandwiches.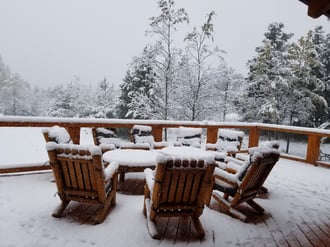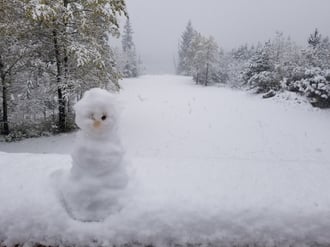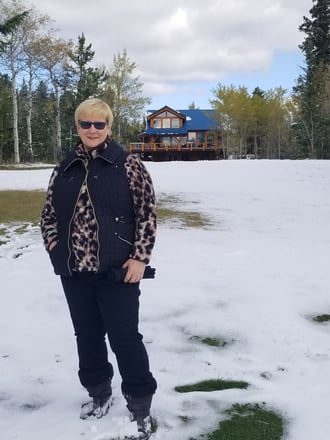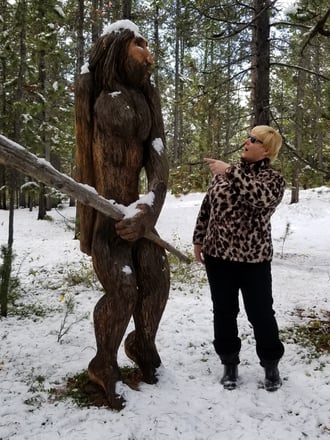 Later in the day, our entire group takes a short trip to the Chilko Valley Lodge, owned by a former hockey player from Bern, Switzerland who goes by the name "Hausi". He has a little bar on the property open to the public, so we decide to imbibe and learn a more about our charming host for the evening. I enjoy a great conversation with two other guests, Pam and Maury, who are wildlife photographers and come to this area every fall to photograph the grizzlies. They have become quite acquainted with several of the bears over the years, which they photograph year after year, watching them grow.
Until Next Time
On my final day, half of our group goes horseback riding, while the other half stays behind. I choose to join a friend on a two-and-a-half-hour ATV ride across an abandoned property, where we were briefly stop to peek into the old buildings and soak up our surroundings. Everywhere you look, the scenery is simply stunning.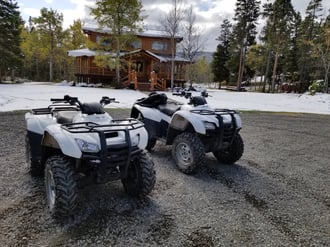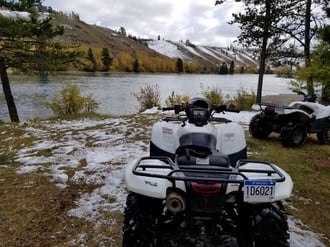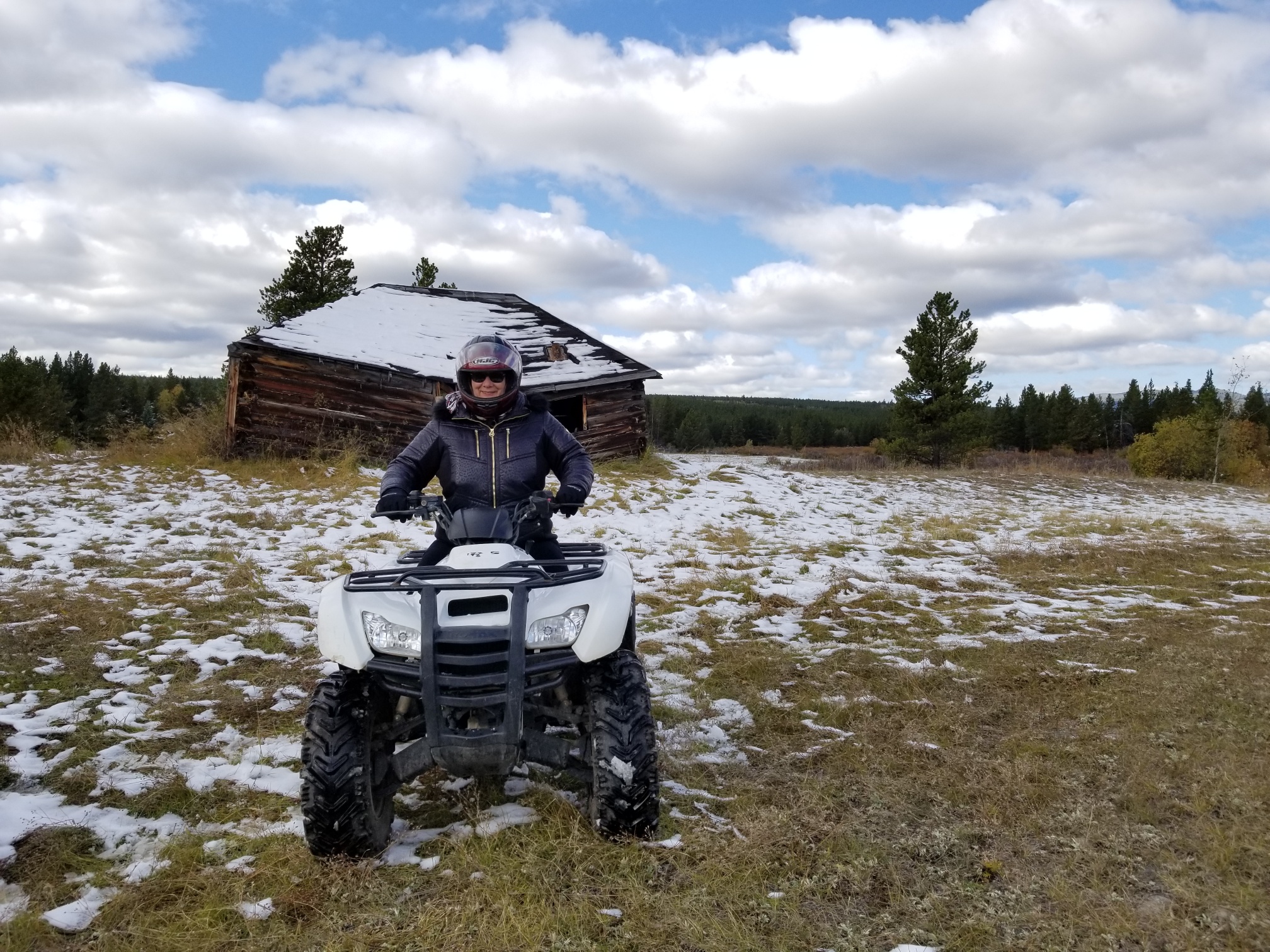 Returning to Chilco, we relax in the main lodge for a while before Phil takes us to see the bears one last time. We spot a guide with two ladies, intensely looking into their cameras. We walk down to them and discover they are shooting footage of the golden-colored, female Grizzly they call "Goldie" with her two-year-old cub. We watch patiently and after about 15 minutes, Goldie and her cub walk straight toward us. Just 30 feet from us, Goldie caught a salmon, dropped it on the beach, where she and her cubs eat the fresh catch. It was an incredible sight to behold!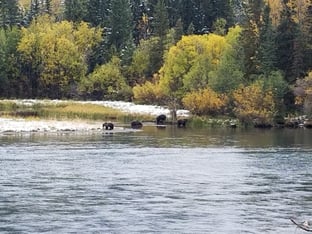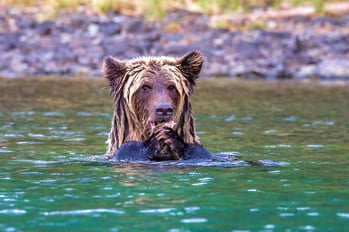 We venture back to the lodge, play games, enjoy great company, and share our experiences as we prepare for our final dinner in the Chilko Valley. We celebrate this night with a tender roast and birthday cake for two guests and Phil's wife, Anne. Of course, we all sang Happy Birthday, but we also dance and laugh around the bonfire before calling it a night.
We depart at 5:50am the next morning for our three-hour drive to Fort Watson Lake and our flight to Vancouver. This amazing journey is ending, but I will cherish the memories of my Chilko experience for a lifetime and I hope to plan many similar adventures for my clients.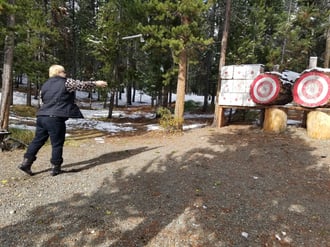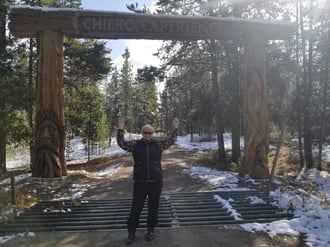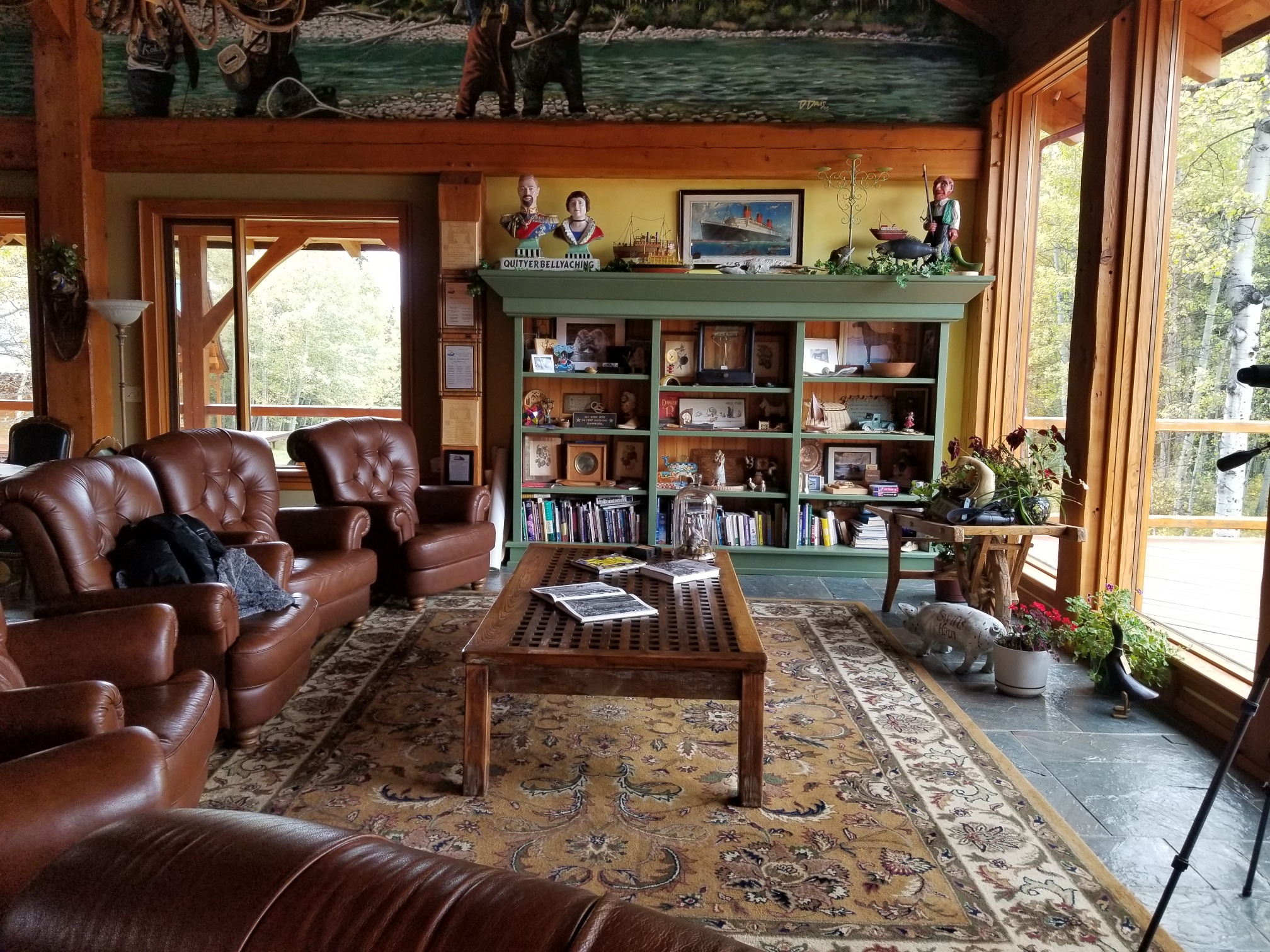 There's nothing quite like escaping into the wilderness of British Columbia. The Chilko Experience offers a luxury resort getaway just remote enough to disconnect the daily stress of a busy life while you reconnect with those you love, untouched nature, beautiful wildlife, exhilarating activities, and a deep sense of peace. If you are ready to slow down the world so you can catch up, this is the place to do it. I cannot wait to work with you and plan your own Chilko Experience vacation. I know you will treasure the transformative experience the Huston family provides to all of their guests.
- Petra Wilkerson
---
"The Chilko Experience has had a single goal since conception: to connect friends and family to nature at the highest possible level. Everything else we do is to support that goal."
- Phil Huston, owner and passionate host

About the author
Petra Wilkerson
As a travel consultant with over 21 years in the industry and a lifetime of personal travel experience, I can anticipate many of the questions and concerns that can arise prior and during your trip. My philosophy is to provide each and every client with a truly memorable vacation.
Topics: Hotels + Resorts, New, Privileged Journeys, Luxury, Vacations