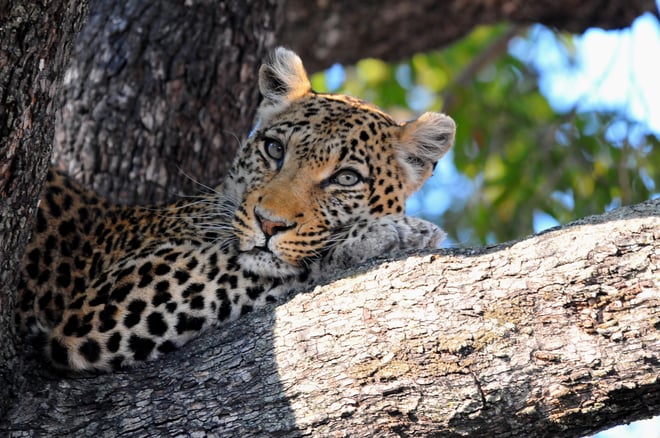 South Africa provides cultural experiences revealing its distinctive history, bio-diverse landscape, and advanced viniculture to enjoy before diving into a safari. I will ensure your trip is tailor made to include all of the experiences you've dreamed of and will recommend some you may not have even known were possible. There are wonderful options for every traveler preference whether an adventurer, wine connoisseur, foodie, outdoor enthusiast, wellness seeker, or cosmopolitan who loves to explore urban landscapes. I'm a little bit of all these wrapped into one, so my South African escapade included a sampling of each. I hope this small taste of my personal trip will encourage you to move Africa to the top of your list.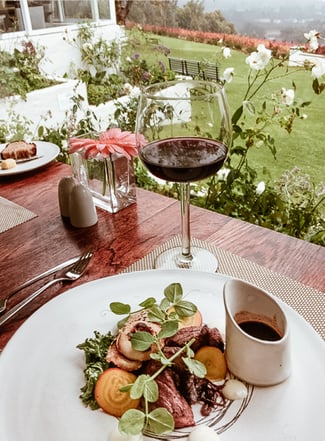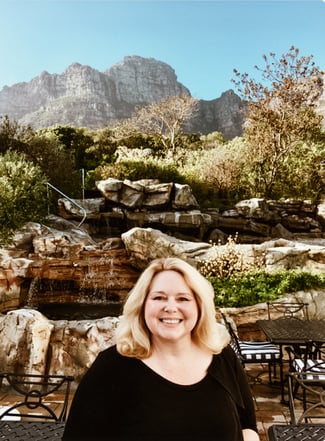 I decided to facilitate acclimation to my new time zone in the tranquil Franschhoek Valley, surrounded by wine country. Awakening to an early pink and orange sunrise with a fine breakfast in the cool morning air, I enjoyed my five-star resort before a day of hiking and relaxing by the pool. The Franschhoek Valley is known for its expertise in gastronomy and viniculture, so indulging my inner foodie was effortless. The plethora of wineries offer tastings and tours to experience South Africa's noble cultivars and wine-making methods. I recommend trying a wide selection of the local varietals, from bright whites like Sauvignon Blanc to fuller bodied reds like Cabernet Sauvignon or Shiraz. You may find a new addition for your personal cellar.
I then spent a day in Stellenbosch, the second oldest European colony in the Western Cape and home to the beautiful, mountainous Jonkershoek Nature Reserve. Traversing the rocky gorges and winding vistas to witness stunning waterfalls laden with ferns and vines is well worth the effort. If you're less outdoorsy but want to explore Stellenbosch, I will book a private driver and guide for your tour of the many wine estates nestled in the valley. You'll capture the essence of this South African town by drinking a glass of wine while sitting in the sunshine and taking in the grape-vine striped hills under wide-open blue skies and jagged surrounding mountain ranges.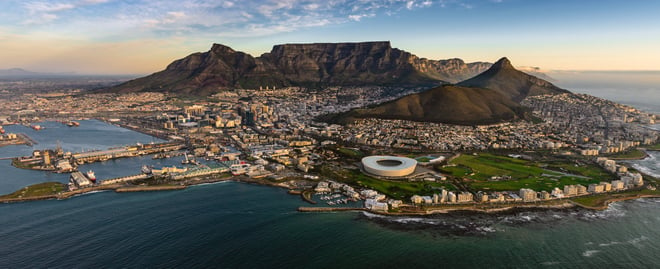 I inspected many lovely hotel properties in the city of Cape Town, but I stayed just outside at the Twelve Apostles Hotel & Spa, taking a car into the city, as often as desired. This amazing property is located above the Atlantic Ocean, flanked by the majestic Twelve Apostles and Table Mountain. My main focus for this visit is to take in the wildlife, so a quick trip to see African penguins up close at Boulders Beach was a mandatory stop and then I enjoyed a day trip west to Cape Point to view ostrich, baboons, buck, and numerous bird species.
The next day I traveled up to South Africa's most iconic landmark, Table Mountain, a UNESCO World Heritage Site and home to one of the world's most biodiverse landscapes. This ecosystem offers a diverse assemblage of plants and flowers as well as a wide variety of birds and mammals including zebras, penguins, and more; all atop a gorgeous mountain overlooking the expansive turquoise ocean.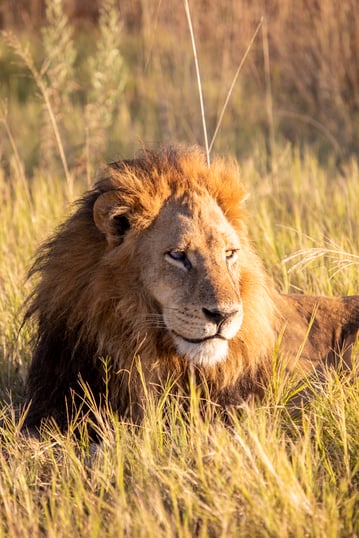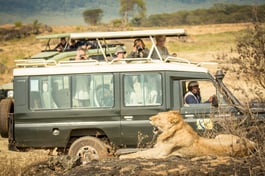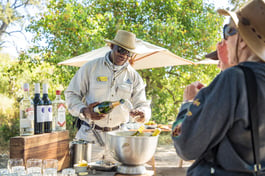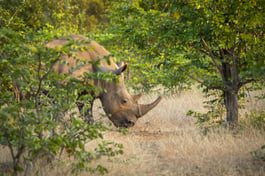 It was finally time for my "Big Five" adventure. Traveling to South Africa's largest city, Johannesburg, I excitedly moved into my new temporary residence at the privately-owned, Sanctuary Makanyane Luxury Safari Lodge. This property expertly pairs luxury and nature with exceptional cuisine and fine wine. Sanctuary Makanyane offers only eight luxurious and secluded suites with the ability to sleep outside under the African stars for a truly unique, romantic evening. I also experienced direct access to the privately owned, Madikwe Game Reserve, operated by expert guides and offered exclusively for their guests.
I then moved into the middle of the safari park to enjoy the Madikwe Hills Private Game Lodge. It's ingeniously situated amongst boulders and age-old Tomboti trees, perfect for viewing over 66 mammal species, including the Big Five of Africa -- Lion, Buffalo, Elephant, Rhino, and Leopard. Wooden walkways lit by hurricane lamps criss-cross the grounds and connect the secluded suites (each with a private plunge pool) to the central open-plan lounge, bar, wine cellar, library and dining area up the slope. The twenty-four guests accommodated at this property have a huge advantage for viewing the animals over those staying on the borders of the reserve.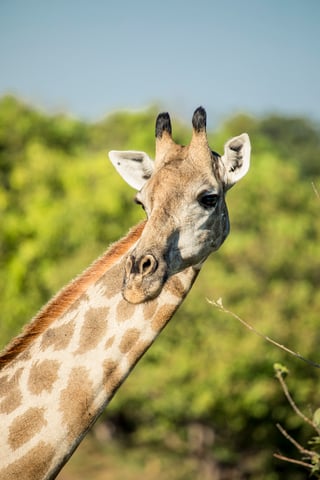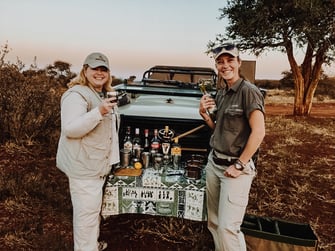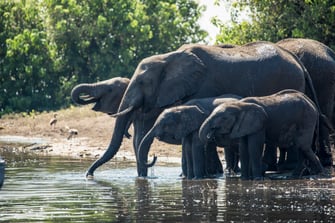 My lodge and expert guides ensured my desired animal encounters did not disappoint. I was breathless as I witnessed lions, cheetah, rhinos, elephants, the rare African Wild Dog, and giraffes all lounging in their natural habitats. It's a spiritual and humbling experience to be so close to the origins of life on Earth. There is nothing quite like an African safari, which is why I continue to return to the continent every few years. This is not a once-in-a-lifetime experience. It truly is transformational in a way difficult to describe, but you'll want to return for more. My passion for global trips stands ready to assist you in planning your own unforgettable journey and would love to help you experience the vacation of your dreams.
For more information, please visit our website at privilegedjourneys.com and our blog at enroute.travelink.com for more pictures and details on my South African Safari and many other exciting experiences.
Witnessing graceful gazelles, zebras, giraffes, and lions roaming the bush and plains of South Africa is an experience topping a well-sown traveler's bucket list. The opportunity to unveil the intricacies of this fascinating land with the world's leading luxury safari company is the key to a truly transformational vacation. Having the best guides to provide insight and knowledge for each region, luxurious lodging options close to the action, and exclusive access to private game reserves, are only a few of the reasons selecting a safari led by our partners at Abercrombie & Kent is an easy decision when planning to check this one off the list.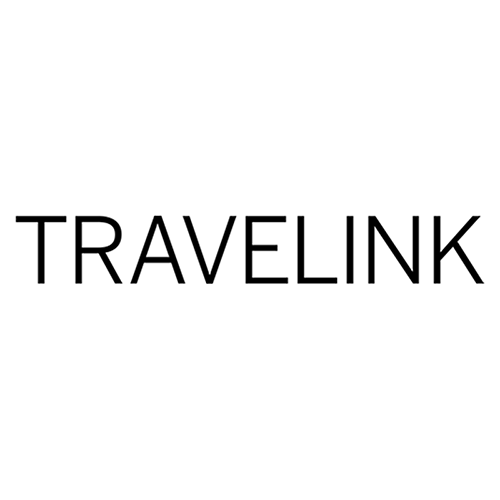 About the author
TRAVELINK
Headquartered in Nashville Tennessee, we operate nationally with a combination of boutique business call centers, vacation travel retail locations, a groups & meetings travel business operations center, as well as our host of experienced virtual travel advisors.