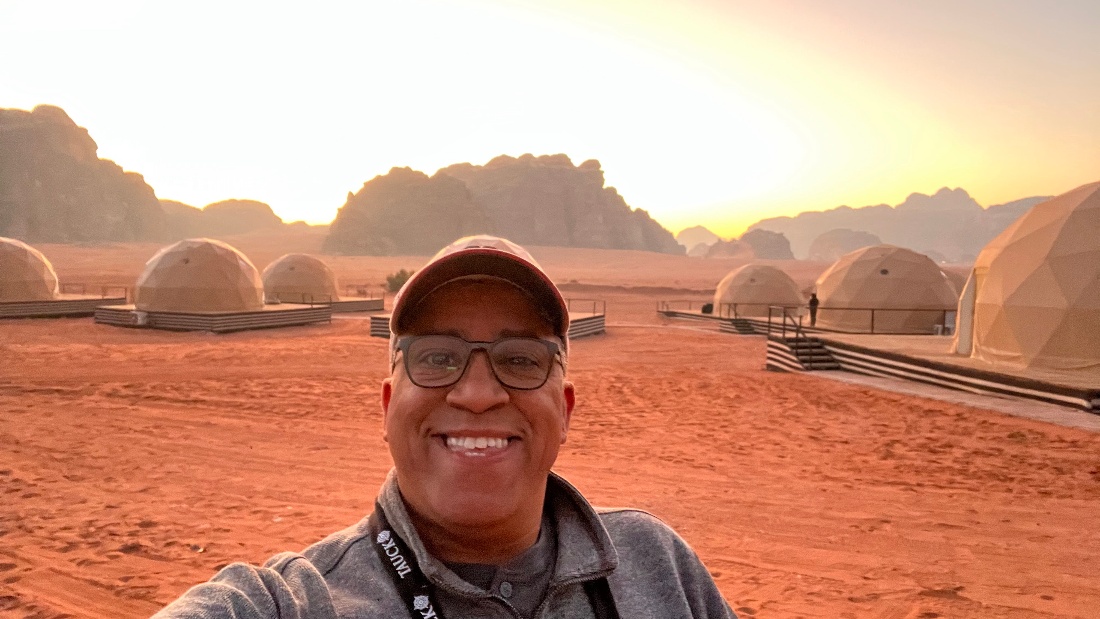 Hello! My name is Tommie Chavis, a Vacation Travel Advisor and Tauck Certified Agent here at TRAVELINK. I can't wait to share my Tauck guided vacation experience through Jordan with you!
My trip of a lifetime started in Amman, Jordan and wound its way through historic biblical and cultural landmarks, finally ending at the Dead Sea - guided
expertly
every step of the way by my preferred partners at
Tauck.
From the time you land and the time you depart, Tauck has already thought of every aspect of your travel experience and takes great care of all your needs while along the way - no stone is left unturned.
Join me on my epic Jordan journey!

Day 1: Amman
Upon arrival into Amman, Jordan clearing immigration and customs can be a bit overwhelming in a country you have never been to. Tauck has greeters for you each step of the way. You are escorted through immigration to your ground transportation and whisked away in luxury motorcoach buses to your first 5-star lodging. You never have to touch your bags again until you arrive at each hotel! They will make sure your bags are delivered and set up - all you have to do is enjoy your tour.
The majority of your meals are included along with tips and tickets for entry if required to all of the sites you visit. If you do not want to dine with the group you are free to find your own dining in each destination. The food is always locally sourced with Tauck and typically features local recipes and cuisine.
We stayed at the Ritz-Carlton located in the 5th Circle in Amman. The views around this hotel are spectacular and you are located in the Hollywood area of Amman. The city is divided into 8 circles which represent areas similar to suburbs in metropolis cities. Be prepared for some of the best shopping you can experience. There are plenty of outdoor markets and shops to visit, but you better be ready to barter! The city is very lively during the day and much more subdued at night. Keep in mind this is a Muslim country, so alcohol is restricted but some beers are served along with other alcoholic drinks.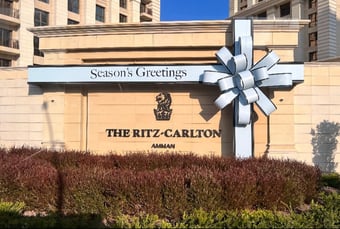 Day 2: JERASH & Mt. Nebo
Jerash is an ancient Roman city founded around 7500-5500 BC (formerly known at Gerasa). It's like stepping back in time 2,000 years as you explore the exceptionally well preserved remains of Roman architecture, including Hadrian's Arch, the Hippodrome, the Oval Plaza, temples, theatres, arches, walls, baths and more. In the surrounding hills, you will see olive trees, peppercorn trees, and lots of orange groves along with the area's rich history and culture.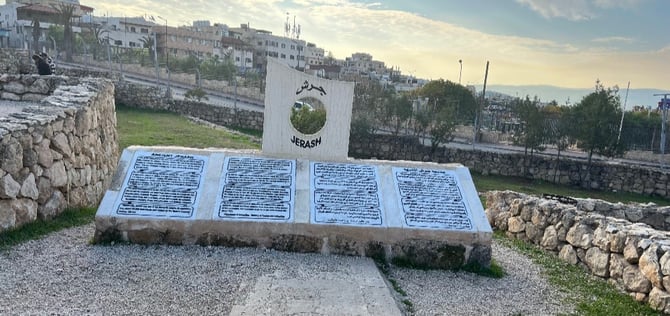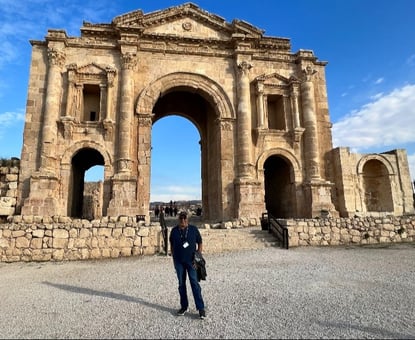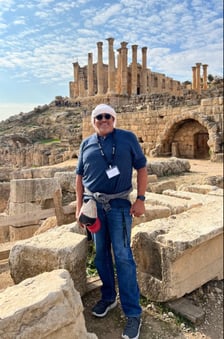 Mt. Nebo
After that, we proceeded to Mt. Nebo, in the Bible this area is known as Mt. Pisgah. At the top is a museum and a metal structure with a biblical scripture that reads, "Just as Moses lifted up the Serpent in the desert, the Son of Man must be lifted up, so that everyone who believes in Him may have eternal life." (John 3:14-15). Biblical history is everywhere enroute to Petra, most notably in Madaba, where you can visit St. George's Greek Orthodox Church to view an incredible 6th-century map detailing the major biblical sites of the time
The view from this standpoint is breathtaking and on a clear day Jericho, the Dead Sea, the River Jordan and even Jerusalem can be seen from Mt. Nebo.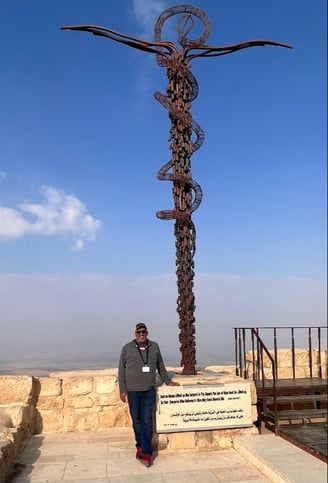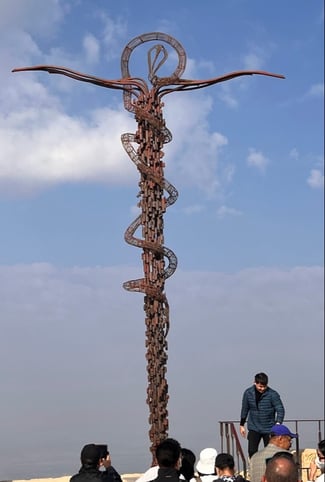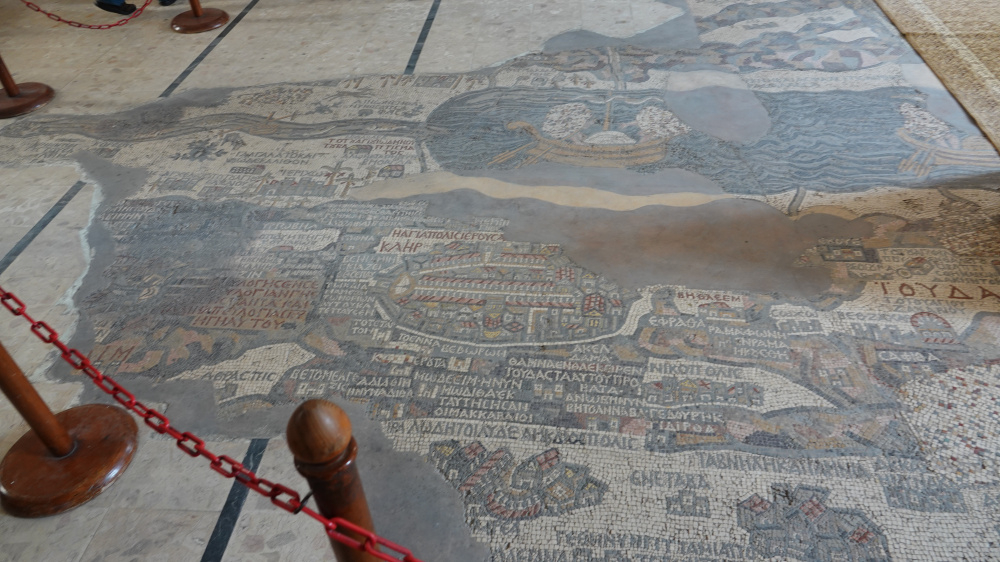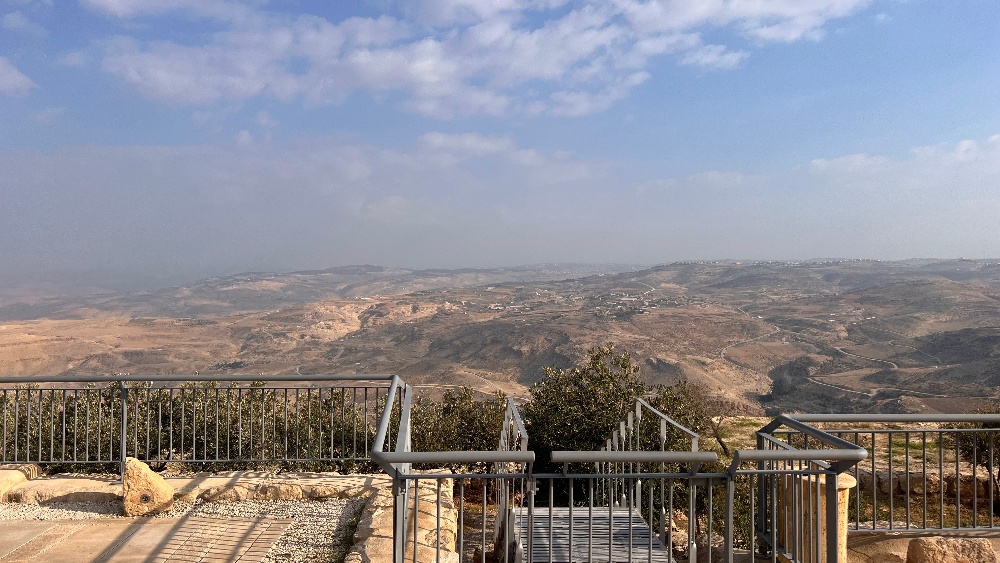 DAY 3: The Road to Petra
Once we checked out of the Ritz-Carlton in Amman, we were ready for our road trip to Petra. Awaiting us there was a tour through the city, a camel ride, and a private cooking party and dining experience with a Bedouin family.
The City of Petra, one of the "New Seven Wonders of the World," is an absolute sight to behold. Our accommodations at the Movenpick Petra Resort & Spa, one of the most notable hotels in the Middle East, was perfectly situated in the city, and is located directly at the entrance to the historic pink city of Petra. You'll find a number of books about Petra and Jordan in their library and you can take a dip in the outdoor swimming pool, relax in the steam bath, or work out in the fully equipped gym.
Al Ghadeer Roof Garden is the place to take in the stunning sunset while enjoying a snack, a drink, or even an arglieh (water pipe) during the summer months. With seven different dining and entertainment venues to choose from, you'll find the perfect spot to relax after an exciting day exploring Petra.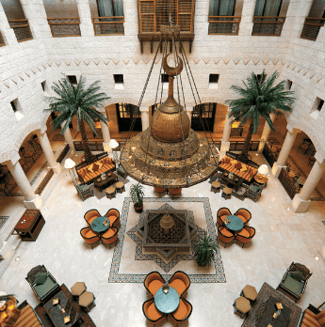 Day 4: The City Of Petra
The City of Petra was built in the mountainous region by the Nabataeans, primarily for security reasons to protect the city and its inhabitants. With the surrounding mountains and no access to water, they built an intricate pipe system to bring water into the city. This pipe system was built along the walls of the entry into the city. Almost forgotten for over a thousand years, Petra is one of the best-preserved biblical sites in the world.
We were escorted to the main entrance into Petra, with entry tickets and lunch included along with a camel ride back once you get to the end of the city. The commentary offered by our Tauck guide on Petra was absolutely filled with descriptive, rich history. The walk is three-quarters of a mile or so though a gorge called the Sic. Once you round the last bend your eyes will behold the Treasury building which is in National Geographic. At the end of the day, we rested before our private dinner hosted by a local Bedouin family where we had the opportunity to eat camel, which is considered a delicacy in Jordan.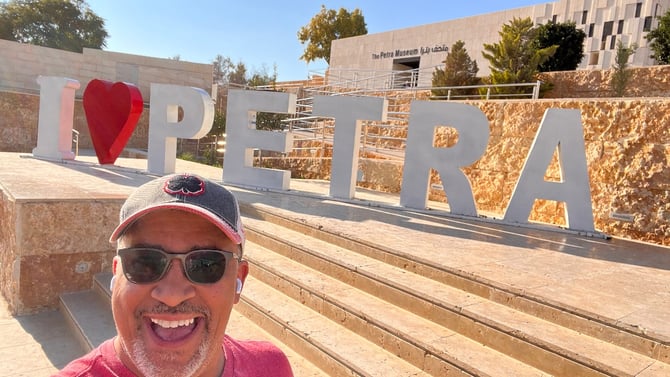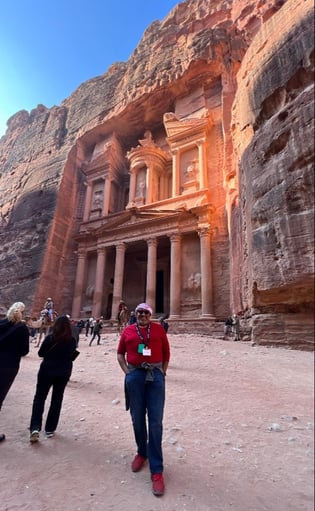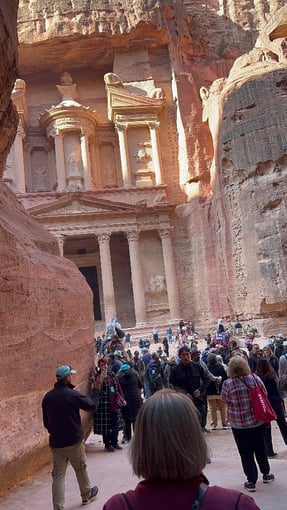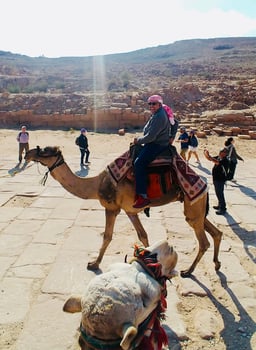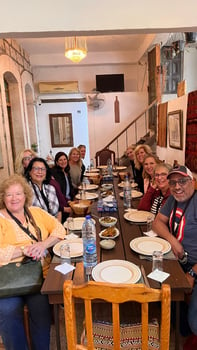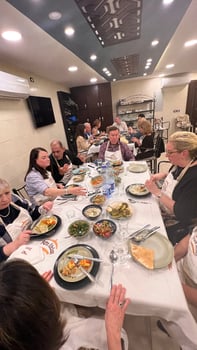 ---
Privately guided tours and special cultural experiences for Tauck guests only bring it all to life, and superb hotels put you in the best locations throughout this extraordinary trip.
---
Day 5: Wadi Rum
From here we proceeded to
Wadi Rum
in the middle of the desert with no light pollution so you can see millions of stars at night. This is the same location were Raiders of the Lost Arc, Star Wars, and many more amazing movies were filmed. The deserts around Wadi Rum look like Martian lands. W
e stayed in this unbelievable igloo-style lodging and were entertained by the locals in a dance around a campfire at night. This was so much fun. You don't realize just how big the night sky is and how many stars there are until you're in the desert and
pull the curtains back at night for a full stargazing moment from the comfort of your bed.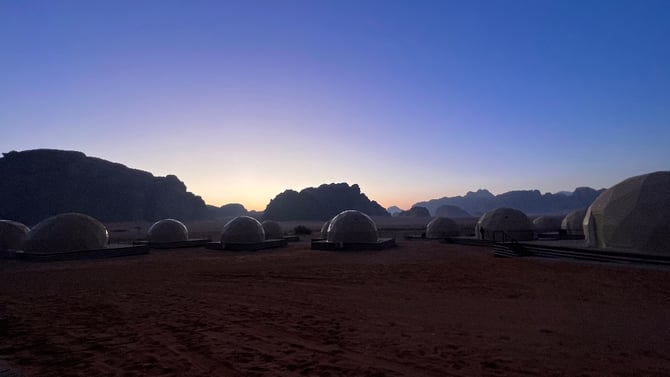 Day 6: The Dead Sea
We then proceeded to visit the Dead Sea, also known as the "Great Salt Lake" of the Middle East, and true to its name, devoid of life except for the many visitors who come to marvel at its mineral-rich, therapeutic qualities. Trying to "swim" in the Dead Sea was a lot of fun - it's more of a "float." But be warned, it can be a bit painful if you have any open wounds or scratches on your skin (hint: it burns).
Day 7: Bethany
During our trip to Bethany, the location where Jesus of Nazareth was baptized by John The Baptist, you can stand just above the baptismal site located directly beside the Jordan River as water from the Jordan River feeds into the baptismal site. You can step into the River of Jordan, which is very muddy. You can also see across the river into Israel where Christians are being baptized in the river.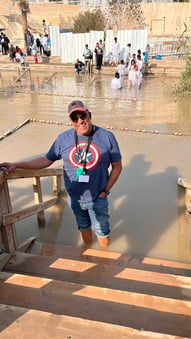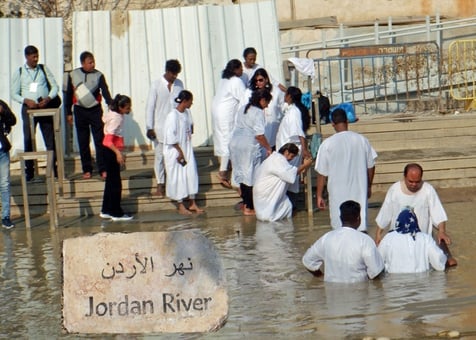 ---
When you travel to Israel and Jordan with Tauck you will explore all the threads – civilizations, cultures, history, traditions, religions, and the arts – that are so intricately woven together throughout this compelling area of the world.
---
What to Wear
When traveling to the desert regions in and around Jordan be sure to pack clothing for the cold nights and light for the day time since it gets very hot very fast. Be sure to pack great walking shoes since there will be a lot of walking. Bring comfortable yet sturdy walking shoes that have already been broken in. It's important that your shoes have good ankle support, as you'll visit some ancient sites where paths and stairs may be uneven and unpaved.
Expect your journey through Jordan to be casual, with comfortable, cotton clothing suggested. Dress for comfort and convenience with a wardrobe that is adaptable and allows for layering. Please be aware that some of the sights you'll visit do require both men and women to have their knees and shoulders covered, and in some cases wear long pants.
For travel from February through early June and late September through November, you will need a light jacket or fleece, a light sweater and a rain jacket or poncho. No special attire is required for dining, although you may wish to dress more formally for fine dining experiences in metropolitan areas.
SUmmary
This opportunity to experience a Tauck guided vacation firsthand after having helped so many of my clients book their very own Tauck vacation was incredible and something I will never forget. The added bonus of getting to journey through Jordan and see with my own eyes and touch with my own hands the other-wordly sites that I'd only ready about in the Bible and history books... well that's something I'll cherish for the rest of my life.
When you're ready to make one of your bucket list trips a reality, whether it's through the Middle East or another amazing destination around the world, I'll be here to help you from planning until you return safely home. A huge thanks to Tauck and their staff who made this trip run so smooth and effortless. There really is no one better to entrust your vacation dollars with than Tauck. Send me a trip request below and let's get started!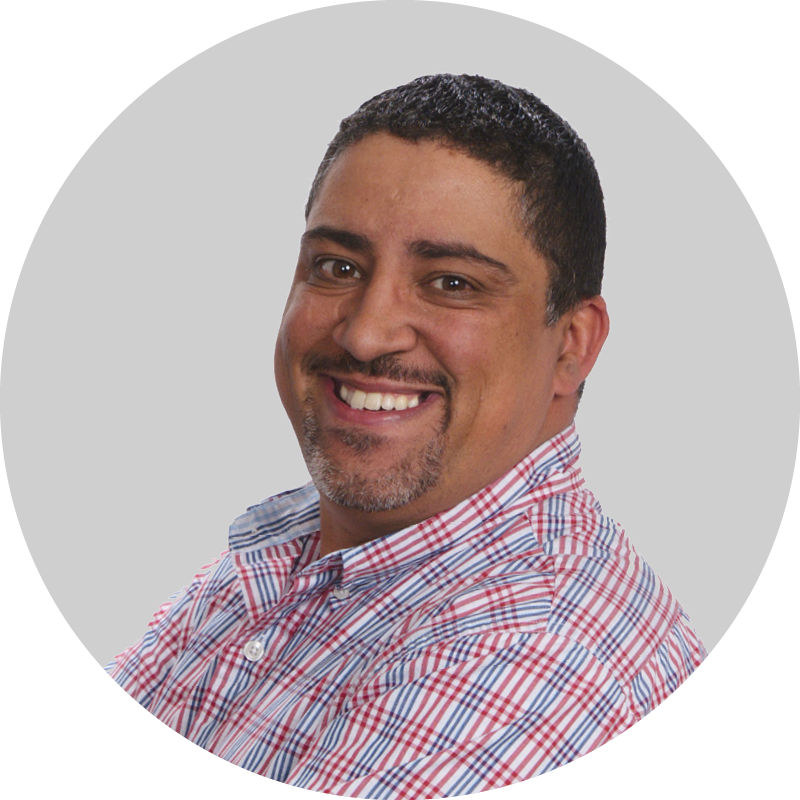 About the author
Tommie Chavis
I have been in the Travel Industry for more than 16 years and am a LGBT lifestyle specialist, a Disney specialist, Certified Sandals and Beaches Specialist, and Holland America Specialist. My passion in travel is to learn about the history and culture of each place I visit to better understand the people who live there.
Topics: New, Luxury, Travel Advisor, Leisure Travel, Custom Travel