It's March and already it seems like we're speeding towards the end of winter, ready to come out of hibernation. Which begs the question, have you gotten around to planning the places you'll go in 2016? Chances are, life and all the things that get thrown your way these days can be somewhat overwhelming. Our fast-paced world makes deciding where to spend precious down time a bit time overwhelming. We'd like to make that decision easy for you and recommend joining the wellness trend on a pampered retreat.
Spas have evolved from the place to go for a massage or a facial and the term "wellness" means different things to different people. Today, spa retreats focus on customizing each guest's experience, catering to body and soul while offering outstanding hospitality and culinary delight. Whether you're on a mission to detox, get fit, be pampered, tune into holistic healing, combat aging, learn how to meditate, or receive a personal medical evaluation from a panel of experts, the perfect wellness retreat awaits you. With specialty spa properties appealing to an array of travelers in pretty much every destination, being "well" has never been easier or more personalized. You'll also find the value and benefit from just one week of wellness can result in a ripple of positive effects that will last throughout the year—perhaps even a lifetime.
As a team, we discussed many of our favorites for this article from a long list of resorts with strong offerings upgrading the traditional idea of a vacation into a personal wellness experience. I'll expand on two of them for your enjoyment from the personal experiences within our team.
Canyon Ranch - Tucson, Arizona USA
Since it's opening in 1979, Canyon Ranch in Tucson, Arizona has been at the forefront of expanding the concept of a health resort in the U.S. Their mission is built on creating environments and products that promote health and the highest enjoyment of life for all people. The personalized, unhurried consultations, coupled with an atmosphere of casual elegance are why this award-winning resort continues to top the list of wellness vacations for domestic and international travelers.
My week at Canyon Ranch began each morning with an invigorating hike in the beautiful desert of Tucson. The day was filled with a mixture of fascinating seminars, cooking classes and many opportunities for meditation I selected based upon my interests and goals for the week. The appetizing, healthy meals did not at all seem like "diet food". I left with several recipes I still use regularly and of course there were one or two amazing spa treatments each day to feed my soul. After a week of enjoying days of stimulating exercise, excellent meals expertly prepared, and pampering massages I realized I had lost ten pounds without any of the stress.
Brenners Park-Hotel & Spa - Baden-Baden, Germany

The ancient spa town of Baden-Baden, in the valley of the Black Forest, is a destination long revered for its historic thermal baths and their healing effects. The classic elegance of this family-owned grand hotel has been attracting travelers seeking a healthy retreat since 1872. Over time, they've continued to modernize their spa and medical wellness programs, without sacrificing the hotel's ambiance of a bygone era. Hailed as one of Europe's best spas and the finest hotel in the region, visitors are also drawn to Brenners Park-Hotel & Spa for pursuits outside the resort grounds within this wine-producing region of Germany. Guests may enjoy a chauffeur driven tour through vineyards with a gourmet lunch. Riding, golf, tennis, and other outdoor pursuits are also available and the town center of Baden-Baden is just a few blocks from the hotel.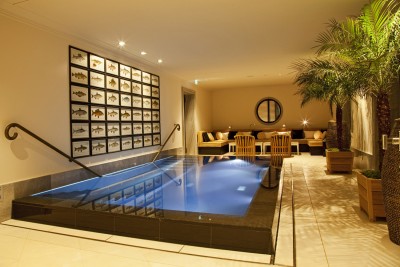 For my initial experience, I only had a few days at Brenners Park, so I chose the incredibly relaxing experience of thermal baths, saunas, massages, facials and full-body skin treatments accomplishing a silky smooth, total body makeover.
I was thoroughly relaxed when it was time to depart and filled with a complete sense of well being, realizing I had totally de-stressed during my brief stay in this special place.
Travelers' eager to experience the charm of an old-world destination with new age luxuries and superior hospitality need look no further. Brenner's Park-Hotel & Spa is easily reached via Frankfurt Airport where a private transfer can be arranged or where you can connect to direct rail service to Baden-Baden. Germany is beautiful year round, but my stay during the German Christmas Markets was a terrific time to visit this destination and include a little shopping therapy
Whether you plan on traveling solo, as a couple, with friends or family, wellness vacations are an investment whose value will continue to unfurl long after you return to the bustle of daily life. Let us help you discover the perfect wellness retreat.
View this article in Nashville's Sophisticated Living Magazine on pages 4-5.
About the author
Petra Wilkerson
As a travel consultant with over 21 years in the industry and a lifetime of personal travel experience, I can anticipate many of the questions and concerns that can arise prior and during your trip. My philosophy is to provide each and every client with a truly memorable vacation.
Topics: Hotels + Resorts, Privileged Journeys, Travel Advisor, Leisure Travel