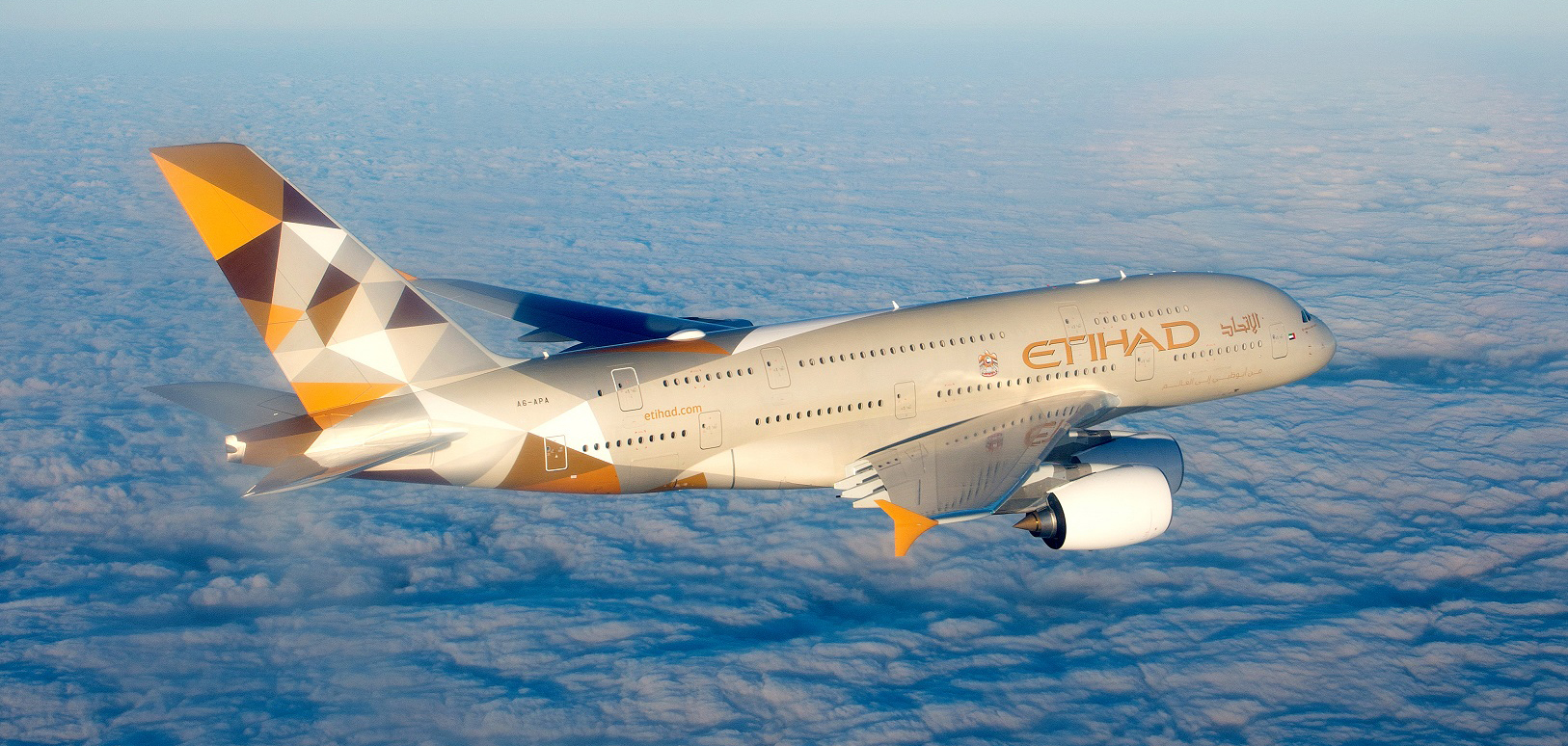 Staying at the finest 5-star hotels, eating at Michelin Star restaurants, flying first-class, and receiving exceptional service, are all items found amongst the wish lists of some of the most sophisticated travelers. For many of my clients, experiencing the journey in a comfortable manner, not just the destination, is an essential element to an extraordinary vacation. Over the years, I've found it interesting how many clients enjoy the privileges of luxury vacations, however, few have experienced luxury in the journey to its full potential. When it comes to traveling through the sky, our domestic airlines are regularly earning bad press for their services while the Asian and Middle Eastern carriers continue to win service awards. One airline sets itself so far apart from the others, it has recently become a bucket list item on its own so I wanted to share it with you, and if you're interested, I would love to help you check this one off.
Imagine boarding a 20+ hour flight from New York City to Sydney, Australia, and finding yourself in a private three-room suite in the sky, for two, equipped with a living room, separate double bedroom, ensuite shower and your own personal butler for the duration of the flight. This is the level of luxury you will experience flying in The Residence cabin by Etihad Airways, an Abu Dhabi based airline, and partner of ours here in the Privileged Journeys team at Travelink, American Express Travel.
The bespoke travel experience Etihad has created in the commercial airline industry has completely redefined what luxury means for air travel. Your experience begins as soon as you enter the airport through a private entrance where you are greeted with a warm Etihad welcome by your personal airport lounge Butler. Yes, guests flying in The Residence have their own private lounge within the Etihad First Class lounge to truly be set apart and enjoy quiet comfort with a gourmet meal delivered by the chef, a master cocktail, then a massage before being driven in a buggy to board the flight. As you enter the gate, your inflight butler will walk you onboard the aircraft, and help store your luggage within discreet compartments under the seating areas within your cabin. Once your journey begins, sit back and watch a movie on your HD flat-screen TV with noise-cancelling headsets while relaxing in the living room or tucked into the luxurious linens on the bed from Pratesi of Italy. Order beverages served in exquisite Vera Wang glassware and enjoy the gourmet menu with items prepared by the Inflight Chef upon Bernardaud porcelain china. After a good night's sleep, freshen up in your ensuite shower room and get ready to take on your destination well rested and ready for the adventure.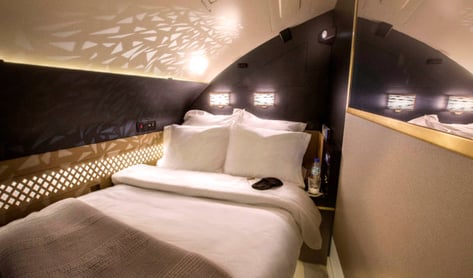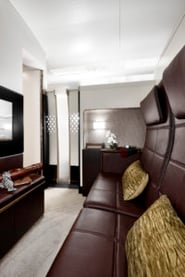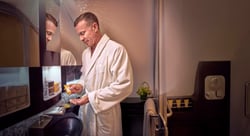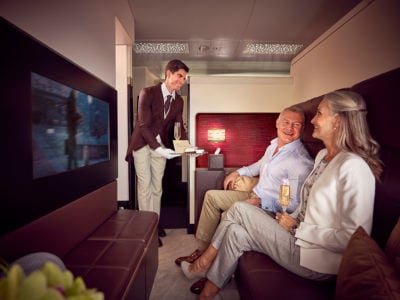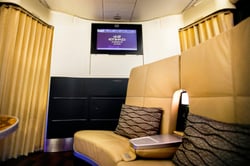 VIP Travel Concierge Service
The VIP Travel Concierge service takes care of guests booked into The Residence from the moment of reservation right through until the end of your stay. From a luxury chauffeur to private check-in and lounge, they have designed every part of the travel experience to be seamless and discreet.
3-Room Private Suite in the Sky
Living Room - The living room has a luxurious leather double-seat sofa and two dining tables. Enjoy an intimate meal for two, or watch your 32-inch flat-screen TV through noise-cancelling headsets, as you dine.
Bedroom - The hallway leads to a bedroom with a full size double bed, with designer Italian bed linen. Get comfortable and watch a movie on your 27-inch flat-screen TV with noise-cancelling headsets or enjoy breakfast in bed among the clouds.
Ensuite Shower Room - Before landing, freshen up in your ensuite shower room with full-height shower, luxury amenities and bathrobes. A vanity unit with a magnifying make-up mirror and hair dryer lets you complete your preparation for arrival.
Etihad Butler & Inflight Chef
On board, your Savoy-trained Etihad Butler will ensure a tailored experience, looking after you from take-off until touchdown. Let the Inflight Chef prepare a personalized dining experience for you, using the freshest of ingredients. Choose from a range of gourmet menu options or ask for your favorite dish.
The Residence by Etihad Airways is unlike any other experience on the ground or in the air. I highly recommend this airline for clients looking for a truly luxury experience, in any class of ticket. I would be honored to help answer any questions you may have about the airline and provide you with additional details on pricing and availability you can contact me here. I will happily custom craft any of your dream vacations into reality.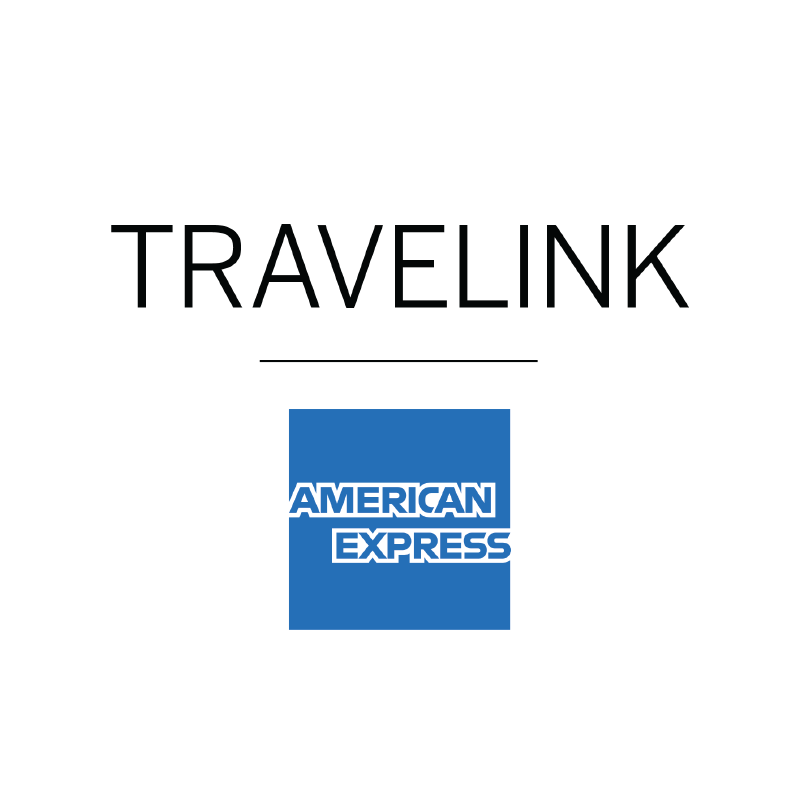 About the author
Travelink
Headquartered in Nashville Tennessee, we operate nationally with a combination of boutique business call centers, vacation travel retail locations, a groups & meetings travel business operations center, as well as our host of experienced virtual travel advisors.
Topics: Privileged Journeys