In September of 2018, I had the adventure of a lifetime as I traveled to South Africa with my partners at Swain Destinations and African Travel, associated with The Travel Corporation. During my time there, I visited a few luxury safari camps and private game reserves that all offered an amazing, intimate look at the stunning geography and wildlife throughout the region.
Below is a summary map of the areas within the Dulini Private Game Reserve I visited on my vacation: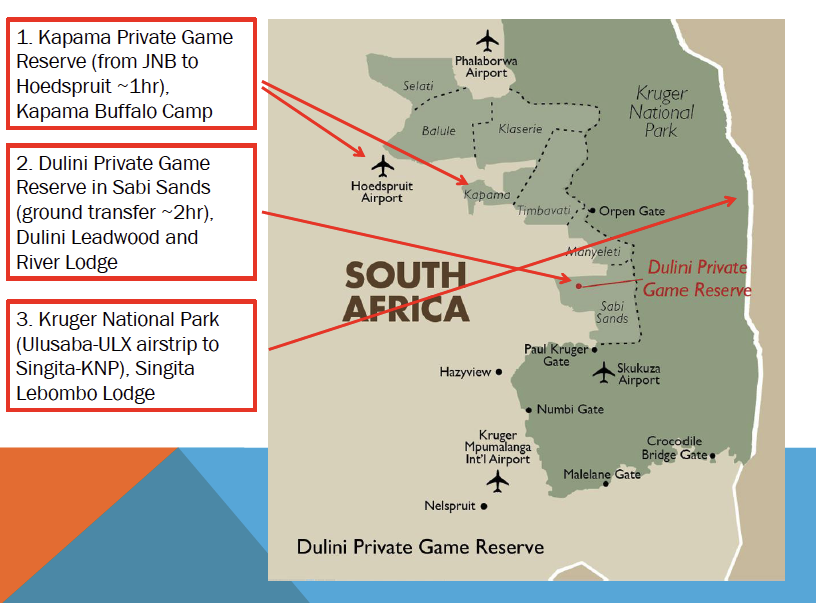 Kapama Private Game Reserve
Located just across the road from the Hoedspruit airstrip, the Kapama Buffalo Camp is a 30-minute transfer within the reserve, allowing me to kicks off my safari experience from the very beginning! Here, I enjoyed a luxury tented camp with "soft sides" offering that feeling of "Old Africa" - a very unique experience! Featuring just 10 tents (a 20 guest maximum), each one has en-suite bathrooms, air conditioning, heated blankets, coffee/tea maker, minibar, and a private viewing deck. This type of small and intimate camp is, in my opinion, better suited for couples rather than families.
I was lucky enough to be able to capture four of the "Big Five" (lion, leopard, rhinoceros, elephant, and Cape buffalo) on my very first day in South Africa! Unfortunately, leopards were scarce in this region. This private reserve did have a fence around it to protect animals from poaching, but smaller animals can come and go as they please and features around 12,000 hectares of undisturbed bush.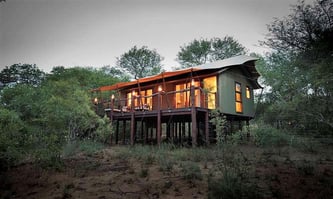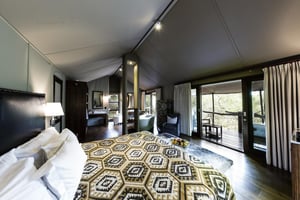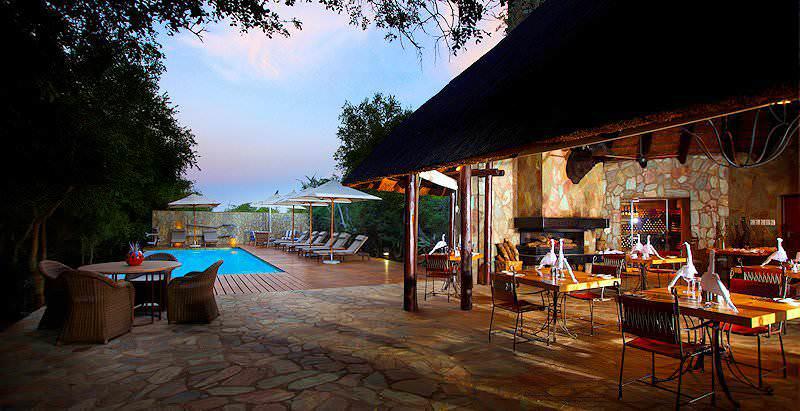 In addition to the luxury camp, I was able to visit the Kapama River Lodge, which offered more of a hotel-style feel in the largest of all the Kapama camps. This is a location that is perfect for young couples, groups, and families as it has a very festive and social atmosphere.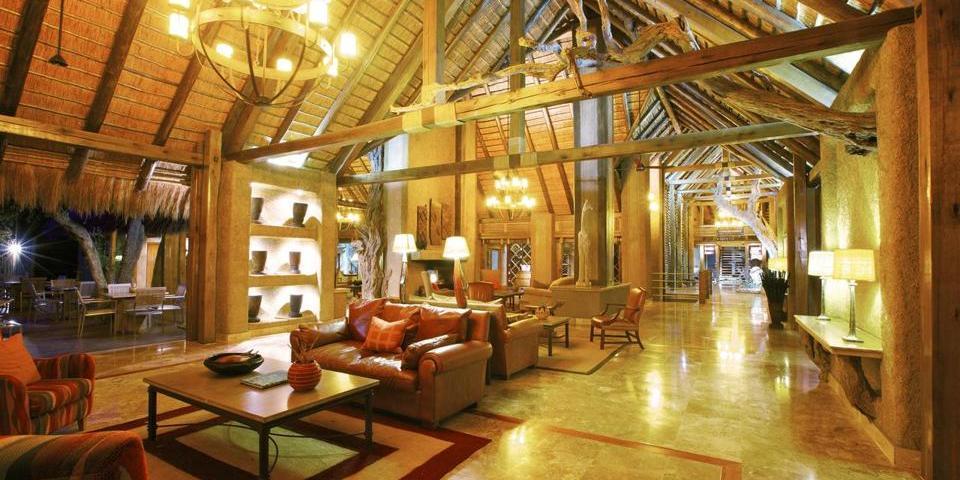 I also visited the Kapama Southern Camp, a villa-style set of accommodations with more of a feeling of being in the Savannah rather than the trees and forest. A great location for families, though kids under the age of 6 are not allowed on game drives.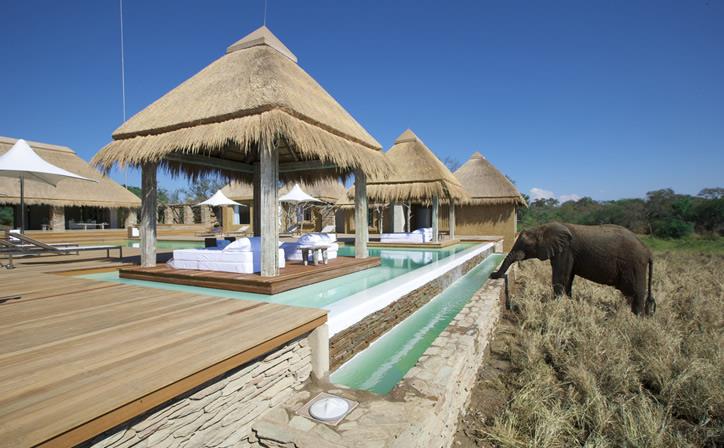 Sabi sands Game Reserve
While the leopards were scarce in my first stop, this majestic member of the Big 5 made its appearance here in the Sabi reserve! While here, I stayed at the luxurious Dulini Leadwood Lodge, named after the leadwood trees of the area. This was a very small camp, with views over the Sand River, offering an intimate and serene experience since it allows only 8 people in its four-villa camp at one time.
This was a VERY quiet property with VERY small "social" areas. I would only recommend this to clients seeking privacy and seclusion, such as couples, honeymooners, anniversary trips, or couples wanting to spend time together. I loved how the "areas" of the interior were broken up so that the sitting area with a nice sofa and the sleeping area were separate. Please note that you'll be required to have an escort because of predatory animals that may be in camp (although we never experienced any issues).
Next up, I visited the Dulini River Lodge, another luxury camp overlooking the Sand River. Featuring eight luxury thatched suites (16 people total) that were JUST renovated and were beautifully designed – light and airy, I would highly recommend this lodge for families with older children, couples, honeymooners, and those celebrating an anniversary. You'll enjoy live animals living and walking through the camp constantly!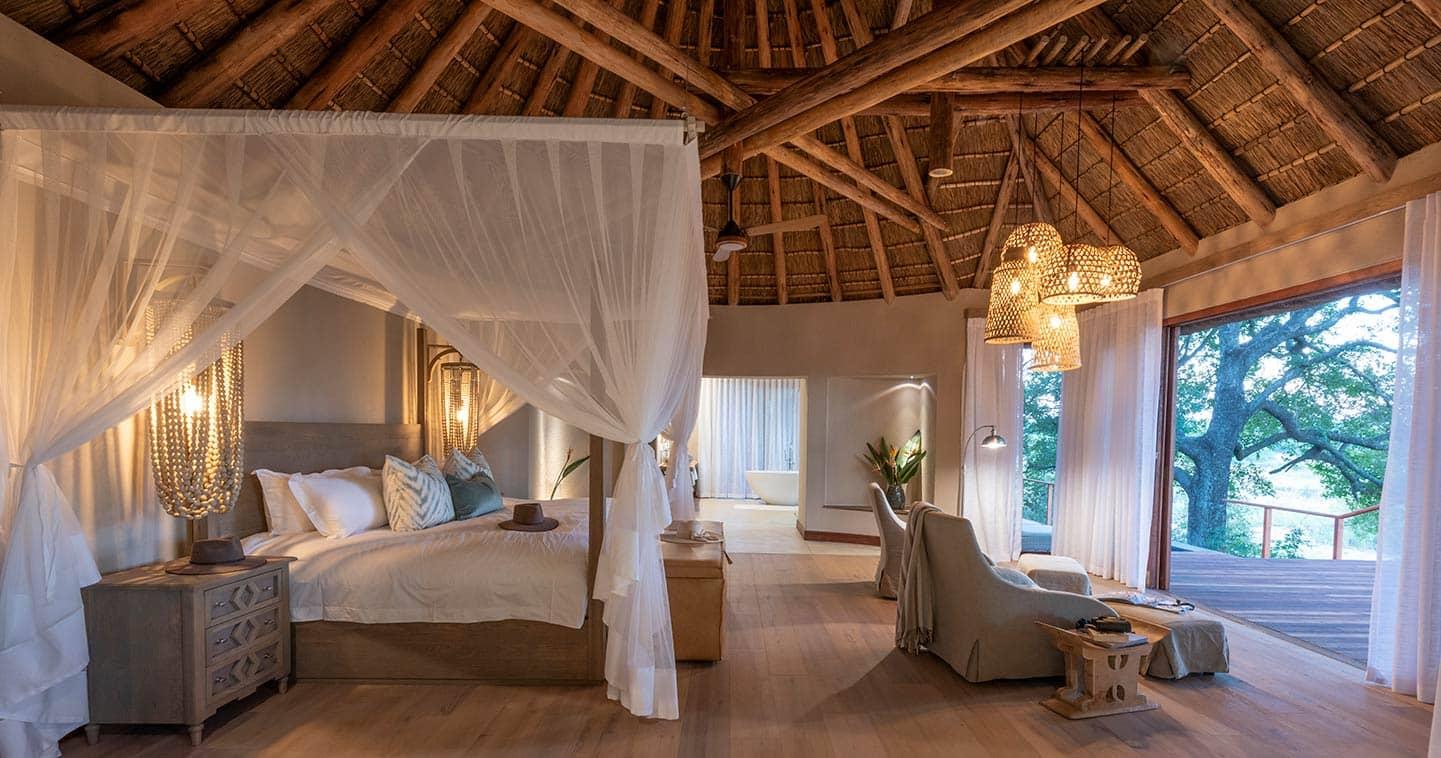 Kruger National Park
My next location was in Kruger National park at the Singita Lebombo Lodge. This quickly became my favorite lodge of the ones I experience, based purely on my personality. Offering 13 suites and one private-use villa (30 pax capacity), this lodge featured bold, contemporary, luxurious open-plan suites suspended over the N'Wanetsi River. The private Villa is set apart from the main lodge and features two, two- bedroom suites, each with a private pool that link together to create a four-bedroom villa with a shared pool.
They had private Range Rovers available for safari game drives along with the ability to rent professional camera and lens while on property so you don't have to pack your own. This lodge would be perfect for young couples, families, sociable people on honeymoons, or anniversary trips as they're able to accommodate any travel style.
Additional special amenities included a cute safari hat, safari bag, safari shawl, and environmental refillable water bottles. The only minor downside is that rhinos are very scarce in this area due to poaching.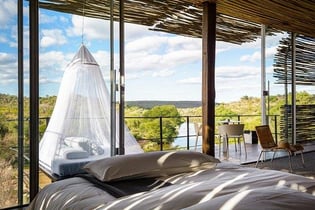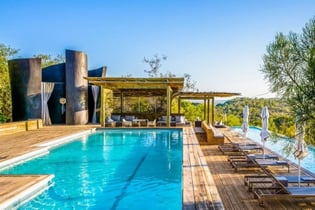 Next up was the Singita Sweni Lodge, featuring six Sweni suites and one pool suite with a private pool and deck. This property is located next to the river so up-close sightings of animals and especially hippos are sure to be a highlight of your trip! The atmosphere offers the feeling of being in the "trees" even though you are next to the river. This is a smaller lodge perfect for families seeking seclusion or honeymooners looking for privacy.
Cape town, south africa: One & Only
Located in the prime location of the Victoria & Alfred Waterfront area, which easy access to all shopping, local artisan craft shopping, and to MANY restaurants on the waterfront and in the shopping center.
I stayed in the Marina Table Mountain Room offering gorgeous views of Table Mountain on back side of hotel. Each room comes with a courtesy cell phone to take outside the hotel and for use calling locally anywhere, it was so handy and convenient - I LOVED this amenity!
This property has Michelin-starred asian restaurant Nobu inside the hotel, has a spa that is separate from hotel and can only be accessed by leaving the back side of hotel and walking (only a couple steps but you must go outside). I also found this hotel had one of the BEST breakfast buffets I've ever been to, featuring an a-la carte menu and made-to-order items with so many selections I couldn't get enough!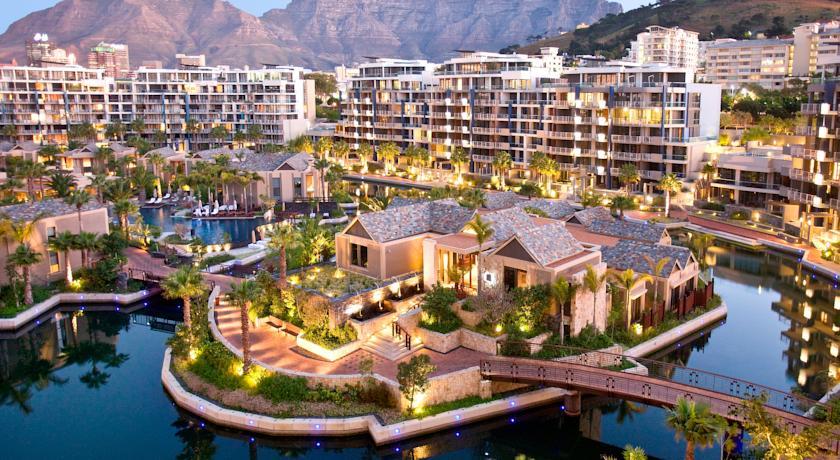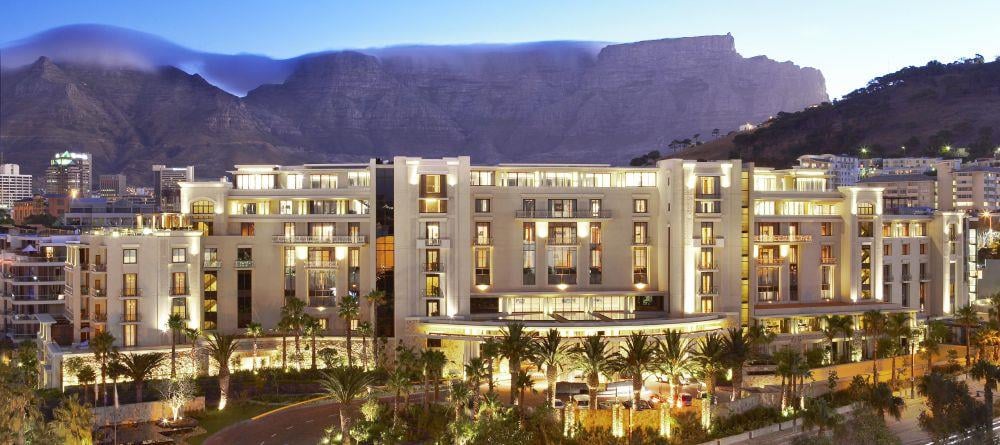 Overall, my experiences in South Africa were amazing, especially with the professional and personal touches offered by Swain Destinations. I felt cared for and looked after during all of the travel managed by Swain. For example, upon our arrival at Singita Lebombo, I received a call in the villa after check-in from the Swain rep asking how we liked Singita and making sure everything was going well. Upon arrival in Cape Town, I was met by a Swain ground rep who provided her business card and direct contact info and introduced us to our transfer driver and porter. At One & Only Cape Town, I was able to reach out to my Swain rep who answered all the questions I had for them during our time there. Swain is an ideal partner for those travelers looking for a luxury experience and enjoys being taken care of during their travel.
When the time is right for your African safari, or any other getaway, I'll be here and ready to craft it into your customized dream vacation.
Submit your Trip Request here to get started!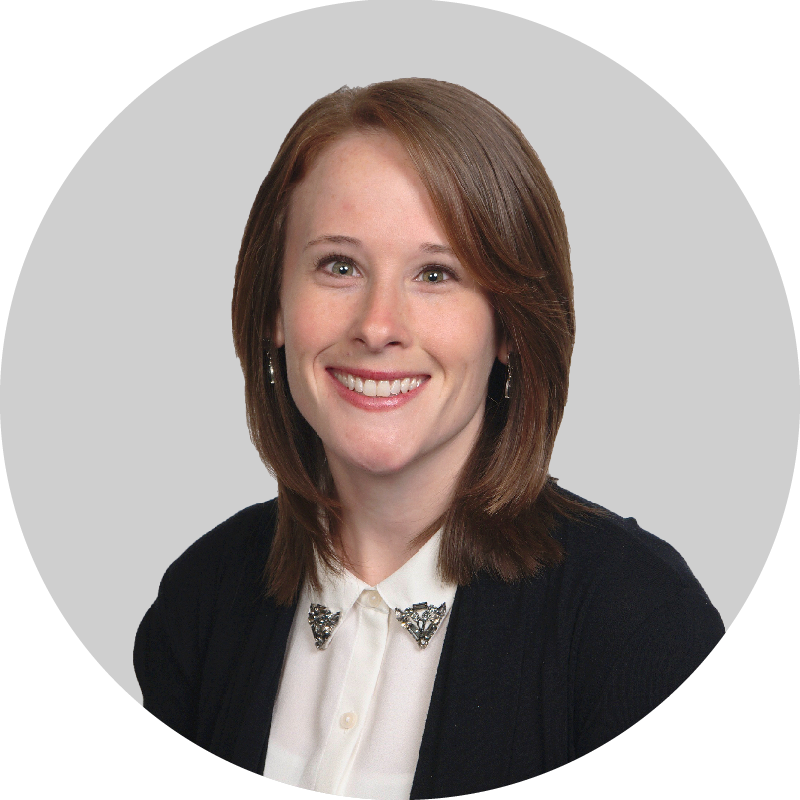 About the author
Elizabeth Hoover
With my incredible enthusiasm for delivering unique experiences for our luxury travelers, I believe I can help you plan everything from achieving your bucket list, to an adventure you'll never forget, then send you all on a relaxing family vacation or romantic getaway for two. I'm a Certified Travel Agent (CTA) and have earned my certification as a Luxury Travel Specialist and Adventure Travel Specialist.
Topics: New, Travel Advisor, Vacations, Safari, Africa