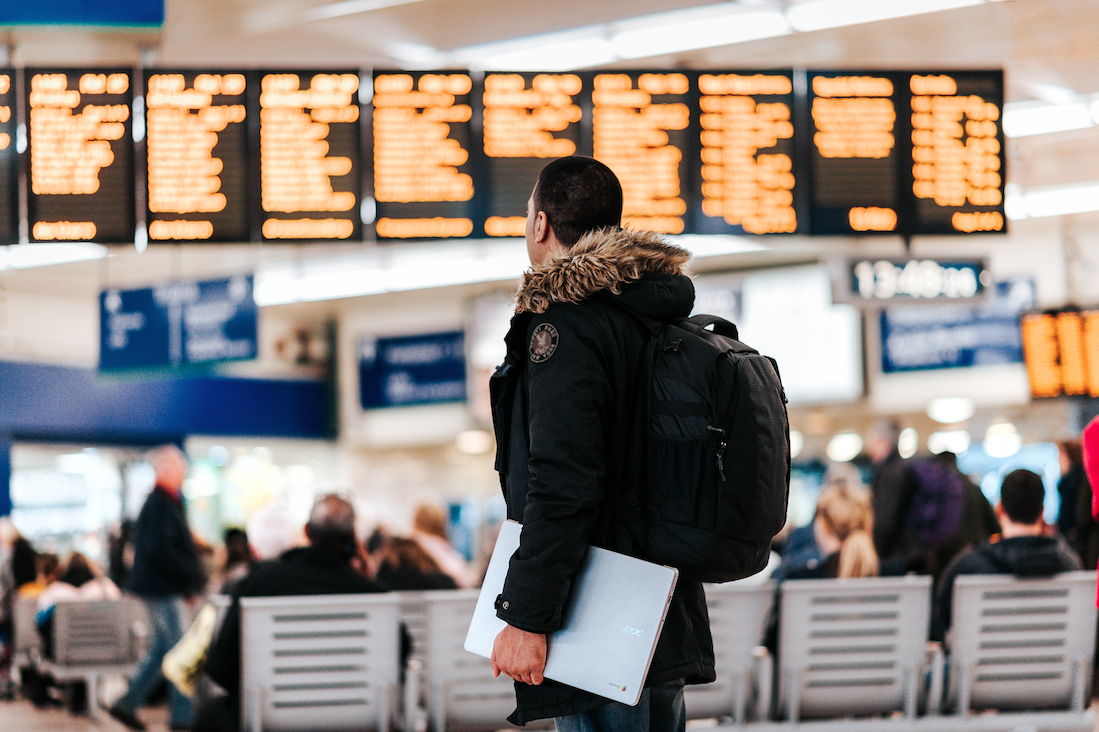 What Business Travelers Want
The vast majority of business travelers enjoy work trips, but they tend to value convenience and control over comfort and amenities, according to survey data Egencia released. Among more than 5,500 business travelers in North America, Europe and Asia/Pacific, convenient travel times and hotel locations were more important than flying business class or earning loyalty points. Business travelers were particularly motivated to arrange travel options that enable them to save time and arrive well-rested. Thirty percent cited travel times that work best for their schedules as being of utmost importance when booking. Convenience remains key after travelers arrive at their destinations, too, as 31 percent cited a convenient and safe location as their top priority when choosing a hotel.
Corporate travelers also value control, the survey found. Nearly half, 48 percent, said the most important element of a corporate travel program is the ability to control booking themselves, including initial booking and any subsequent changes. Specialized customer support ranked a distant second, at 15 percent. A whopping 90 percent enjoy traveling for work, and most claimed to be diligent in following their companies' travel policies. Eighty-two said they always book within policy, though U.S. workers were notably less diligent—or more honest—in that area, as only 62 percent claimed always to be compliant. The most common reason for booking out of policy was the company's advance booking window; about half said they weren't always able to book far enough in advance to comply with policy.
Source: BTN
Global Business Travel Spend Will Reach $1.7T by 2022
Global business travel spend grew 5.8 percent in 2017, an improvement on recent years' moderate numbers, according to Rockport Analytics' annual GBTA BTI Outlook, put together on behalf of the Global Business Travel Association. Rockport expects to mark 2018 growth at an even higher 7.1 percent. "The two-year period spanning 2017 and 2018 is projected to be the strongest two-year period for business travel since the initial recovery from the Great Recession in 2010 and 2011," according to the report. Rockport does, however, expect growth to moderate again from 2019 through 2022, as the global economy is late in its current economic cycle. Still, growth is growth, and the industry is striding rather than inching toward the $2 trillion mark.
Source: BTN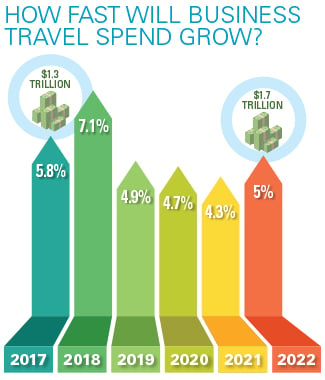 Travelers Willing to Share Personal Data and More for Faster Airport Security

Sixty-five percent of air passengers are willing to share personal data if it would expedite the security process, according to the International Air Transport Association's 2018 Global Passenger Survey. Forty-five percent also are willing to replace their passports with biometric identification. Following are more insights IATA gleaned from its survey of 10,408 air passengers from 145 countries between April and July 2018.
Post-Booking Communication: Post-booking, passengers' top priorities were receiving information about flight statuses (82 percent), about baggage (49 percent) and about wait time at security and immigration checkpoints (46 percent). Almost three-quarters prefer to receive travel information via SMS or smartphone app notifications. Fifty-six percent said they preferred real-time baggage tracking.
Check-In: Eighty-four percent of passengers prefer automated check-in. Forty-seven percent prefer to check in on smartphones and 16 percent prefer to check-in with an agent at the airport counter. Senior citizens were more likely to prefer the airport counter more, as one-quarter said so. Seventy percent of passengers want self-service baggage check. Thirty-nine percent favor electronic bag tags that contain passengers' itineraries. Only one of three prefer agents to tag their bags.
Security & Boarding: Removing personal items from baggage at security checkpoints frustrates 57 percent of air passengers, while 48 percent are frustrated by removing laptops and large electronic devices and 41 percent dislike the lack of consistency in screening procedures at different airports.
Top desires among passengers were more efficient queuing at boarding gates (64 percent), overhead space on places (42 percent) and not having to queue on the air bridge (33 percent).
Source: BTN
Delta Reports Double-Digit Growth in Q3 Corporate Revenue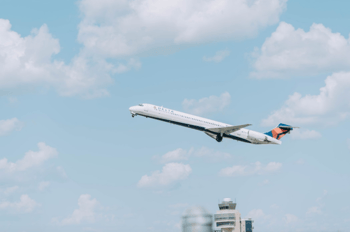 Delta's revenue from corporate customers increased 12 percent year over year in the third quarter, helping to push the carrier's total passenger revenue up 8.2 percent to $10.8 billion. During the quarter, the carrier was able to push up corporate fares. It also saw "close-in booking strength," Delta president Glen Hauenstein said on an earnings call. Additionally, the carrier noted an increase of just under 20 percent in revenue from its premium products. The carrier also reported a strong outlook in corporate demand, as 90 percent of its corporate customers indicated in a recent survey that they expected to maintain or increase spending levels into next year, he said.
Source: Travel Procurement
Congress, Trump Approve 5-Year FAA Reauthorization
For the first time since the 1980s, the FAA will operate under a five-year reauthorization bill that was passed by the Senate, by a vote of 93 to 6, House and signed into law by President Donald Trump in early October. The FAA previously was authorized to operate from 2012 to 2015 and since has been running on extensions. The bill that passed Congress funds the Next Generation Air Transportation modernization initiative and the TSA and provides for some new regulations such as seat sizes and bumping of passengers already aboard the flight.
Source: BTN
Hyatt Acquisition Adds Five Brands
Hyatt Hotels Corp. plans to acquire Two Roads Hospitality, a hotel management company that operates lifestyle brands Alila, Destination Hotels, Joie de Vivre, Thompson Hotels and Tommie. Two Roads formed in 2016 when Commune Hotels & Resorts and Destination Hotels merged. It manages 85 independent hotels, resorts and vacation residences in the Canada, Cambodia, China, India, Indonesia, Mexico, Oman and the U.S. and boasts what Hyatt called a "robust" development pipeline. Those add to Hyatt's 750 properties across 14 brands in 55 countries. Hyatt plans to combine Two Roads' brands and its own lifestyle brands in a new lifestyle division.
Source: BTN
Best Western Unveils Two Boutique Brands
Best Western Hotels & Resorts has introduced two boutique brands to its portfolio: Sadie Hotel for the upscale segment and Aiden Hotel for the upper-midscale segment. The brands are aimed at conversion properties as opposed to new construction.
Best Western has already been playing in the boutique space with its Vib and Glo boutique brands, as well as independent hotel collection brands BW Premier Collection and BW Signature Collection.
Source: BTN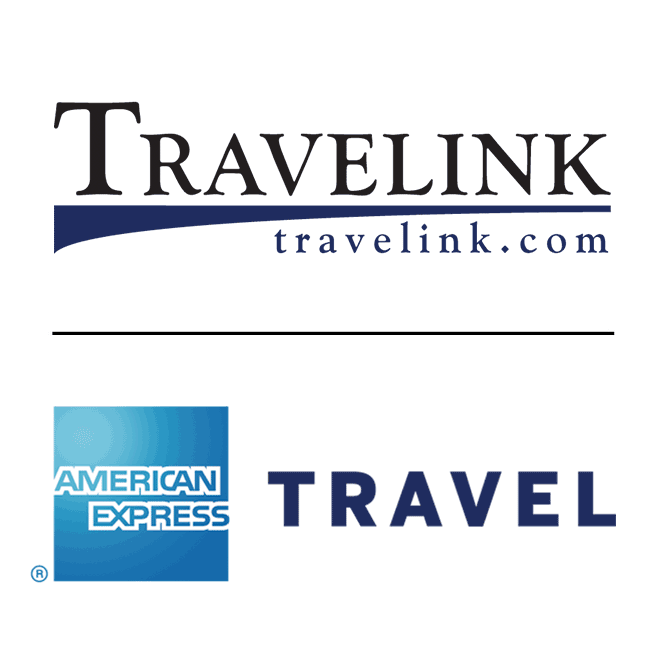 About the author
Travelink
Headquartered in Nashville Tennessee, we operate nationally with a combination of boutique business call centers, vacation travel retail locations, a groups & meetings travel business operations center, as well as our host of experienced virtual travel advisors.
Topics: News, Business Travel