I'm passionate about adventure travel, naturally seeking out exotic and otherworldly destinations, and New Zealand has been near the top of my personal list for ages. When the time came to embark on my adventure, I chose our American Express preferred partner, Swain Destinations, as they are known for offering incredible vacation experiences with a special emphasis in the South Pacific as the founder, Ian Swain, is Australian. My personal adventure was incredibly educational. I learned first-hand all of the amazing itinerary options available to craft for any of my clients, from adventure-seeker to luxury cosmopolitan tourist. Read on to follow my winding journey through one of the most amazing countries in the southern hemisphere, New Zealand.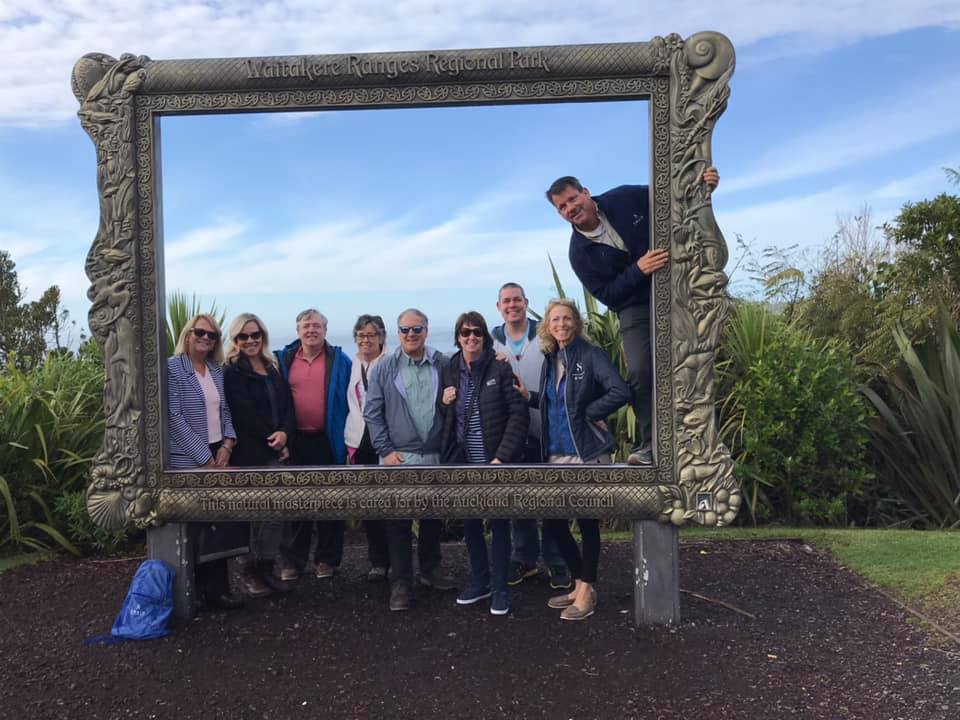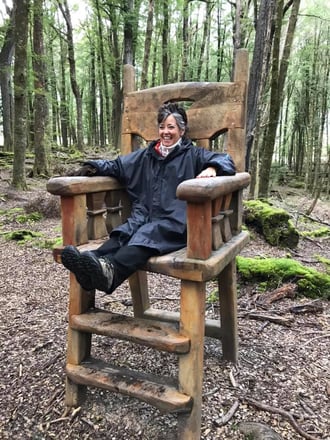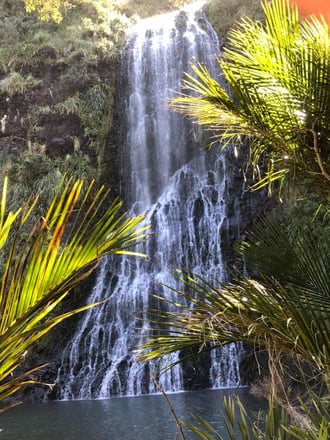 Welcome to Auckland!
Arriving in Auckland, I met up with my group and our "Kaiarahi" (guide) welcomed us with a warm Kiwi greeting before taking us on an excursion. The translation of the Maori name for Auckland, "Tamaki Makaurau," literally means city of a thousand lovers, which we sought to explore. The distinct wildlife, ancient volcanic peaks, and stunning coastlines quickly reveal why people fall in love with NZ.
On our way, to Helena Bay Lodge we stopped on the west coast near the black sand beaches, walked in a nearby rainforest to see gorgeous waterfalls, and toured the Honey Centre to learn about Manuka honey's healing powers. With several fun stops along the way, we saw a little bit of everything including pink sheep; the oldest, largest Kauri trees in NZ; and a Maori residence complete with authentic Polynesian architecture.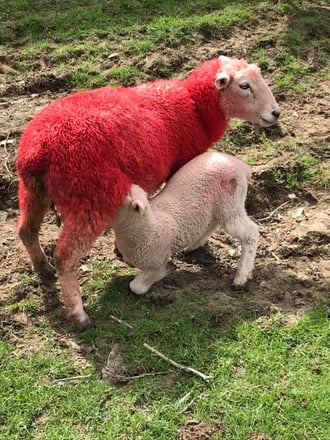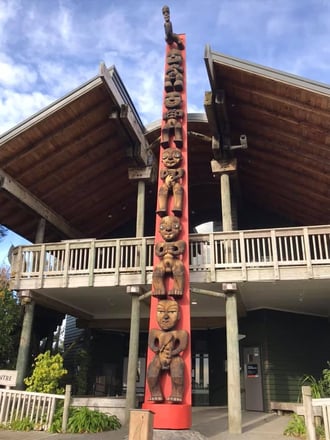 We were welcomed at the lodge with hot towels and champagne, a lovely greeting after crossing the International Dateline. After settling into our rooms at the lodge, we took ATVs around the hotel property to explore the numerous amenities they provide. We explored the property's hiking trails, a private beach, and local farm—saying hello to the alpacas, donkeys, and Wagyu cattle along the way! We also had the pleasure of cooking with Chef Michele, owner of the famous Michelin-starred Don Alfonso Restaurant in Napoli. During the class, he showed us the garden where he grows the ingredients for our expertly-crafted gourmet meals.
Off to Blenheim
The next day we flew over the aqua-blue waters of Marlborough Sounds to Blenheim, where we enjoyed a half-day cruise. Full from our seafood lunch and perfectly paired Marlborough Sauvignon Blanc, we ferried over to our next accommodation at Bay of Many Coves Resort. The cove's stunning pristine natural environment is relaxing for the body and soul, with each room enjoying a bay view. This is the ideal hideaway for anyone in need of a little pampering and relaxation.
The next day we were treated to a 4-hour cruise on the Katabatic Charter vessel through Marlborough Sounds. Weaving our way through the ancient sunken river valleys filled with the waters of the Pacific Ocean we fished and then cooked a gourmet meal on board with fresh mussels from a local mussel farm. After a full day on the water, we returned to the Bay of Many Coves for an afternoon hike and another sumptuous meal and an incredibly restful sleep.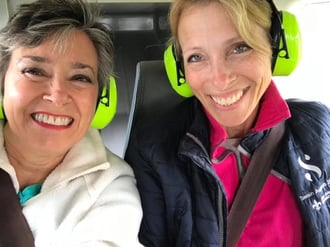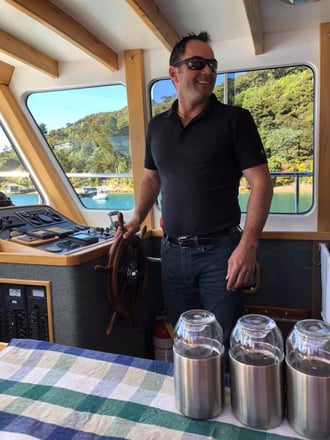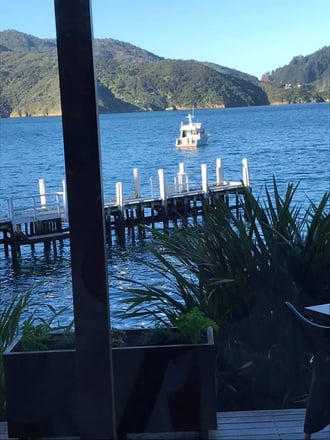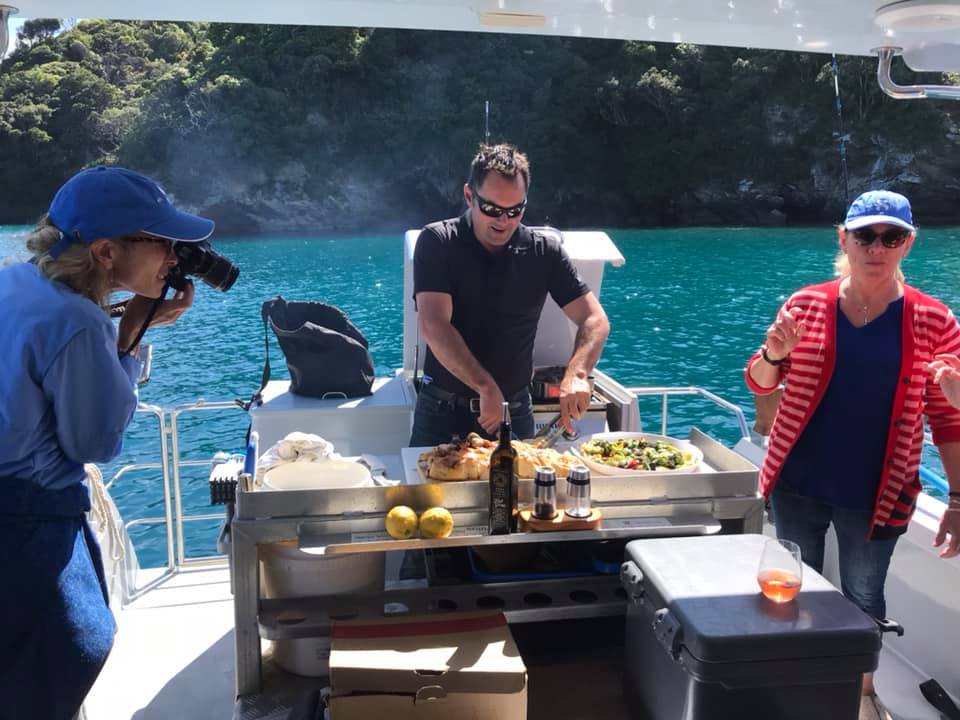 Exploring Picton & Kaikoura
With the day, we continued on to Picton and the drive to the treehouses at Hapuku Lodge. On the way, we visited the Marlborough Lodge, a former convent turned luxury country estate in the heart of the Marlborough wine region. Of course, we wanted to enjoy the wine while lingering in the vineyards, so we headed to Yealands winery for a tour and tasting.
For the next two nights we stayed at the Hapuku Lodge & Tree Houses, a contemporary hotel on a deer farm at the base of the snow-capped mountains in Kaikoura. The treehouses themselves are gorgeous treetop suites sitting among the native Manuka grove, each with a stunning view of both the rugged coastline and mountains.
While here, we experienced a private whale-watching flight! From a bird's eye view, we hoped to see a variety of whales, especially the majestic sperm whale, but we had little luck that day. The flight, however, provided a stunning view of the mountains and blue waters below; a breathtaking contrast photos can't hope to capture.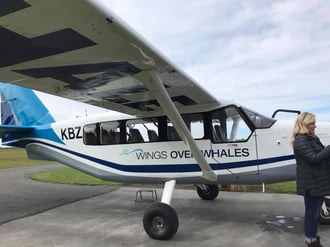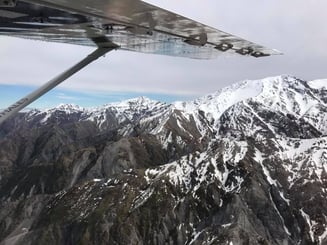 Christchurch to Queenstown
Leaving Kaikoura behind, we drove to Christchurch through the Hundalee and Hawkswood mountain ranges to the farming town of Cheviot in North Canterbury. Known for pioneering the wool industry in New Zealand, this region showcases a beautiful countryside view dotted with sheep leading us to wine country in the Waipara Wine area. Finally arriving in Queenstown, we relish a sunset cruise on Lake Wakitipu aboard the Pacific Jemm before another good night's rest.
Rising early the next day, we visited Glenorchy for our next adventure at the Dart River Wilderness Safari. This was my first time experiencing jetboating, which is absolutely a wild ride! We spent 90-minutes maneuvering through sandbars and giggling through 360 degree "donuts" beneath the snow-covered peaks along the river. Our breath-taking jetboat excursion was followed by a calming nature walk along Heritage Trail, where we learned about the ancient forest and colonial history of the area. On the drive back to the hotel, our knowledgable guide shared stories of the countryside as we stopped to view scenic vistas, many of which formed epic backdrops for the Lord of the Rings movies and other major films.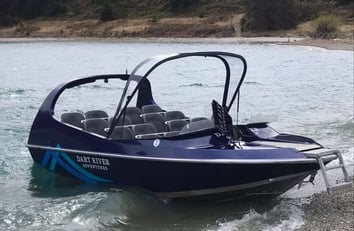 That evening, we toured Blanket Bay Lodge with its native timber, stone finishings, and massive log fireplace--it was incredibly cozy. Directly from the lodge, we helicoptered to Milford Sound viewing glaciers in the area. Flying over the rugged terrain of Otago high country and then over the Southern Alps, we witnessed stunning valleys carved by glaciers and glistening alpine lakes. We landed to explore and immersed ourselves in the silence of the great mountains before us. Finally returning to Queenstown for dinner that night, we chose BlueKanu, a Pacific island-style restaurant where we shared stories of our favorite adventures during this trip, enjoyed lovely flowered cocktails, and ate more amazing exotic food.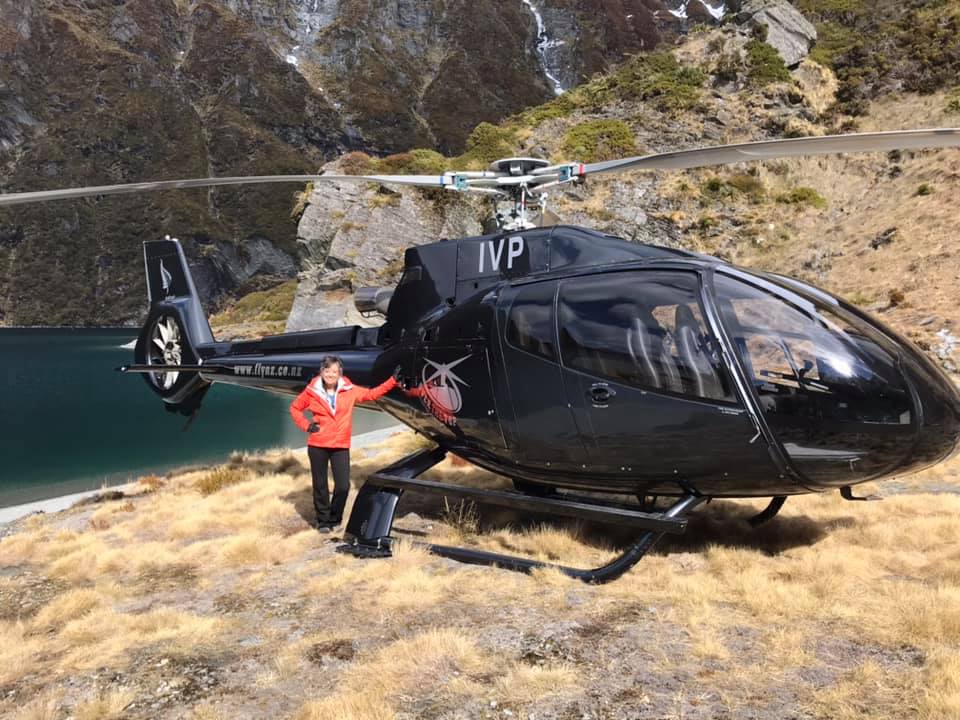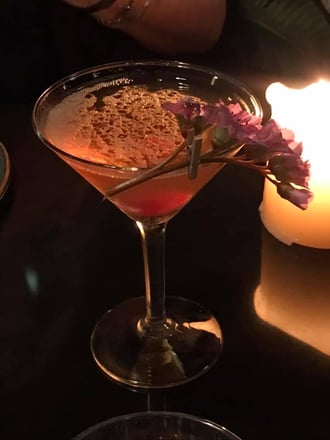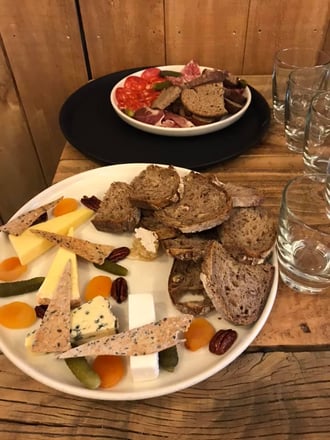 My Wild Last Day
Two of the most quintessential New Zealand activities are wine tasting and bungee jumping. I was able to do both in the same day, as wine is much needed after flinging yourself off a bridge. Fulfilling my "thrill-seeking" adventurous side, I met my guides at Kawarau Bridge, strapped in, and took the plunge! I thought the sights were breathtaking before, but imagine diving into them above a roaring river.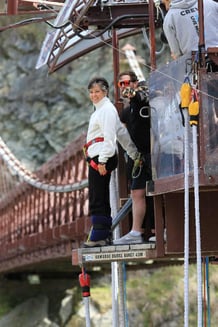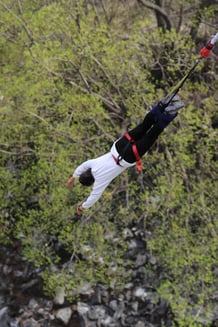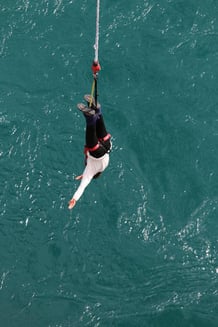 Once my legs were back under me, we explored the gold mining village of Arrowtown before driving out to the scenic Chard Farm winery, which overlooks the Kawarau River I bungeed over in the morning. After tasting a few varietals, we then made our way to Gibbston Valley winery, known for NZ's largest wine cave and its fine Pinot Noirs.
Finding ourselves at the Matakauri Lodge, we spent our final night enjoying wonderful farewell dinner. This nine-acre property is simply stunning, complete with a pine forest and peaceful stream. Our final dinner was, of course, bittersweet but delicious. I thoroughly enjoyed every hotel we stayed in, but I'd have to say the Matakauri was my favorite.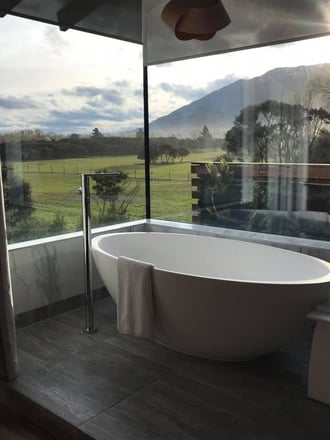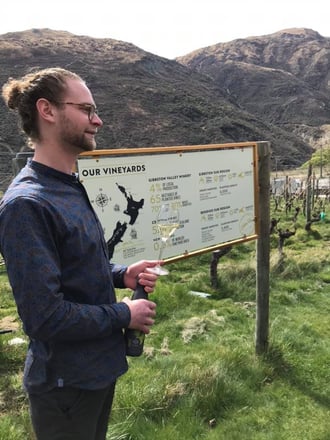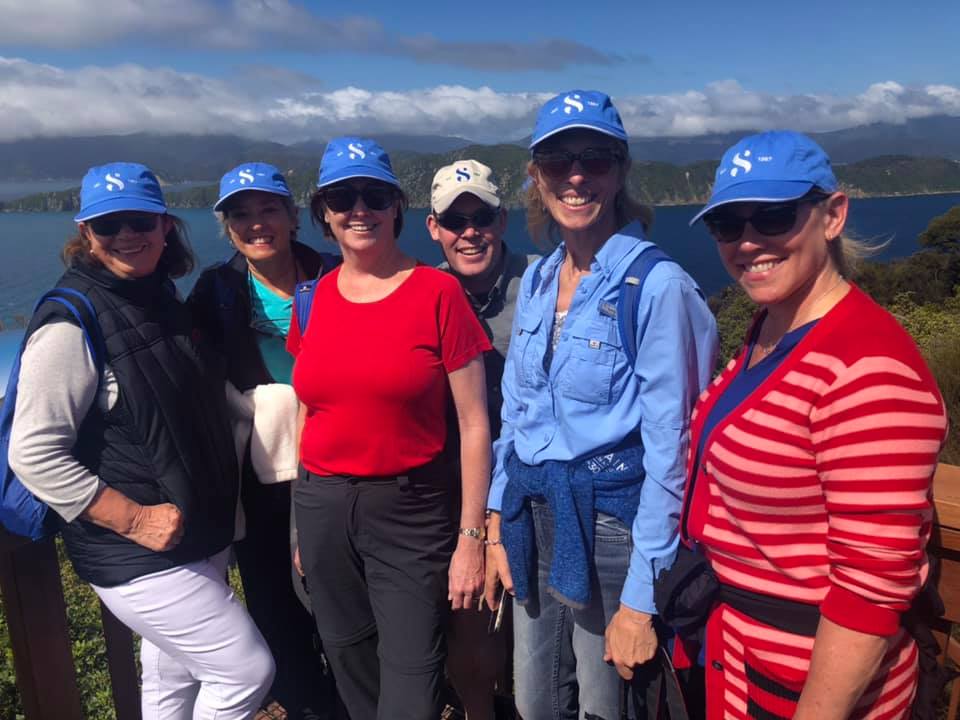 Every detail of my New Zealand adventure provided an exquisite experience, from luxurious meals to breathtaking locations. Over the course of 12 days, I was able to see and do everything on my NZ bucket list including ATV rides, jetboating, bungee jumping, helicoptering, and experiencing NZ from every angle, with thrill-seeking adventures across the country. Of course, I highly recommend Swain Destinations to all my clients who are looking for something that is "next level", highly-personalized, and unforgettable. If you have New Zealand on the mind, do not hesitate to contact me and I will help plan just the right balance of adventure and relaxation you seek.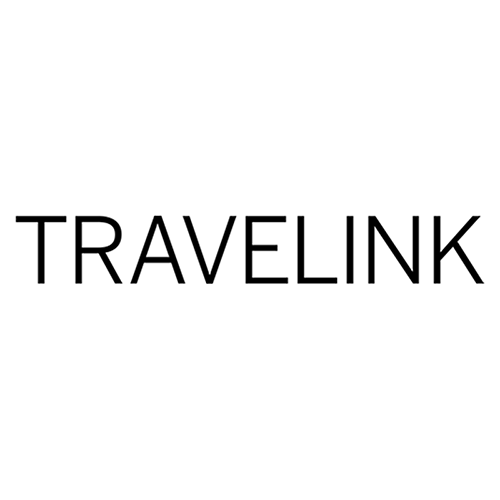 About the author
TRAVELINK
Headquartered in Nashville Tennessee, we operate nationally with a combination of boutique business call centers, vacation travel retail locations, a groups & meetings travel business operations center, as well as our host of experienced virtual travel advisors.
Topics: Hotels + Resorts, Travel Advisor, Leisure Travel, Vacations