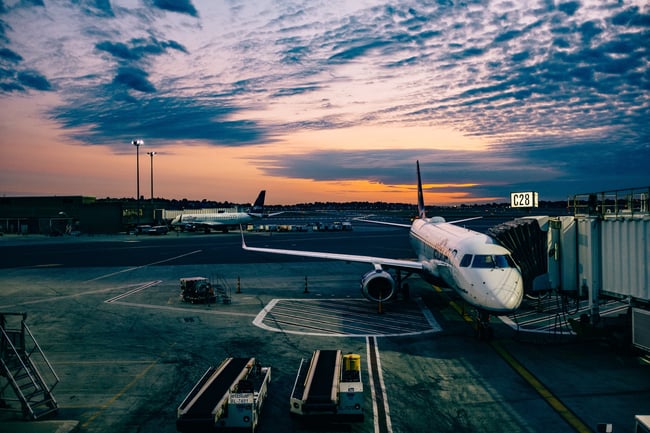 How U.S. Travelers Feel About Researching & Booking Trips

About half of business travelers feel restricted by their travel policies, according to a survey by Travelport of 1,000 U.S. residents who traveled at least once for business in the prior year. In that statistic, Travelport general manager and VP of U.S. sales Erika Moore sees an opportunity for travel management companies and corporate travel managers to manage a bit more, especially when it comes to lightly managed travelers. Moore said travelers, both business and leisure, want to personalize their trips, and corporate booking tools and add-on technologies now allow travel managers and TMCs to offer more guidance—say, on pricing—and more flexibility for travelers researching and booking business trips. The policy that a corporate travel manager writes into the corporate booking tool, for example, could remain strict about the type of hotel a traveler can use but be flexible about the return date at the end of a trip. That would allow the traveler freedom to tack on leisure travel while a gamification tool could capture the savings if the traveler instead opted to return on a cheaper flight immediately after business is done. Newer technology also allows companies to tailor the policies in booking tools to particular groups, such as road warriors, Moore said.
Source: BTN
---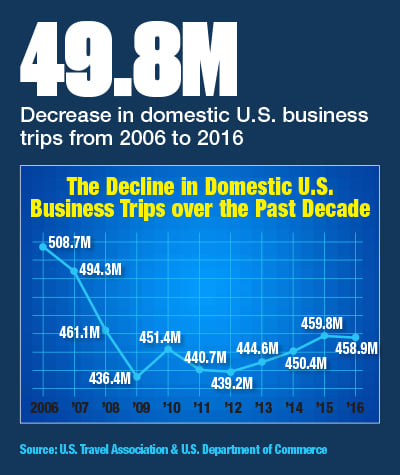 Sources: U.S. Travel Association's Travel Forecast Model, U.S. Bureau of Labor Statistics, U.S. Department of Labor, U.S. National Travel & Tourism Office, Bureau of Economic Analysis, U.S. Department of Commerce, Tourism Economics
---
Bright Outlook for Business Travel

In a newly released U.S. Travel Outlook Summary, the U.S. Travel Association's outlook for business travel from 2017 to 2020 is optimistic. Business travel is expected to grow faster on a year-over-year basis than leisure travel in 2018 and 2019, with 2 percent compared with 1.8 percent, respectively, in 2018 and 1.9 percent compared with 1.8 percent in 2019. In 2020, the forecasted number of domestic U.S. business trips is 490 million, near its pre-recession level of 494.3 million. USTA research head cited the recently passed U.S. federal tax cut plan as a major reason for the forecasted turnaround in business travel. The tax cuts will make "U.S. corporations more globally competitive and encourage business investment," said David Huether, senior vice president of research. "These two things will accelerate business travel."
Source: BTN
Qatar Airways Will Add 16 Destinations Through 2019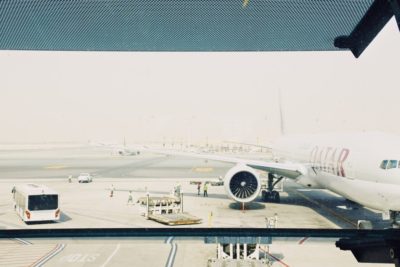 Qatar Airways plans "aggressive expansion" over the next two years, including service to 16 new destinations:
• Tallinn, Estonia
• Mykonos, Greece
• Thessaloniki, Greece
• Luxembourg
• Langkawi, Malaysia
• Valletta, Malta
• Lisbon
• Cebu, Philippines
• Davao, Philippines
• Malaga, Spain
• Antalya, Turkey
• Bodrum, Turkey
• Hatay, Turkey
• London Gatwick
• Cardiff, U.K.
• Da Nang, Vietnam
In addition, Qatar Airways is increasing its existing service to Barcelona, Hanoi, Ho Chi Minh City, Kiev, Prague and Warsaw. Source: BTN
Source: BTN
As Competition Spikes, Virgin Atlantic Carves Out New Economy Fares
Virgin Atlantic has responded to increased competition from low-cost carriers Norwegian and WestJet on its transatlantic routes. This spring, the carrier will introduce three economy class options: delight, classic and light. The categories add to the carrier's premium economy offering, which Virgin Atlantic will call simply premium.
Classic and light will maintain current seat pitch at 31 inches, while delight will offer a 34-inch seat pitch. Virgin Atlantic's premium has a seat pitch of 38 inches. Delight and classic will offer one piece of free checked luggage and will maintain free seat selection. Light will enforce assigned seating and will charge separately for a checked bag at a hefty 45 British pounds, which will make classic the better choice for passengers who need to check a bag. Passengers choosing the economy light option will have assigned seating.
Source: BTN
Ground Transportation Coalition Develops Chauffeured Service Standards
Amadeus, chauffeured service network Blacklane and the Association of Car Rental Industry Systems Standards have joined forces to develop a standards classification system for chauffeured car service. The Vehicle with Driver Service Industry standards, as the coalition calls them, define standard class, business class and first class by services and types of vehicle offered. Those definitions had been inconsistent across the industry, according to Amadeus. Some suppliers define a Toyota Prius as standard class, for example, while others define the vehicle as business class.
VDSI standards specify car types by global region and, to determine class of service, factor in service specifications like lead time required for bookings, cancellation policies and driver's dress code.
Source: BTN
News content licensed from Northstar Travel Media.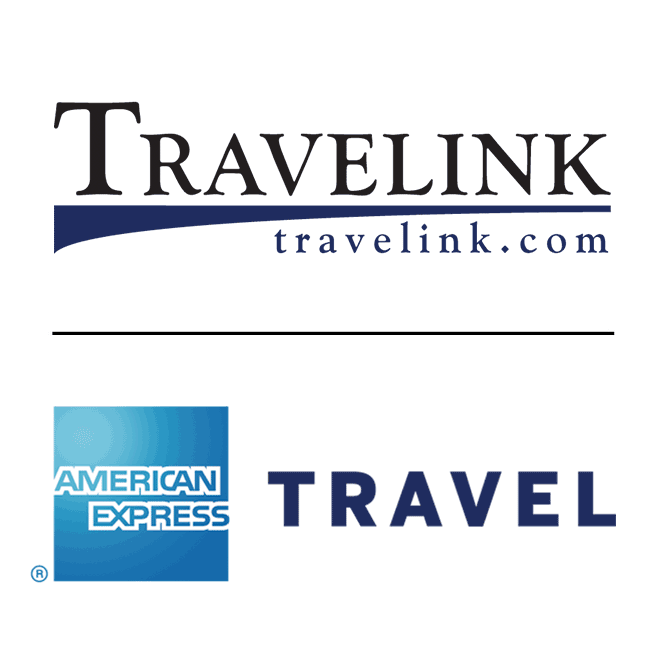 About the author
Travelink
Headquartered in Nashville Tennessee, we operate nationally with a combination of boutique business call centers, vacation travel retail locations, a groups & meetings travel business operations center, as well as our host of experienced virtual travel advisors.
Topics: News, Business Travel