LA DOLCE VITA TRANSLATES TO "THE SWEET LIFE" & TYPIFIES AN ITALIAN IDEAL AND DAILY PURSUIT
As Americans, we strive for so much, yet rarely do we find time to enjoy the fruits of our labor. An escape to Northern Italy's famous Lake Como district is an easy train ride north from Milan, where you're guaranteed to clear away stress and rekindle the heart. Lavished with a culture revolving around food, wine, beauty, and a passion for pleasure, Italians truly understand living the sweet life to the fullest. I would be honored to have the opportunity to ensure your fully customized itinerary savors explorations at a leisurely pace. With your days feeling unscheduled, you'll progress through the must-see and do experiences in the foothills of the Italian Alps as though you have all the time in the world.
I'm delighted to share a couple of my favorite hotels, activities, and tips to ensure your own Privileged Journeys Italian vacation radiates with La Dolce Vita. As an American Express Travel Insider specializing in Italy, I will assist in selecting the best hotels to suit your personal tastes, but a couple of my favorites for your consideration are the Grand Hotel Tremezzo and Villa d'Este. Both are warmly sophisticated yet uniquely timeless properties.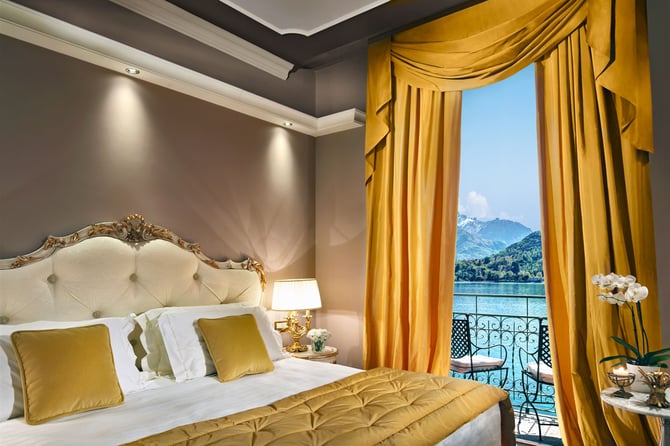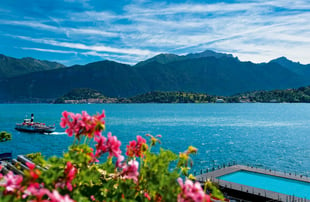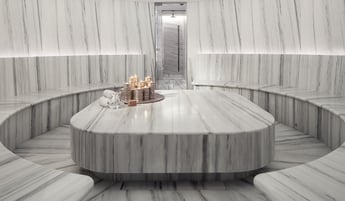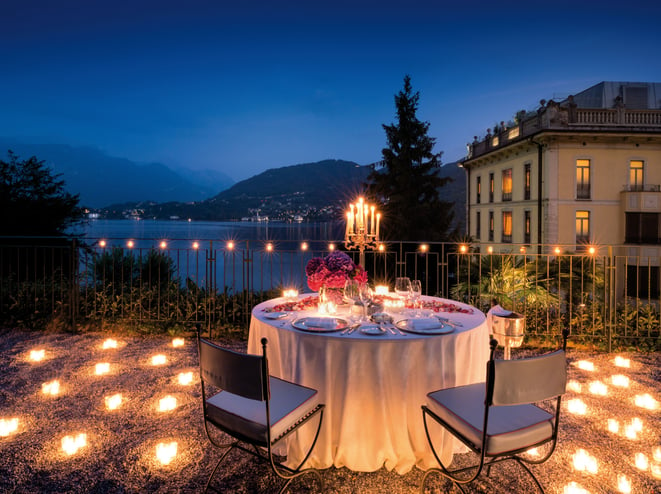 GRAND HOTEL TREMAZZO
The Grand Hotel Tremezzo is a 100-year-old icon created in the era of romantic European grand tours and has the reputation for preserving old-school class and service while showcasing a refreshingly modern elegance. The hotel offers 90 rooms and suites, three swimming pools, an ESPA Spa located in its own 18th century villa with a hammam and yoga studio, as well as a clay tennis court set within five acres of the most luxurious, fairy tale gardens. This romantic property truly is in the heart of Lake Como offering unparalleled views of the stunning Gringe Mountains and village of Bellagio. Celebrities and those in the know travel to the Grand Hotel Tremezzo to dine in consummate elegance and with the five restaurants and bars you may find it unnecessary to venture from this magnificent property. Be sure to schedule time for the ultimate blend of professionalism and relaxation at the exclusive ESPA Spa. With its spectacular view of the lake, the spa provides the perfect setting for personal rejuvenation. Take special note, this hotel boasts the only private beach on the lake and one of the property's three swimming pools actually rests upon the lake's surface, making for a unique floating oasis.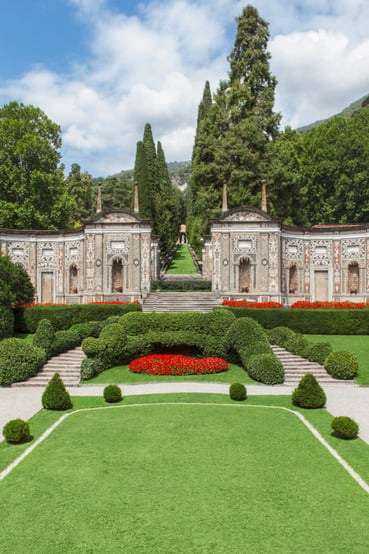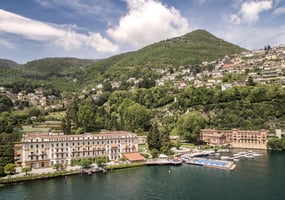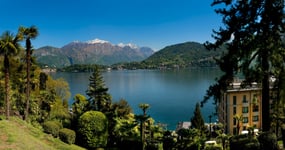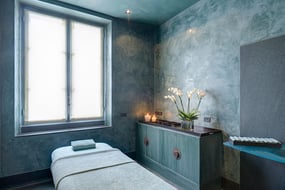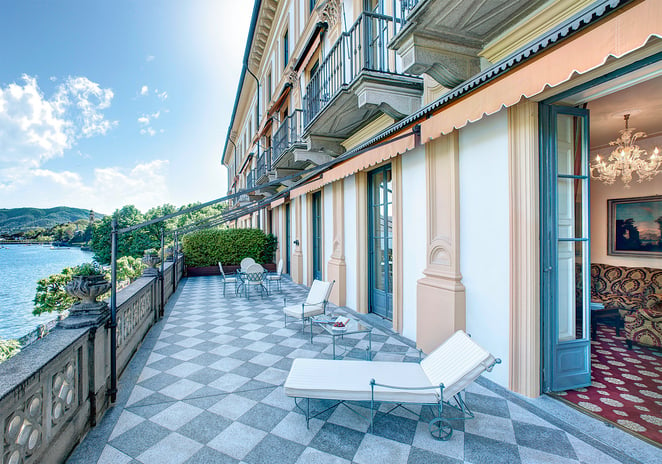 VILLA D'ESTE
After a few nights of pampering by the Grand Hotel Tremezzo, enjoy a short water taxi ride to another one of my favorite hotels, the regal Villa d'Este. This property was originally built for an English queen, but since 1873 has been an elegant luxury resort where you are sure to feel like royalty. Villa d'Este is the most prestigious of Lake Como's hotels with 152 opulent rooms and 25 acres of glorious parkland, promising a haut monde atmosphere. If you love tennis, you'll want to pack your favorite racket as they have eight tennis courts and an amazing spa for recovery after your games (or instead of). When dining in one of their three restaurants, keep an eye out for their famous neighbor, Mr. George Clooney. Though I didn't spot him during my last trip, I am never disappointed by this palatial beauty.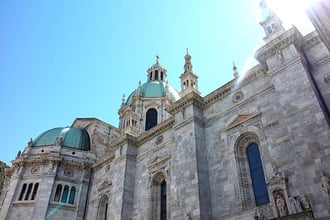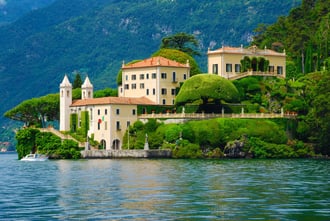 EXPLORE THE REGION
The Lake Como region is endowed with stunning, enchanting scenery, but also bears witness to the rich culture of a civilization with outstanding historical and artistic patrimony. There is an abundance of places to explore in the surrounding villages, shop for wonderful Italian treasures, or tour some of the amazing villas. Your list of places to visit must include the majestic Como Cathedral, which dominates the city and can be seen from the mountain passes or the lake. Started in 1396, it was built in three stages over three and a half centuries and stands today not only as a vibrant community of faith, but also a treasured museum of art and culture. One of the finest villas in the Lake Como District that will leave you breathless is Villa del Balbianello. I've had the privilege to tour this unique property and was stunned at the beautiful terraced gardens and picturesque structure accessible only by water taxi (or a one-kilometer walk). Inside you'll view the rich collection of artifacts displayed by its former owner, Count Guido Monzino, a great explorer and leader of the first Italian expedition to Mount Everest. The villa is one of the most sought-after venues for Lake Como weddings. The tall plane trees combined with classical statues make it an incredible location for destination weddings. If you know anyone who needs help planning their big day, I would love to help arrange all the travel details for their wedding and honeymoon in Lake Como.
Within this little blog, it's impossible to impart the extent of my passion for Lake Como or share the hundreds of photographs I've taken to capture a little of the magic and bring it home to Nashville. More importantly, with each visit to Italy I bring back a little more of La Dolce Vita to infuse into my daily life and I believe you will too. Please contact me and I'll be happy to answer any questions you may have, then together we'll custom craft your own Italian "sweet life" escape.
To book your next vacation with Lori, submit a trip request here: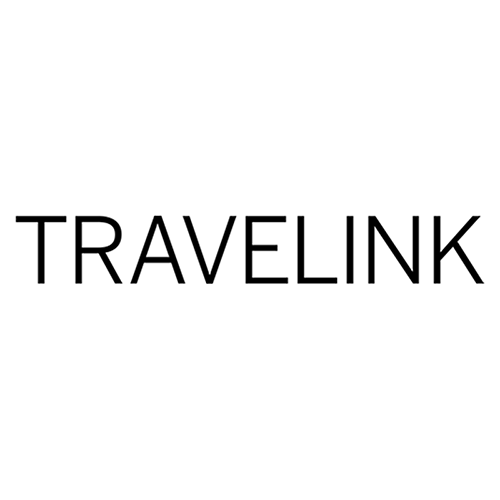 About the author
TRAVELINK
Headquartered in Nashville Tennessee, we operate nationally with a combination of boutique business call centers, vacation travel retail locations, a groups & meetings travel business operations center, as well as our host of experienced virtual travel advisors.
Topics: Hotels + Resorts, Privileged Journeys, Europe, Travel Advisor, Leisure Travel