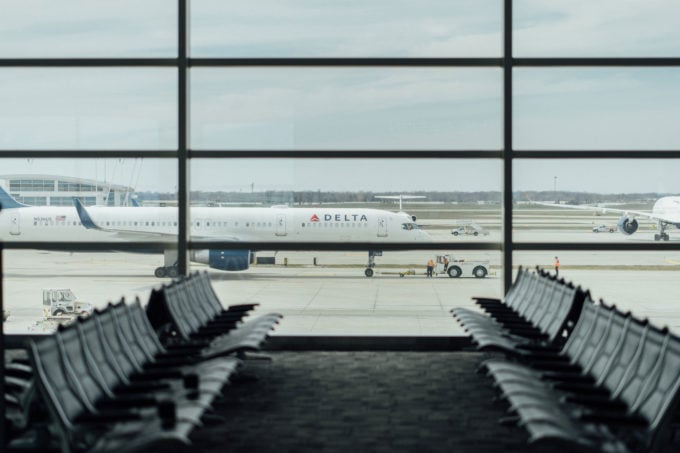 Rising Fuel Costs Intensify Delta's Focus on Raising Corporate Fares
Delta aims to increase corporate airfares as one defense against rising fuel costs in the coming months, executives said in the carrier's earnings call last week. Fuel costs in the second quarter were up about $600 million, or 32 percent, year over year and accounted for about half of a $1.1 billion increase in total expenses during the quarter. For the full year, CEO Ed Bastian said fuel costs were likely to run $2 billion higher than last year. At the same time, Delta is reporting strong demand from its corporate customers. Delta president Glen Hauenstein said corporate revenues during the quarter were the highest ever, up 10 percent year over year, and were up across all industry sectors. Delta's recent survey of travel managers indicated that 84 percent expect their travel spending will stay the same or increase during the third quarter, he said. Source: Travel Procurement
Source: Travel Procurement
Global Air Travel Demand Grew 6.1 Percent in May
Global air travel demand rose 6.1 percent year over year in May, according to the International Air Transport Association. Compared to May 2017's year-over-year growth, May 2018's was moderate. IATA attributes this to rising airline input costs, such as fuel prices, reducing the demand stimulus from lower airfares. Global capacity increased 5.9 percent, and load factor increased 0.1 percentage points to 80.1 percent.
Source: BTN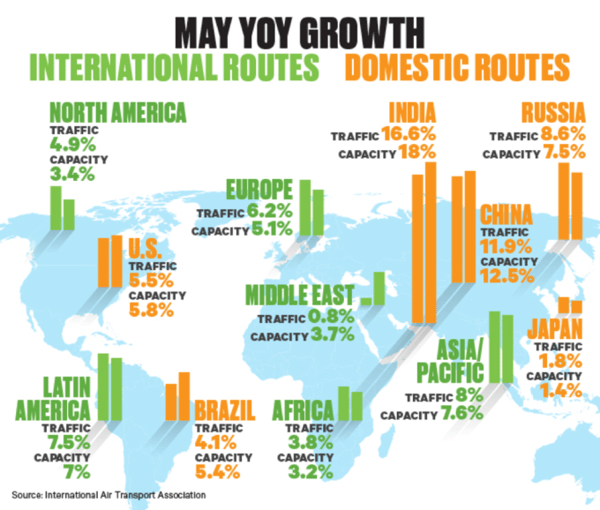 Group & Business Transient Drive Q2 Results at North American Hotels
Third-quarter bookings at North American hotels are stronger than at this same time last year for both the group and business transient travel segments, according to TravelClick. Group bookings are up 1.3 percent, and business transient is up 4.7 percent. In rate terms, group is a bit weaker; average daily rate is up 0.8 percent, while business transient ADR is up 3.9 percent. As the second quarter wraps, both segments are experiencing strong revenue per available room growth; group is up 6.5 percent, and business transient is up 5.5 percent from this same time last year. Looking ahead to the next 12 months, business transient bookings are up 3.1 percent and ADR is up 3.3 percent, while group bookings are up 1.7 percent and ADR is up 1.8 percent. The June North American Hospitality Review looks at group sales commitments and individual reservations in the 25 major North American markets for hotel stays booked by June 1, 2018, for the period of June 2018 to May 2019.
Source: BTN
AccorHotels Unites FRHI Loyalty Platforms Under Le Club AccorHotels
AccorHotels is bringing members of legacy FRHI loyalty platforms into its Le Club AccorHotels program for the first time since Accor closed its acquisition of the Fairmont parent company in July 2016. Members of the Raffles Ambassadors, Fairmont President's Club and Swissotel Circle programs now realize status matches if they switch to Le Club. Additionally, program members are receiving credit for stays during the past six months. The combined portfolios now enable Le Club program members to earn and redeem points at more than 3,500 properties worldwide.
Source: BTN
Uber Gets Short-Term Operating License in London
Uber has secured a probationary, 15-month license to operate in London, ending months of legal limbo for the ride-hailing provider after its operating license renewal was rejected last fall. The ruling of Westminster Magistrates' Court said Uber is now "fit and proper" to operate in London but must face regular monitoring from Transport for London that it is meeting requirements, including in how it reports crimes to law enforcement, according to the BBC. Uber, which had asked for a five-year license when it was rejected last year, had been allowed to continue operations during the appeals process.
Source: BTN
House of Commons OKs Heathrow Expansion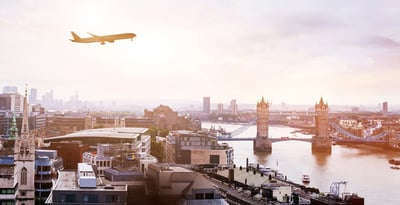 The U.K. House of Commons, in a 415-to-119 vote, approved expansion plans to build a third runway at London's Heathrow Airport, according to the BBC. The plan, which would increase the airport's capacity to 130 million passengers per year and make it the world's largest airport, has had support from the U.K.'s business community, including the Confederation of British Industry. CBI director-general Carolyn Fairbairn said the approval "will lift prosperity across the country and has long been seen as vital for firms, especially exporters." However, the expansion continues to face significant opposition due to environmental concerns, as well as taxpayer costs. Source: BTN
Source: BTN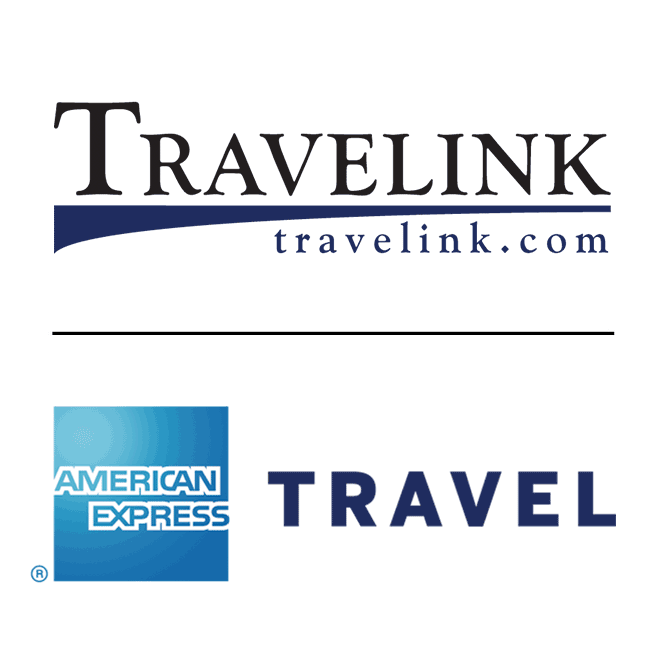 About the author
Travelink
Headquartered in Nashville Tennessee, we operate nationally with a combination of boutique business call centers, vacation travel retail locations, a groups & meetings travel business operations center, as well as our host of experienced virtual travel advisors.
Topics: Business Travel