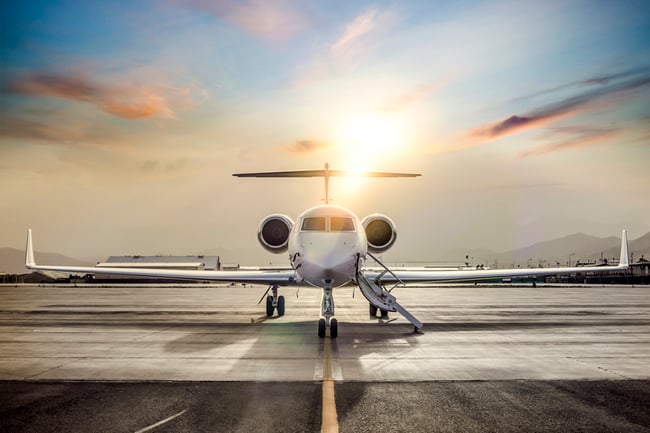 IRS Lowers 2020 Mileage Reimbursement Rate
The U.S. Internal Revenue Service for 2020 has lowered the rate used to calculate the deductible costs of operating an automobile for business purposes. The standard mileage rates for the use of a car, van, pickup or panel truck will be 57.5 cents per mile driven, half a cent lower than in 2019.

The deductible mileage rate is based on an annual study of the fixed and variable costs of operating an automobile. Many companies use the standard rate to calculate reimbursements for employees who use personal vehicles for business.
Source: Business Travel News
U.S. Carriers Among 2019's Most Punctual Globally
Four U.S. carriers—Delta Air Lines, Alaska Airlines, Southwest Airlines and American Airlines, in that order—made the list of the 10 most punctual "mega airlines" in the world, according to OAG's 2019 Punctuality League report. OAG labels a flight as on time if it arrives or departs within 15 minutes of its scheduled arrival or departure time. Cancellations are included within OTP's calculations and are counted as late flights. An airline is included in the report if it is ranked among the largest 250 airlines globally by annual available seat kilometers and if OAG has flight status data for at least 80 percent of the carrier's scheduled flights. "Mega airlines" are those with the most scheduled flights in 2019.
Source: BTN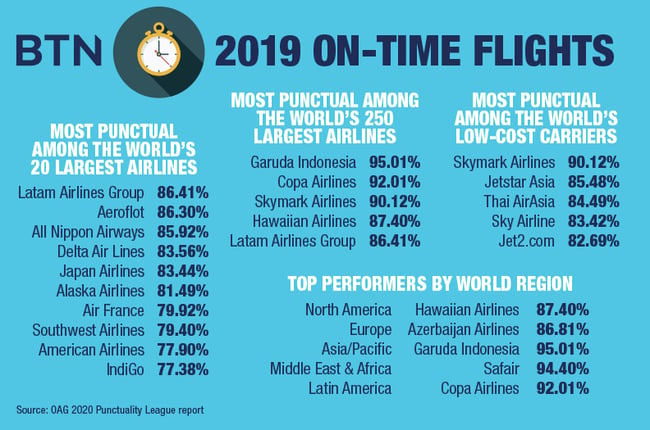 Despite Boeing 737 Max Accident, Commercial Aviation Fatalities Dropped in 2019
Despite a high-profile Ethiopian Airlines Boeing 737 Max accident in March, 2019 was "one of the safest years ever for commercial aviation," according to the Aviation Safety Network. There were 283 fatalities globally in 2019, a drop from 555 in 2018. Of the total commercial aviation fatalities, 267 occurred on passenger flights. However, the number of commercial airliner accidents was 20, the highest it's been since 2013, which had 23. Of the 2019 accidents, 14 were passenger flights and six were cargo.
Source: BTN
Delta Plans Deeper Mobile App Integration with Lyft
Delta is deepening its partnership with Lyft, with plans to integrate more features from the ride-hailing supplier into the Fly Delta app. The first step of the expanded partnership, expected in 2020, would add touchpoints within the app for travelers to link their SkyMiles and Lyft accounts, through which they can earn miles during Lyft rides. The companies are exploring eventually introducing such features as enabling travelers to pay for rides with miles and "a dedicated premium Delta-Lyft experience at some of the busiest U.S. airports," according to Delta.
The Lyft partnership is part of Delta's plan to turn its app into a "digital concierge" that is "the ultimate travel companion for all points of your journey, with an eye on expanding the convenience and value of using miles as a form of payment for services with Delta and partners," according to Delta CEO Ed Bastian. Another step toward that will be the planned introduction later this month of virtual queuing in the app, in which travelers would be notified when their specific seat, not just their flight, is boarding. Delta recently has added app features including integrated security wait times in some markets and pre-selected meals.
Source: BTN
JetBlue to Offset All Domestic Flight Emissions
JetBlue plans to offset carbon dioxide emissions on all its domestic flights as of July, the carrier announced. With its partner, Carbonfund.org, JetBlue estimates it will add offsets to between 15 billion and 17 billion pounds of emissions per year. JetBlue has worked with Carbonfund.org over the past decade to "balance customer flying during specific times of the year," and the carrier estimates it has offset more than 2.6 billion pounds of emissions since 2008. Offset projects that JetBlue plans to support include forest conservation projects, landfill gas capture programs and the development of solar and wind farms.
Source: BTN
Ahead of Super Bowl, Hospitality Industry Summit Targets Human Trafficking
Before last year's Super Bowl in Atlanta, the U.S. Federal Bureau of Investigation made 169 arrests related to human trafficking, and it made more than 110 arrests in 2018 before the game in Minneapolis. This year's game will be held at the Hard Rock Stadium in Miami Gardens on Feb. 2, and to prepare for the potential increase of traffickers and their victims, the local hospitality community and others on Jan. 9 met for a half-day summit to raise awareness and share anti-trafficking strategies at the Fontainebleau Miami Beach hotel.
The American Hotel & Lodging Association in partnership with the Asian American Hotel Owners Association and the Florida Restaurant & Lodging Association convened the event, which highlighted partnerships with law enforcement and tools that have been effectively implemented to reduce the number of incidents of trafficking in hotels.
As part of the summit, the audience viewed a "35-minute snapshot of FRLA's human trafficking training session," and "people were amazed by what they learned," FRLA president and CEO Carol Dover said. "Training is critical. Florida is one of the first states to mandate that public lodging employees are trained." That mandate, signed into law last summer, takes effect in January 2021, but "we will be close to 100 percent trained by the time it goes into effect," she said.
Source: BTN
Tips to Help Travel Managers and Business Travelers Recognize Human Trafficking
National Human Trafficking Awareness Day on Jan. 11, 2020, provides an annual opportunity for the business travel industry to review its strategy and initiatives to combat this grave violation of human rights. Human trafficking is a multi-billion-dollar criminal industry, yet a BTN survey of 164 travel buyers conducted this year found that 28 percent of respondents are not aware that human trafficking is an issue within business travel, and only 40 percent said they are aware of suppliers' efforts to train employees and raise awareness of the issue in the industry.
Establishing anti-trafficking policies, procedures and regular training can help ensure that hospitality and corporate travel executives and event professionals—and their guests and clients—can recognize the signs of human trafficking and know how to take the right steps to report their concerns. An effective human trafficking training and education program should:
Explain what human trafficking is
Dispel myths about who's at risk
Identify signs of trafficking
Explain how to report suspicions
Encourage due diligence
Source: BTN Op-ed by Traliant co-founder & chief learning officer Andrew Rawson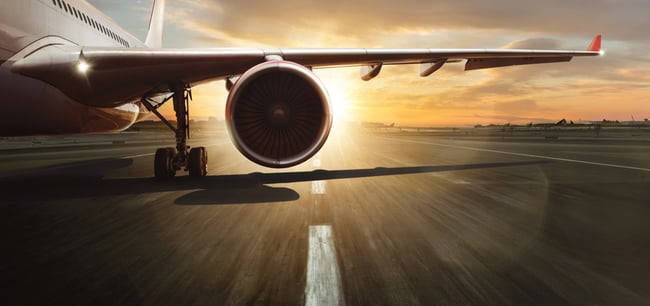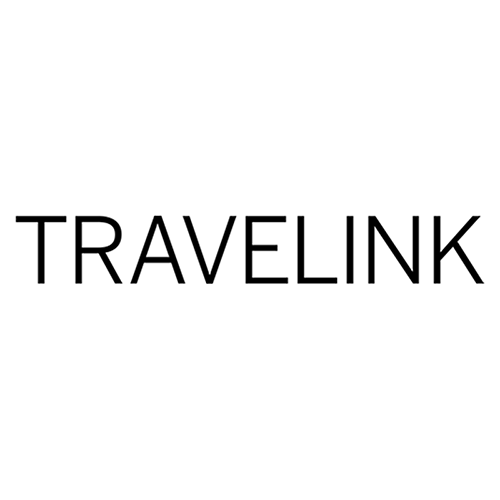 About the author
TRAVELINK
Headquartered in Nashville Tennessee, we operate nationally with a combination of boutique business call centers, vacation travel retail locations, a groups & meetings travel business operations center, as well as our host of experienced virtual travel advisors.
Topics: News, Business Travel