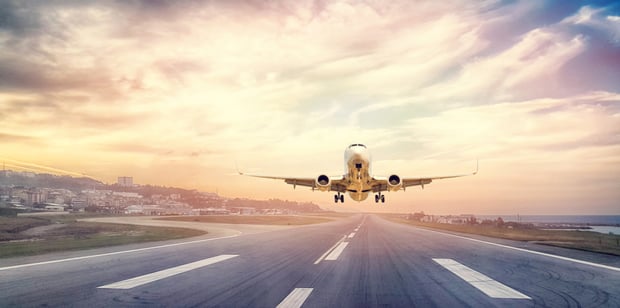 2018's Most Punctual Airlines Globally
Among the world's 20 mega carriers, five U.S. carriers placed among the 10 most punctual, according to OAG's 2019 Punctuality League report: Alaska Airlines, Delta Airlines, Southwest, United Airlines and American Airlines. OAG labels a flight as on time if it arrives/departs within 15 minutes of the scheduled time. Among mega carriers, defined by number of scheduled flights, Latam Airlines Group was the most punctual. ANA was second, followed by Japan Air Lines with 84 percent.
Source: BTN
United Nabs ExpressJet for $70 Million
United Airlines has reached a deal to acquire ExpressJet from SkyWest for $70 million. Under terms of the agreement, SkyWest will maintain ownership of the CRJ aircraft currently in service for ExpressJet and will lease 20 CRJ200s to ExpressJet for up to five years. United made the acquisition under its new ManaAir joint venture partnership with KAir Enterprises, an airline-focused investment company. The transaction is expected to close in early 2019. Prior to bringing ExpressJet under its umbrella, United had been the only major network carrier without an in-house regional partner.
Source: BTN
Delta Ended 2018 with Best NA On-Time Performance

Delta had the best on-time performance among North American carriers in December, according to FlightStats. Spirit, which surprised many twice last year with the best on-time performance, came in second.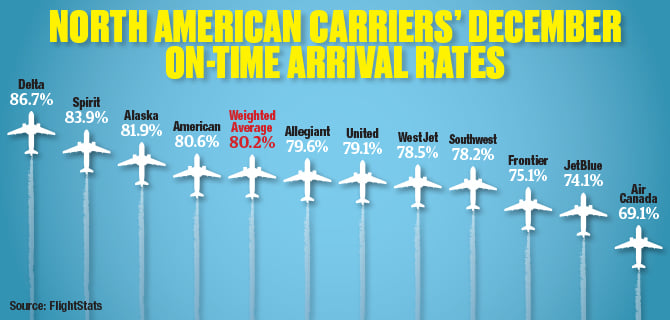 Source: BTN
Air Ticket Sales Rose 5.4 Percent in November

The consolidated dollar value of airline tickets sold by U.S.-based travel agencies rose 5.4 percent year over year to $7.1 billion in November, according to the Airlines Reporting Corp. The average U.S. round-trip ticket price for November was $498. Total passenger trips rose 1.6 percent year over year to 22.1 million. Trips within the U.S. fell 1.26 percent to 13.9 million, while international trips were up 6.79 percent to 8.2 million. Electronic miscellaneous document sales, which include ancillary services like seat upgrades, reached $6 million, up 1.3 percent year over year. EMD transactions fell 7.9 percent year over year to 86,940 in November.
Source: BTN
Tax Deductible Rate for Business Mileage Jumps Again
The IRS is increasing the rate used to calculate the deductible costs of operating an automobile for business purposes. Beginning Jan. 1, 2019, the standard mileage rates for the use of a car, van, pickup or panel truck will be 58 cents per mile driven, up 3.5 cents from 2018. The latest increase is sharper than the 1 cent uptick from 2017 to 2018. The deductible mileage rate is based on an annual study of the fixed and variable costs of operating an automobile.
Source: Travel Procurement
Enterprise Will Add Internet-Connected Vehicles
Enterprise Holdings plans to add more than 100,000 connected vehicles, vehicles equipped with internet, to its fleet over the next year through a partnership with General Motors. Spread across National, Enterprise and Alamo locations, they'll expedite the rental and return process, as they can automate such tasks as checking fuel levels, odometer readings and vehicle conditions upon return. They also include technology to improve the driving experience, such as automatic crash responses and remote locking and unlocking capabilities.
Source: BTN
Hertz Partners With Clear For Quick Exit Lanes
Hertz has partnered with Clear to create a biometrics-based Fast Lane at its Atlanta airport location. It plans to replicate the lane at a few dozen other locations over the next year. It's been operating for about a week and allows travelers who are members of both Clear and Hertz Gold Plus Rewards to exit the location with either a fingerprint or facial recognition rather than having to show identification. That shaves the time required to exit from about two minutes to 30 seconds or less, Hertz chief marketing officer and EVP Jodi Allen said. "At Hertz, we spend a lot of time understanding what our customers are interested in, and speed is absolutely critical," Allen said. "Based on that, we entered this partnership with Clear."
The partnership is Clear's first partnership with a car rental company and its first use of facial recognition, as opposed to fingerprints and iris scans, Clear CEO Caryn Seidman-Becker said. In addition, it's the first use of biometrics by a major car rental company, according to Hertz.
Source: BTN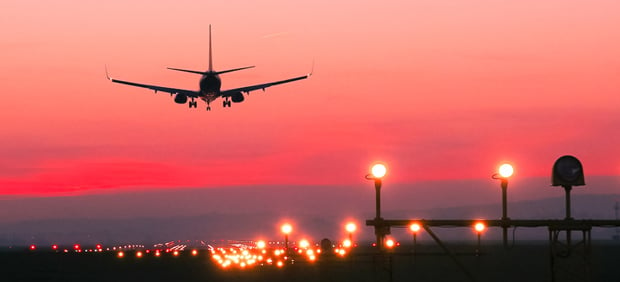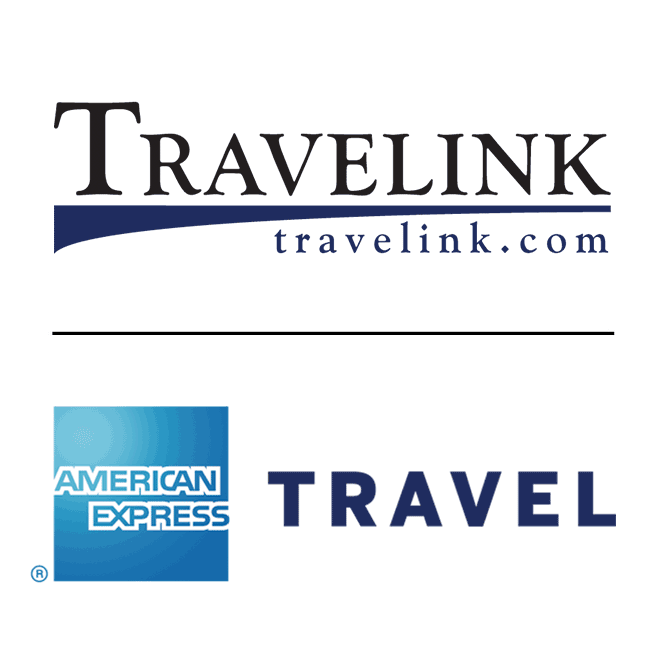 About the author
Travelink
Headquartered in Nashville Tennessee, we operate nationally with a combination of boutique business call centers, vacation travel retail locations, a groups & meetings travel business operations center, as well as our host of experienced virtual travel advisors.
Topics: Business Travel