A trip to Ireland is often a journey of discovery and its not unusual for Americans to find we are not only welcome, but at home away from home. With the strength of the dollar against the Euro and the plethora of easy flight choices from America to the Emerald Isle, there is no better time to go than now. I fell for this beautiful country and friendly people during a recent visit and I'm excited to share just a few of the highlights from my own journey to help plan yours.
Beginning a trip in Ireland's capital of Dublin is a fantastic way to start an Irish experience by taking in all the city's arts, entertainment and culinary offerings. I enjoyed the understated elegance found behind the Georgian townhouse doors of the 5 Star Merrion hotel, which is a lovely way to slip in after an overnight flight.
The city streets are a mix of pa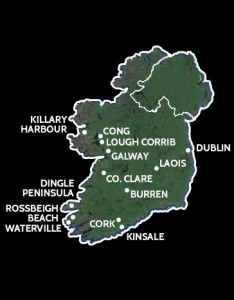 st and present, a journey easily taken by walking its sidewalks as well as by visiting some of the country's most famed museums and galleries. Among my favorites is the renowned Trinity College where one can easily get lost within the manuscripts of Oscar Wilde, Bram Stoker, and Jonathan Swift or the illuminated pages of the ancient Book of Kells. Ground yourself in the city with a stroll through one of the city's peaceful green spaces and join in a conversation at a local pub.
The Irish people you encounter will live among your most cherished memories. Ranked as one of the top destinations to visit in Europe, Dublin was a perfect starting point for my first few days and I recommend you definitely plan at least two nights here.
Ireland is a quaint sized country and you could easily drive from coast to coast in half a day. I chose the most ideal way to watch the Irish countryside go by, from the window of private car on a personal chauffeured tour where the sights and history were explained by my knowledgeable driver and I didn't have to worry about making a wrong turn. The beauty of the Midlands region, sixty miles from Dublin, is a sweet way to ease into the countryside. In County Laois, the rolling hills, grazing horses and sheep provide a different sort of welcome as we approach a new level of elegance and hospitality for an overnight at Ballyfin, the 5 Star luxury country house affectionately known as the diamond in the emerald. Visiting the small villages in the foothills provides a wonderful opportunity to meet the local people without hustle and bustle. Ballyfin itself offers a range of top-notch activities and championship golf is just a short distance away.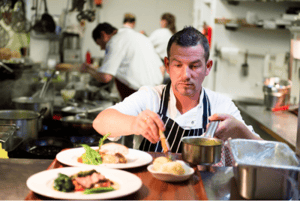 As our wheels turned south towards the coast, the natural beauty of County Cork opens a window into the wildness that awaits us further west. Recognized as the gourmet center of southwest Ireland, food takes top billing here. Ballymaloe Cookery School in East Cork attracts foodies interested in learning how to bring home a taste of Ireland, which I enjoyed thoroughly. Garinish Island in West Cork, gives garden and nature lovers a unique experience to explore a fantastical paradise of flower and fauna. The yachting harbour town of Kinsale is maze of winding streets dotted by galleries, shops, and lively bars.
Next we move to the Emerald Isle's untamed west coast, which has long been a magnet for travelers, offering one of the richest cultural touring routes on the globe and fresh seafood. Visitors to Kerry are spoiled for choice. The Dingle Peninsula places you strategically in the middle of some of the prettiest scenery, incredible food, and local art. We were only a boat ride away from the Blasket Islands, home to some of the richest history in Ireland. At Waterville, golfers can swing into action at one of the country's most spectacular courses with breathtaking ocean views. Horse lovers can gallop away at Rossbeigh Beach, which caters to riders of all levels. The Ring of Kerry offers travelers the chance to experience a bounty of what the gorgeous county has to offer as it passes through small towns, postcard scenery, and restaurants providing some of the freshest farm to fork fare.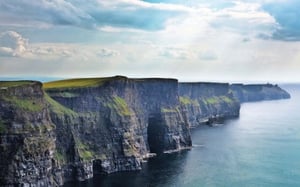 At the southwestern edge of the Burren is Ireland's rocky landscape national park region in Clare. We are drawn to the magnificent and mesmerizing Cliffs of Moher. A walk along this UNESCO Heritage Geopark soaring high above the Atlantic Ocean with pathways and viewing platforms along the cliff edge, is the perfect opportunity to stretch our legs. The Burren Smokehouse gives visitors a chance to taste and learn about smoked Irish organic salmon. Further north lays the fjord of Killary Harbour, a natural border between Mayo and Galway smack in the middle of Connemara's breathtaking landscape. The area is known for its wildlife as well some of the most delicious mussels on the island.

Located in the little town of Cong in County Mayo, a stay at Ashford Castle is akin to stepping between the pages of a fairy tale meets history book and is a true reflection of the Ireland you seek. The old world charm that captivates visitors from the moment they approach the 350-acre estate is topped off by the generous Irish welcome of bagpipers. Once settled in, its beauty and grandeur is crowned by 21st-century luxuries and service.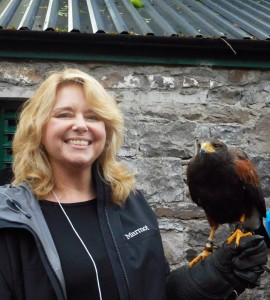 It's not every day we can call a castle home but Ashford's activities ensure you receive a proper taste of Ireland. One of the most unique experiences is trying your hand at the ancient art of falconry. For adults and children, Ashford's Hawk Walk is a magical opportunity to get up close and personal with these amazing creatures. Guests who prefer nature from a different point of view can explore the primeval forest paths on horseback, soaking up the majestic scenery of the shorelines as well as Connemara's mountains further west.
Whether spending the day exploring local attractions, tasting your way through foodie activities in tiny Irish towns, or day tripping to a neighboring county, the siren call of Ashford Castle's creature comforts is hard to resist. A bronze conservatory is home to the hotel's spa and fitness center overlooking Lough Corrib, one of Ireland's largest lakes. The facilities include a Hammam, a relaxation pool, and the latest in wellness innovation. From fine dining to relaxed pub fare, four main dining rooms present an entirely different experience to indulge your senses in Ireland's creative cuisine. It's a royal sendoff to end a trip here.
North, south, east or west, Ireland's luxuries are too vast and varied to capture in one visit or in one article. There is also nothing once-in-a-lifetime about visiting this country and I have a passion for helping others discover the magic of the Emerald Isle.
View this article in Nashville's Sophisticated Living Magazine on pages 4-5.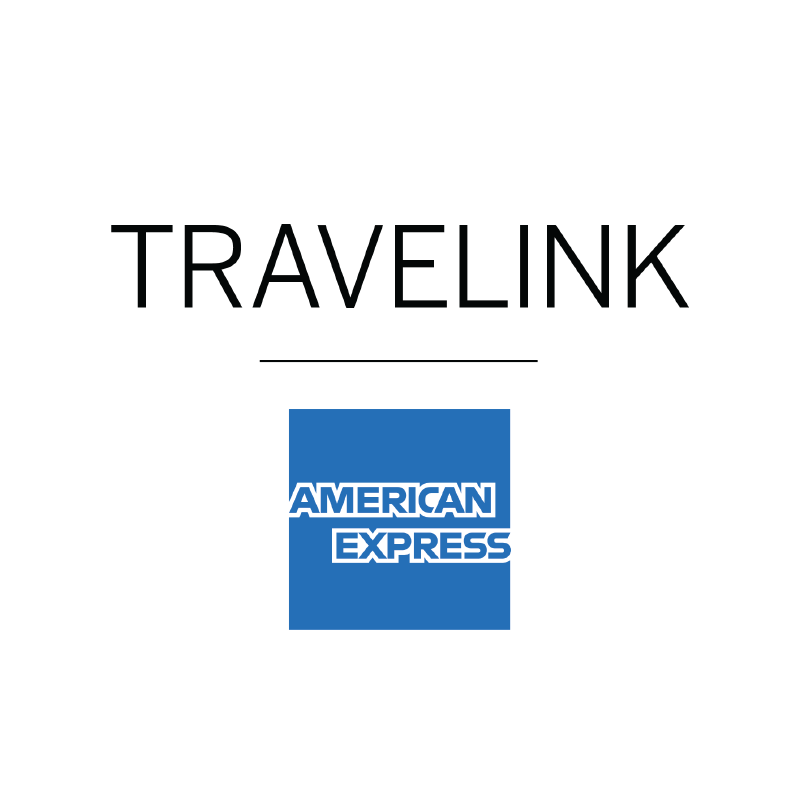 About the author
Travelink
Headquartered in Nashville Tennessee, we operate nationally with a combination of boutique business call centers, vacation travel retail locations, a groups & meetings travel business operations center, as well as our host of experienced virtual travel advisors.
Topics: Privileged Journeys, Food + Culture