India is a destination hovering near the top of my bucket list for years. I was finally able to experience a taste of it with my Travel + Leisure Advisory Board colleagues for a week of unforgettable explorations from Delhi into the heart of Rajasthan. The T+L team brought together three competitive luxury hotel companies to host our group, hoping to raise awareness with our American clients of all their amazing properties and the unique immersion they offer our customers in India. These hotels specialize in service and will do everything in their power to ensure your vacation in India is truly incredible: The Leela Palaces; Oberoi Hotels & Resorts; Taj Palaces, Hotels, & Resorts.
My first host was The Leela Palaces Hotels and Resorts in New Delhi. After my long, but very comfortable flight, I settled in and enjoyed an amazing breakfast in my room. After a hot shower I was ready to explore the city in an attempt to stay awake for the entire day, hoping to acclimate quickly to my new time zone. Two of my colleagues and I took a private driver and guide from the hotel to a local shopping area to see if we could find an outfit or two for the week. Our guide was a tremendous help, allowing my jet-lagged brain to enjoy the local shopping while she selected fashionable Indian outfits and negotiated with shop managers on my behalf. We later met up with a friend who lives in New Delhi at the Delhi Golf & Country Club. We devoured "street food", prepared by their chefs onsite, while sitting on the terrace to soak up the spring weather and watch golfers drive around the ancient tombs scattered throughout the golf course. Food is central to your immersion in any culture, so always ensure you've studied the do's and don'ts before you travel.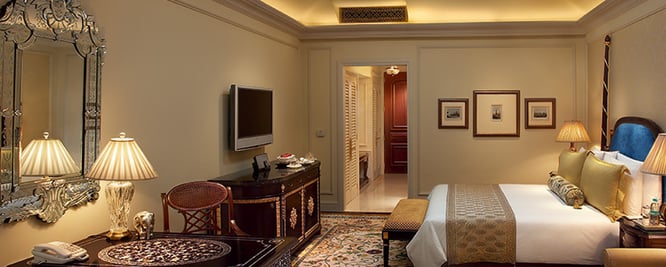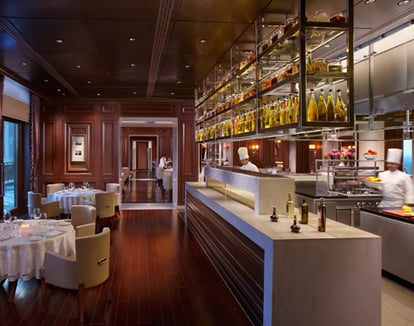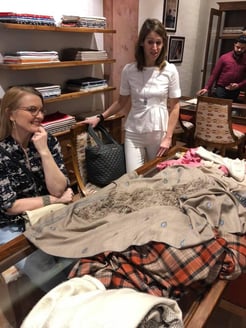 Photos: The Leela Palace New Delhi (top), Le Cirque in The Leela Palace New Delhi (bottom left), Sandy Schadler & Shawna Huffman in Pashmina School (bottom right).
My simple approach to eating in India for Americans: Only eat food that has been completely cooked by reputable restaurants and hotels while only drinking and using bottled water. It's easier than you might think, as long as you don't try to count calories.
This guideline translates more specifically into:
No salads or fruit juices – Your diet ended when you boarded the plane
No raw fruits or vegetables, even in your hotel room, unless you peeled it open
Order only from reputable restaurants and hotels, no street vendors
Only drink bottled water, never from the tap, even for brushing your teeth
We finished the first day with a Cashmere "pashmina school" at an artisan shop with hand-woven pashminas like nothing I've ever felt before. I was nearly bleary-eyed enough to drop a couple thousand dollars on a pashmina, but I decided not to spend my entire shopping budget the first day. We journeyed back to the Leela Palace at 5pm where I enjoyed a light dinner in my room (I adore Leela's amazing room service) and finally went to sleep in my welcoming bed for the next ten blissfully deep hours.
Monday morning, my day began at 5am local time with coffee and the Oscars live from Los Angeles. Once downstairs, we all had a chance to greet each other and our hosts, then we settled into the most-grand of conference rooms I've ever seen and got down to business. We met separately with our three host hotel groups to prepare for the week and understand each hotel's unique position in India. In addition, Amitabh Kant, the CEO of the National Institution for Transforming India (NITI), educated us on the India of today and his charter as the "think tank" of the Indian government, infrastructure improvements in support of increased tourism, as well as the importance of American visitors in India.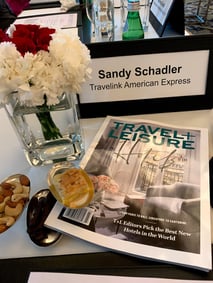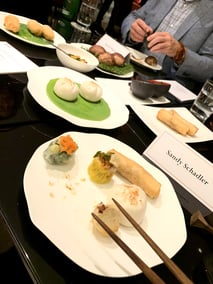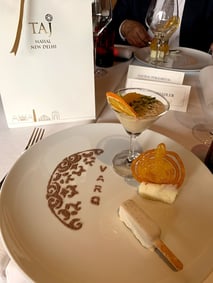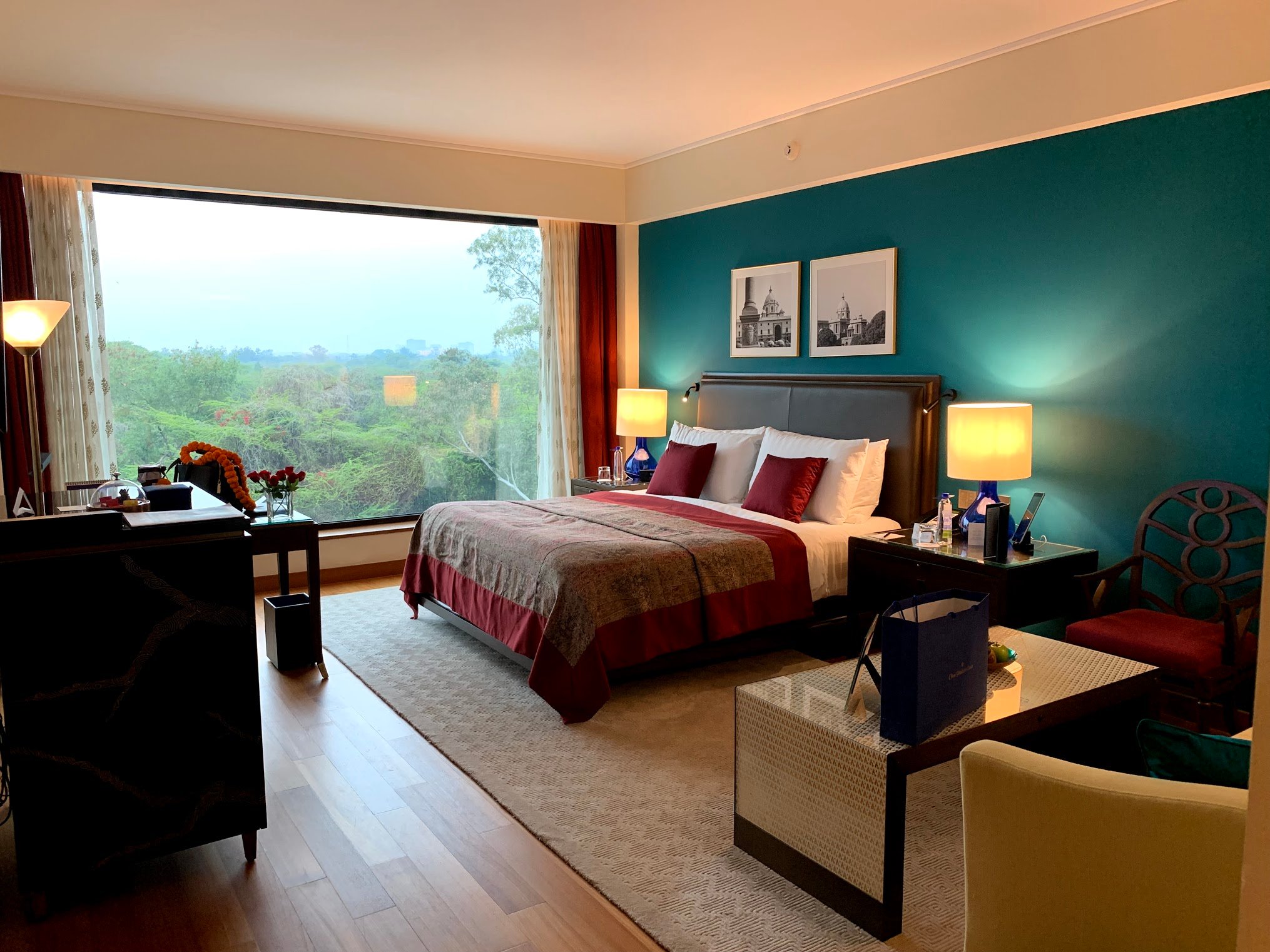 Photos: T+L Advisory Board Meeting - The Leela Palace (top left), Dinner at Cirrus 9 - The Oberoi New Delhi (top middle), Lunch at Varq in The Taj Palace New Delhi (top right), Room at The Oberoi New Delhi (bottom).
With our meeting agenda complete, we moved to the The Taj Palace, New Delhi for an amazing Indian cuisine lunch at Varq, and a site inspection with a quick city tour, including the India Gate and parliament buildings. Once finished with our city tour of New Delhi, we enjoyed an evening of fine dining at the Leela Palace restaurant, Le Cirque. Another brilliant night sleep in my amazing Leela Palace bed readied me for another day of meetings and education, hotel visits with all three of our hosts local properties, and then a special cocktail hour at The Oberoi New Delhi on the rooftop at Cirrus 9 hosted by Vikram and Stephanie Oberoi. After taking in the city sites from above we enjoyed a special dinner at Baoshuan, the Chinese rooftop restaurant designed by Michelin star Chef Andrew Wong. We spent our final night in New Delhi at the Oberoi and left early in the morning for an icon bucket list experience everyone must have when visiting India, the Taj Mahal.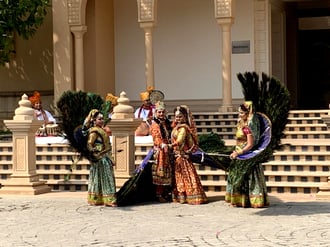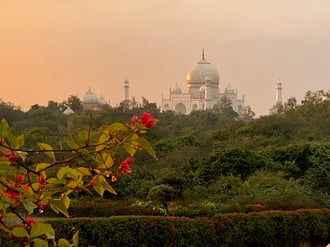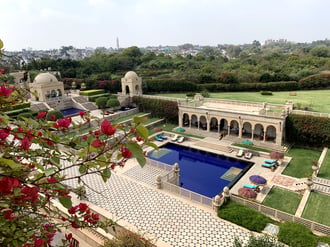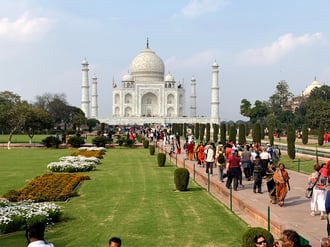 Photos: Welcome to The Oberoi Agra (video at the top), Traditional dancers welcome to The Oberoi in Agra (middle left), Taj Mahal from my balcony after a light rain (middle right), View of the Oberoi Agra pool from my balcony (bottom left), Walking up to the Taj Mahal (bottom right).
A lavish greeting by the entire hotel staff awaited us at the Oberoi Amarvilas in Agra. From my balcony, the views of the Taj Mahal were simply stunning, and after lunch we explored the Taj Mahal, monument of love. There was much more to learn than I expected, with intricate design details, so small and special, you would miss them without the best guides to point them out. After our Taj Mahal experience, it was time for sunset yoga at our resort, then a little time to rest in our room and take in the magnificent view of the Taj at sunset after a light rain. We donned our new wardrobes for dinner and met near the ballroom, where our dinner preparations continued and felt ceremonial as we had henna tattoos expertly painted on and were wrapped in local headpieces. Artisans who have worked on the tiles of the Taj Mahal for generations were there to show us how they maintain the magnificent tile work and traditions of their craft. Then we entered a ballroom where we were treated to a six-course dinner at one long table. In the morning, we would depart Agra and continue on this unforgettable adventure. Waking up to my black coffee, a white chocolate replica of the Taj Mahal, and the actual Taj Mahal outside my window was quite simply magical.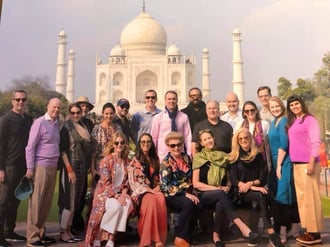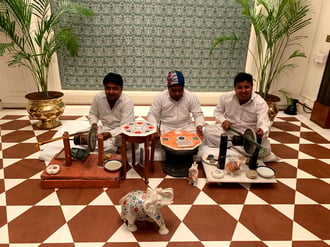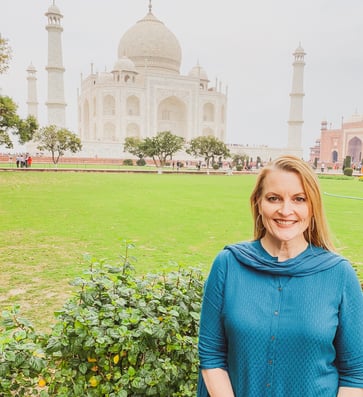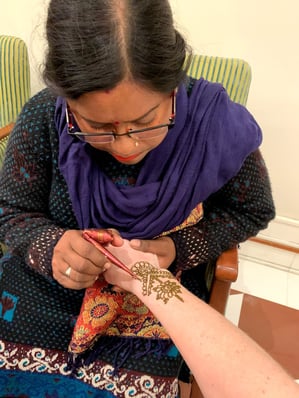 Photos: Travel + Leisure executives & Advisory Board (top left), Taj Mahal generational tile artisans (top right), Sandy Schadler at the Taj Mahal (bottom left), Henna tattoo before dinner at The Oberoi (bottom right).
In what can only be described as a truly royal welcome to the Taj Rambagh Palace in Jaipur, I was excited to see elephants and camels leading our procession entering the palace grounds, where we then climbed the steps to the palace under a light shower of rose petals. My personal butler greeted me at the top of the stairs and whisked me directly to my suite, the Lord Mountbatten suite named after its frequent occupant and former Viceroy of India for the Queen of England. Once settled, I met our group downstairs for a tour of the resort and palace grounds ending with a showcase of the royal jewelry collection containing modern pieces to hold next to the antiquities. If you are looking for a special souvenir to bring home, a piece of jewelry from Jaipur will win hearts every time. After tea, I had just enough time to squeeze in a trip to the JIVA spa for a traditional Vishrama massage.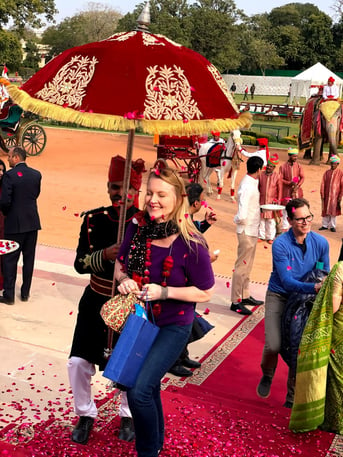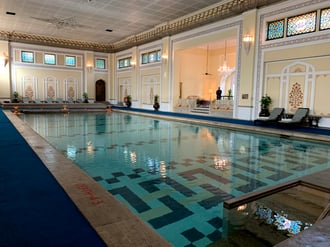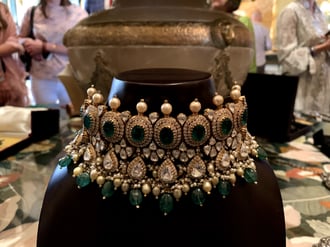 Photos: One of the four welcoming elephants at The Taj Rambagh Palace in Jaipur (top left), Shower of flowers entering Rambagh Palace (top right), Indoor pool & spa area at Rambagh Palace (bottom left), Ancient Jaipur royal jewelry display (bottom right).
In preparation for dinner our hosts ensured we were well-dressed for a special evening providing turbans and swords for the men on our Advisory Board and a unique sari chosen for each woman. We were shown how to wear them for the evening festivities, which included meeting the 90-years-young Maharaja, music, dancing, and a five-course dinner in a flower-laden tent. As I was preparing to retire to my favorite suite for the night, the sky lit up with a firework show in celebration of our visit to the Taj Rambagh Palace. The authentic hospitality we felt from our hosts was uniquely Indian and I have no global comparison for their warmth and pure "Tajness".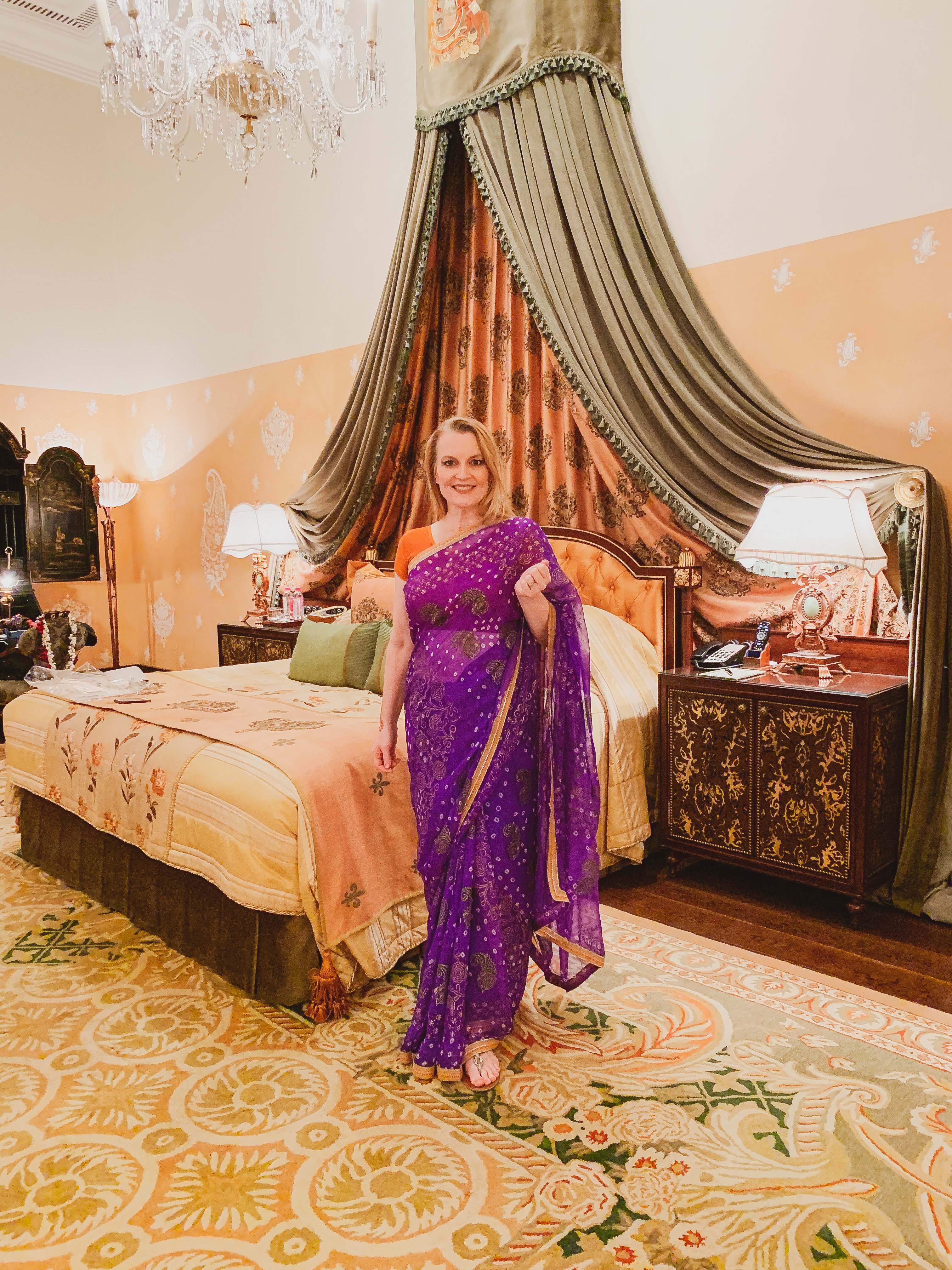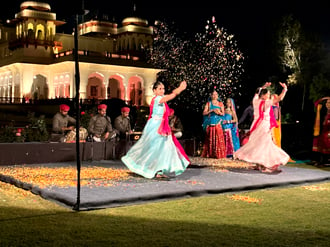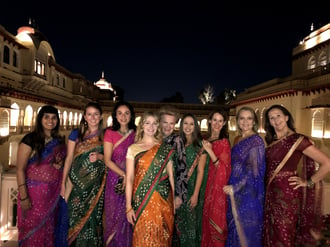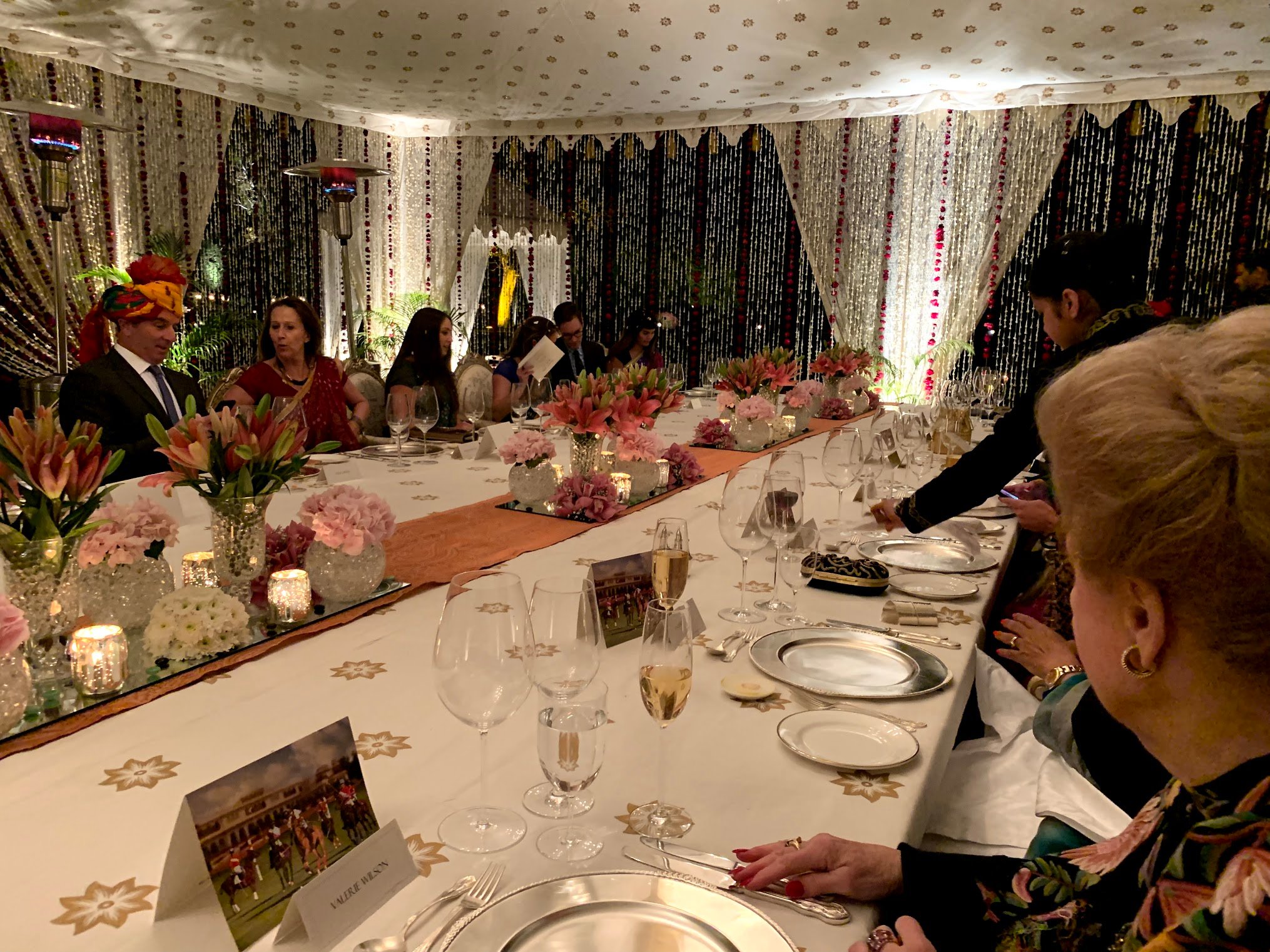 Photos: My sari for dinner in my amazing room, the Lord Mountbatten Suite (top), Pre-dinner entertainment (middle left), Lovely ladies of Travel+Leisure's Advisory Board (middle right), Dinner in the flower petal tent (bottom).
Our social media postings alerted our next hotel host to the incredible experiences we were having throughout our journey thus far. Not to be outdone by their colleagues in Jaipur, The Taj Lake Palace in Udaipur had quite the welcome waiting for us. Upon arrival at the dock, we were whisked across the lake by boat with views of Udaipur and the surrounding mountain scenery, which were reminiscent of northern Italy. Our destination was the floating hotel, built in 1746 and situated in the middle of Lake Pichola. Every room is uniquely designed, and my corner Grand Royal one-bedroom suite included a jacuzzi, outdoor patio, fully-pillowed corner reading nook, living room, office, walk-in closet, and marble bath. We had a marvelous breakfast overlooking the calm lake waters and then our team took turns going into each other's rooms to see how different every one of our chambers were and who had which luxuries. There is something for everyone in this special property and you won't be disappointed with any of the rooms.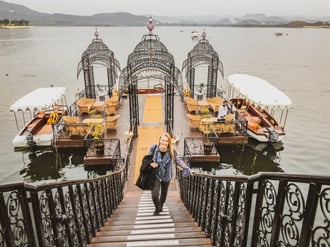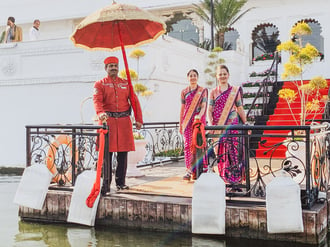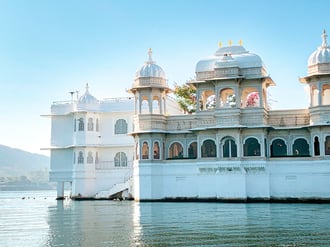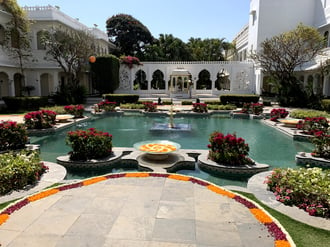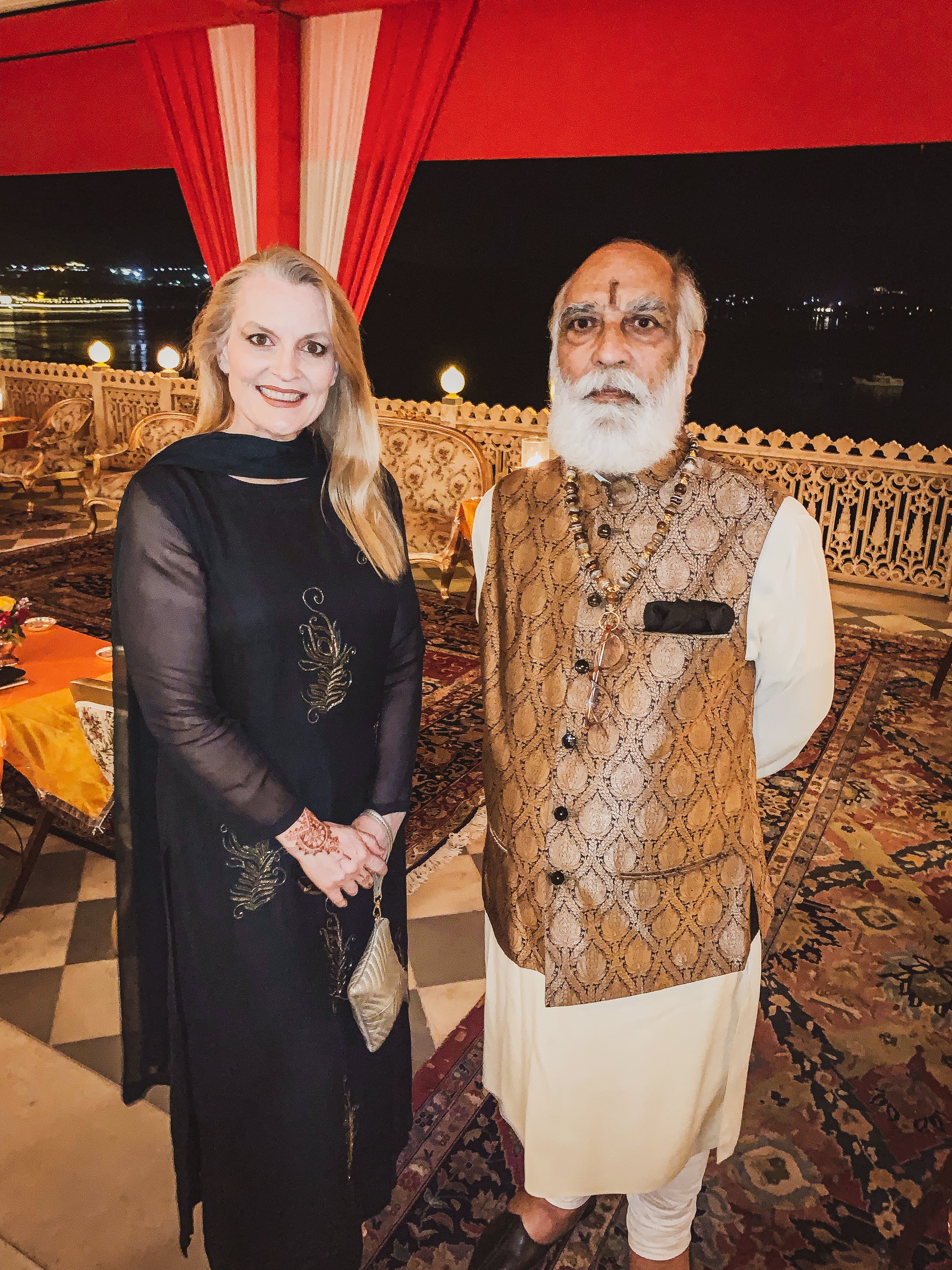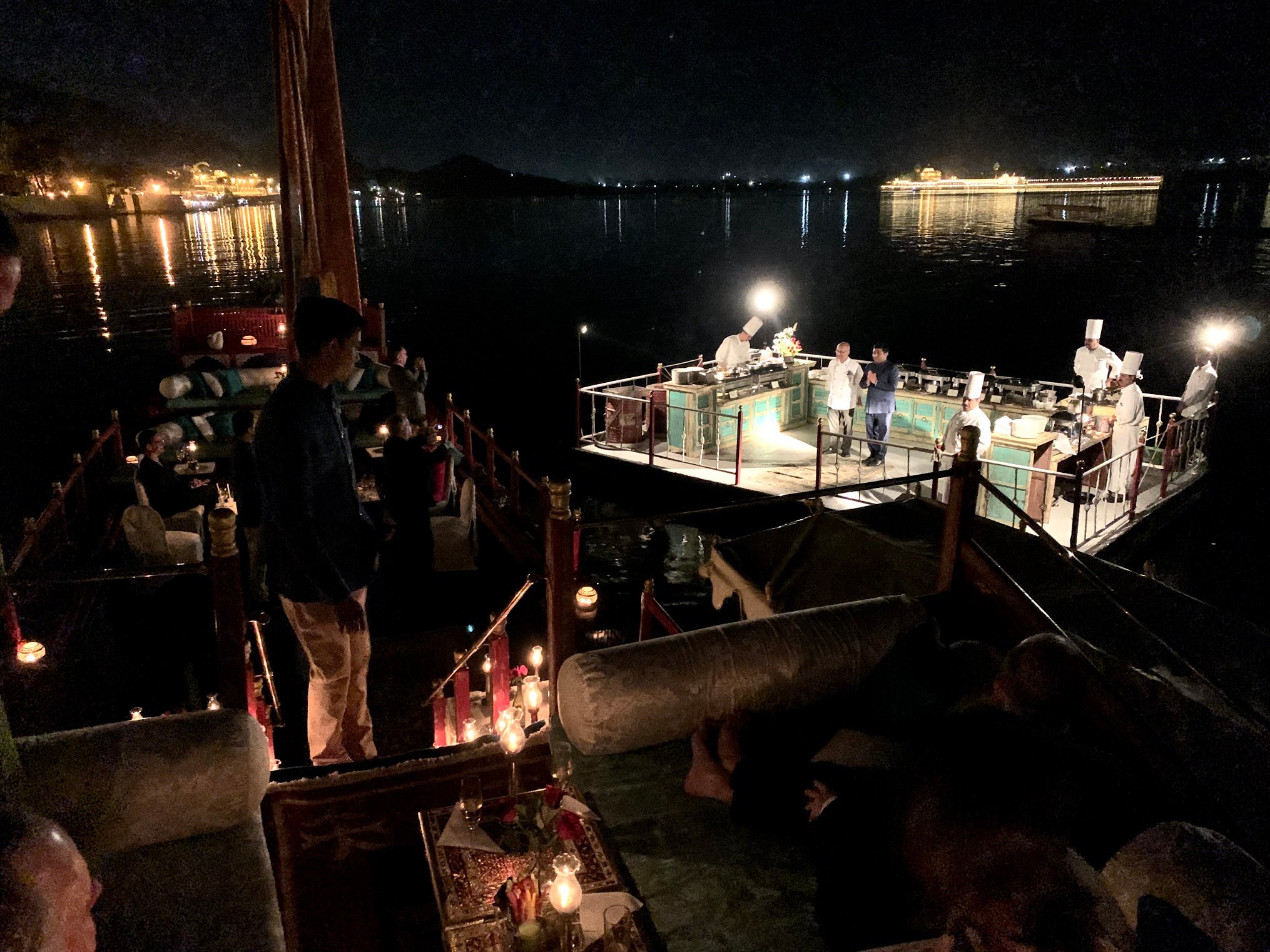 Photos: The special dock to take us to The Taj Lake Palace Udaipur (top left), Welcome to The Taj Lake Palace Udaipur (top right), Side view of Taj Lake Palace (middle left), The interior grounds of the Taj Lake Palace (middle right), Sandy Schadler & His Highness Shriji Arvin's Singhji Mewar of Udaipur (middle), Chefs floating on barge to our boat with dinner (bottom).
After our final day of meetings to discuss all we had learned and experienced throughout the week, I was able to spend a couple of hours relaxing at the Taj Lake Palace Jiva Boat Spa, where my travel-muscles relaxed with a Sammardana deep-tissue massage, followed by a rose petal bubble bath on the boat deck with a glass of wine. The boat spa is unique and yours to enjoy alone. I relished every moment in the soft breeze taking in views of the surrounding mountains, palaces, and calming lake waters. I slowed down enough to feel India. It is truly to be experienced not only with our senses but also with our heart, soul, and spirit.
The Maharana of Mewar, his Highness Shriji Arvin's Singhji Mewar of Udaipur, invited our group to cocktails at his City Palace, where we enjoyed the evening with him and his family. After sunset, we thought we were sailing back to our hotel but to our surprise, a stage along the city wall lit up and music played over loudspeakers while traditional Indian dancers entertained us. One surprise led to the next as we sailed on into the night and our dinner sailed out to meet us, with the chefs who prepared it. We dined with our boat tied to the dinner barge and then sailed home to the Lake Palace for a peaceful night's sleep and the end of our large group journey.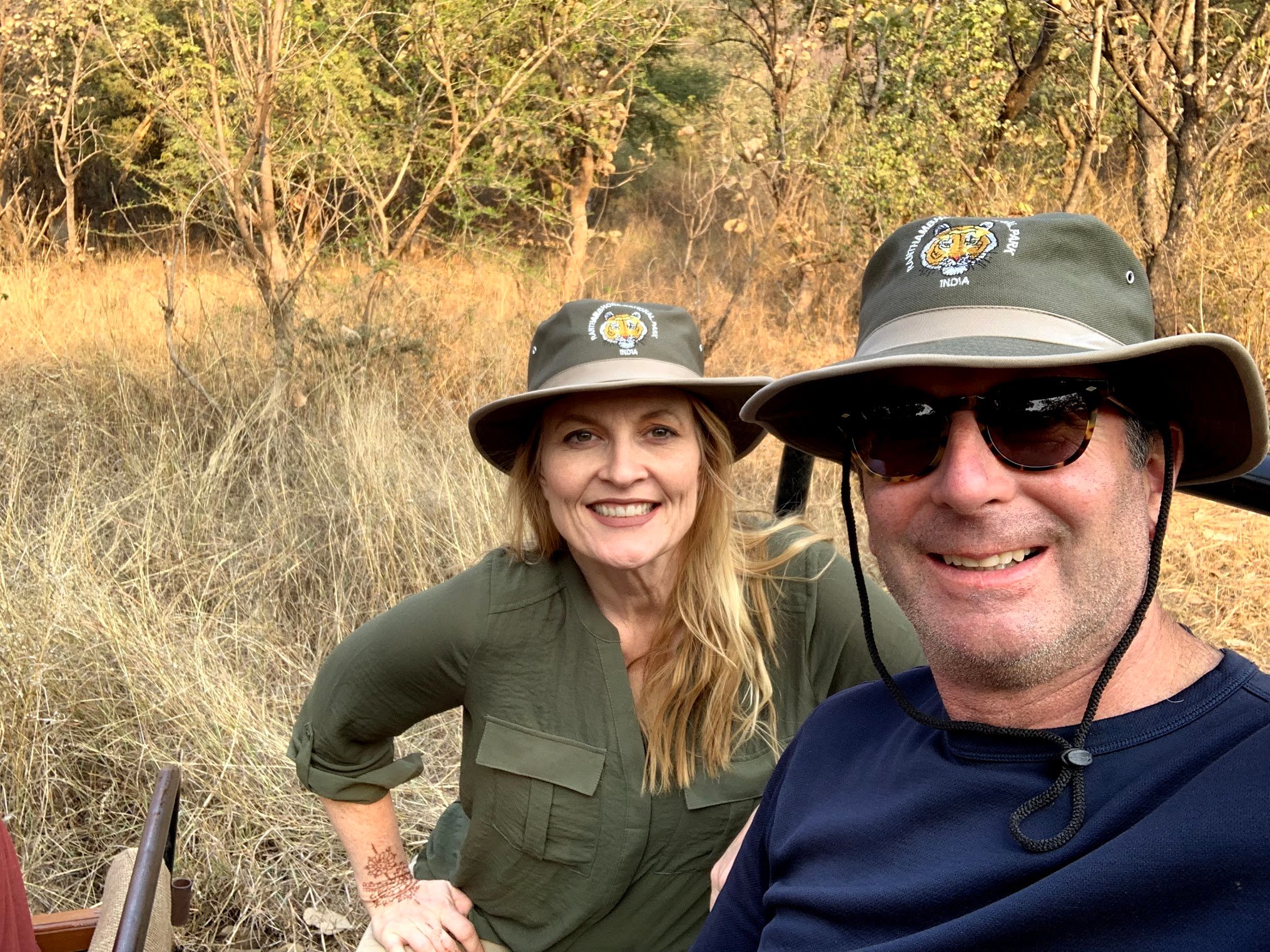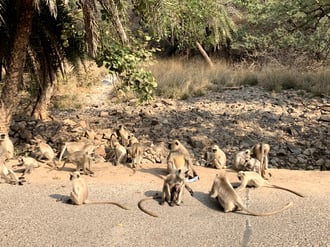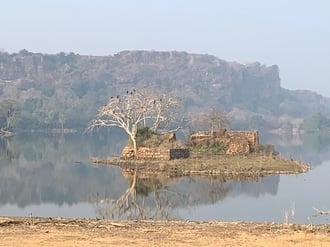 Photos: Sandy Schadler & Steve Orens on tiger safari in Ranthambore National Park (top), Monkeys in Ranthambore National Park (bottom left), Ranthambore National Park (bottom right).
The next day, part of our team flew to Mumbai for a visit the of flagship Taj Mumbai Hotel and a few of us flew back to Jaipur, then drove through the countryside to The Oberoi Vanyavilas in Ranthambore. I chose the alternative trip extension because a Tiger Safari has been on my bucket list since I was a young girl and was fascinated by my research on the national park and its tribal people. Life by Ranthambore National Park is much slower, as expected. Our luxurious tented rooms continued the de-stress theme with earth tones, natural wood, and the highest quality fabrics. They believe a "guest is god," and I was treated with warm, loving reverence, from the massage therapy that I never pass up, to my personal visit with Lakshmi—the resident black elephant who let me love on her for a while. Even though we were unable to spot a tiger during my two days traversing the park with a guide, I cherished the natural wonders within the national park and the views of a very traditional India we passed through just outside. I spent two nights in Ranthambore and wish I had at least two more. I was surprised at how much this resort, its team, and Ranthambore itself bore into my heart and even today, months later, I think of it and smile while longing to return.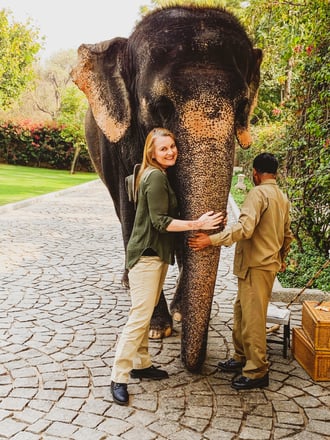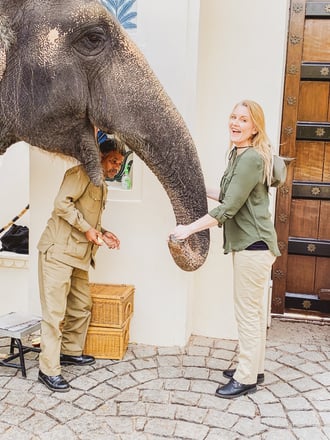 Photos: Lakshmi & Sandy Schadler playing at The Oberoi Vanyavillas.
I was blessed to stay in some of the finest hotels India has to offer. My hosts at the Leela Palaces, Oberoi Resorts, and Taj Hotels, Resorts, & Palaces are amazing partners in India for good reason. I experienced a level of gracious service, enveloping comfort, and magnificent cuisine rivaling the best in the world. I was waved to by many children who looked me in the eye, wanting to be seen. I saw the very poor, whose rich smiles indicated they were not poor in spirit. I connected with India and it with me in ways I am still challenged to articulate.
You don't have to go for the yoga and temples, though you should enjoy those experiences. I urge you to go and connect with these kind and gracious people. Enjoy the care they will lavish upon you and do not look away from the poverty. See them. Open your heart to learn from them, bring that open-heart home with you, and be transformed. I wish that for you. I pray you too will experience Incredible India.

I would like to add a very special THANK YOU to my dear friends at Greaves Tours who coordinated the flights, transfers, tours, and extensions for the entire T+L Advisory Board coming in from all over the USA. You helped ensure our time was not spent worrying about the journey, but enjoying it!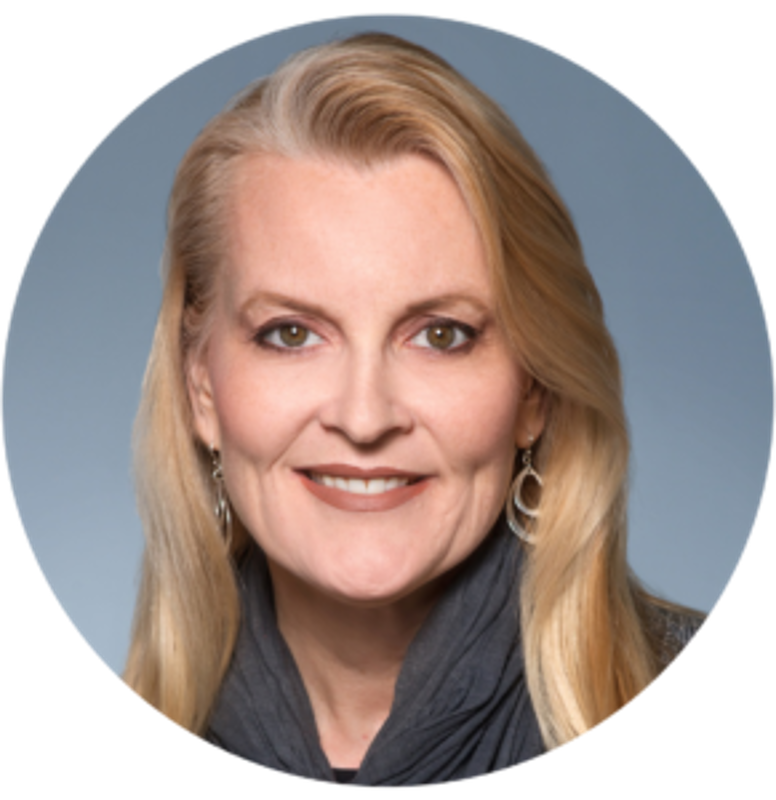 About the author
Sandy Schadler
Sandy is responsible for executing all marketing and advertising for Travelink and its sub-brands, Employee Vacation Programs and Privileged Journeys (luxury/VIP personal travel). In addition, she maintains a close relationship with American Express Marketing in New York and their Preferred Travel Suppliers globally to ensure all marketing and advertising channels are delivering the high caliber of results for which the American Express brand is well known. Sandy also holds an advisory board position for Travel + Leisure magazine and the German National Tourism Office in the USA.
Topics: Hotels + Resorts, Luxury, Vacations