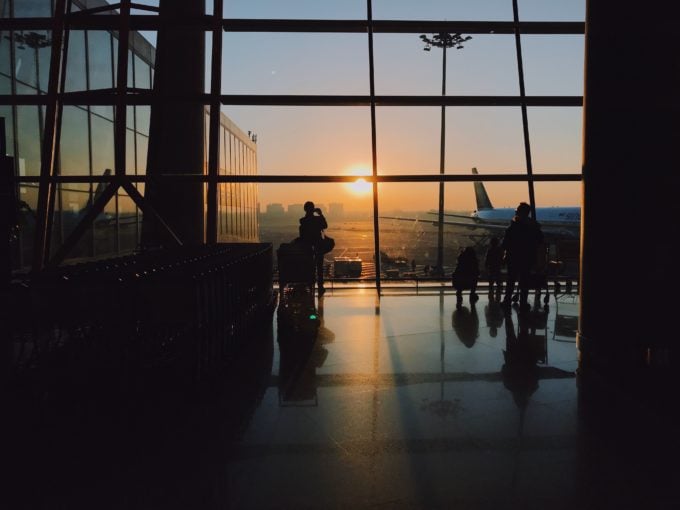 U.S. Travel Volume Rose 3.2 Percent in October; Forecast to Continue to Grow Through April
Travel to or within the U.S. grew 3.2 percent in October 2018, according to the U.S. Travel Association's Travel Trends Index. USTA projects that figure will grow 2.2 percent on average from November 2018 through April 2019. Domestic travel demand grew year over year in October—both business and leisure made strong advances—and is projected to grow an average of 2.4 percent year over year each month from November 2018 through April 2019. Domestic business travel is projected grow 3.4 percent on average each of those months and outperform the leisure market. USTA attributed domestic business travel growth to a strong economy. The association also warned that rising economic volatility could reverse this and temper business investment. International inbound travel to the U.S. grew 2.4 percent year-over-year and is projected to decelerate though the start of 2019. USTA said trade tensions, uncertainty around U.S. President Donald Trump's policies, moderating economic growth and a stronger U.S. dollar may contribute to slowing international inbound growth.
Source: Business Travel News
Spirit Had the Most On-Time Performances in North America Again Q3
Spirit had the best on-time performance among North American carriers for the second consecutive month in November, according to FlightStats. Delta came in a close second to the low-cost carrier. The weighted monthly average fell nearly 3 percentage points to 79.8 percent.
Source: Travel Procurement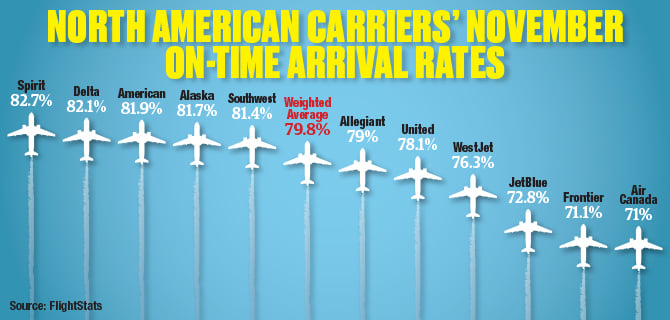 Lufthansa Is Working on a Corporate Account Portal

Lufthansa has started building an online account management platform for corporate clients, akin to corporate portals already launched by the three major carriers in the U.S. "We plan to have a minimum viable product towards the end of 2019," said Heike Birlenbach, Lufthansa Group SVP of sales hub airlines and chief commercial officer of the Frankfurt Hub. "We are building a corporate platform where we have all the offerings—it could be a price offer, but it could be various service offers—including analytics of the deal and self-servicing options. It doesn't have anything to do with the booking; it's going to be an online platform where all the corporate travel data, flown revenue, performance data and so on are located." Birlenbach added that the intention will be to update data as close to real time as possible. The platform will be accessible for travel managers, either on their own or when analyzing its contents in conjunction with their Lufthansa account manager. A second phase will integrate data from joint-venture partners United Airlines and Air Canada into both the Lufthansa and United platforms.
Source: BTN
United Introduces Transatlantic Basic Economy Fares

On Dec. 11, United will begin selling transatlantic Basic Economy fares that are less restrictive than the Basic Economy fares it offers on its domestic and short-haul international flights. The transatlantic Basic Economy fares do not allow seat selection and cannot be changed or canceled, but they do allow each passenger a full-size carry-on item and accrue reward miles and segments at a rate of 50 percent. Both American Airlines and Delta already have introduced transatlantic Basic Economy fares.
Source: BTN
Putting a Price Tag on Flight Disruptions
Travel buyers frequently talk about the cost of flight disruptions to their companies, but by digging through his company's data, Genentech U.S. travel program senior procurement manager Daryl Keiper can confidently put a price tag on it: $3 million.
At this year's Global Business Travel Association convention in San Diego, Keiper detailed the process that led to that number. He looked at 18 months of data to include some year-over-year comparisons. That period covered $150 million in airline spending, or almost 142,000 tickets. About 14 percent of those flights were disrupted and arrived at least 30 minutes late.
Keiper compiled all the costs associated with those delays over the course of a year. Lost productivity, measured with the conservative estimate of $50 per hour, was the biggest piece, totaling $2.3 million. Other costs included hotels needed for missed connections and cancellations, exchange fees people paid even when waivers were available, and unused tickets that were never exchanged or refunded. It totaled more than $3 million, or about 3 percent of the company's $100 million in annual air spend, Keiper said. "If you use a less conservative number for the productivity piece, you're talking about 5 to 6 percent of our air spend," he said. "It's a significant impact on our business, our people's productivity and the travel experience."
Source: Travel Procurement
Marriott Discloses Starwood Data Breach Impacting Up to 500M Guests
Marriott International last month disclosed a massive breach of customer data in the Starwood guest reservation database. An investigation launched by the company concluded that there was unauthorized access to the database, which contains information on up to 500 million guests who made reservations at Starwood properties on or before Sept. 10, 2018. According to the disclosure Marriott released on its website, there had been unauthorized access to the Starwood network since 2014 and the party involved copied and encrypted information in the database. An internal security tool didn't alert Marriott to the issue until Sept. 8 of this year.
Of the 500 million guest reservations in the system, approximately 327 million included information on "some combination of" name, mailing address, phone number, passport number, email address, date of birth, gender, arrival and departure information, reservation date, communication preferences and Starwood Preferred Guest account information. Some of these also contain payment card information, including number and expiration dates, which were encrypted. "There are two components needed to decrypt the payment card numbers, and at this point, Marriott has not been able to rule out the possibility that both were taken," the statement added.
Marriott president and CEO Arne Sorenson said in a statement that the company "fell short of what our guests deserve and what we expect of ourselves. We are doing everything we can to support our guests, and using lessons learned to be better moving forward."
Source: BTN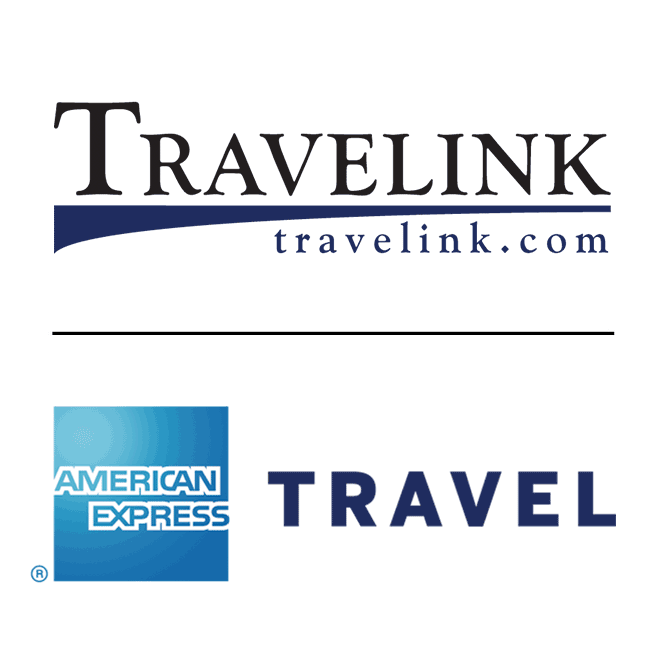 About the author
Travelink
Headquartered in Nashville Tennessee, we operate nationally with a combination of boutique business call centers, vacation travel retail locations, a groups & meetings travel business operations center, as well as our host of experienced virtual travel advisors.
Topics: Business Travel