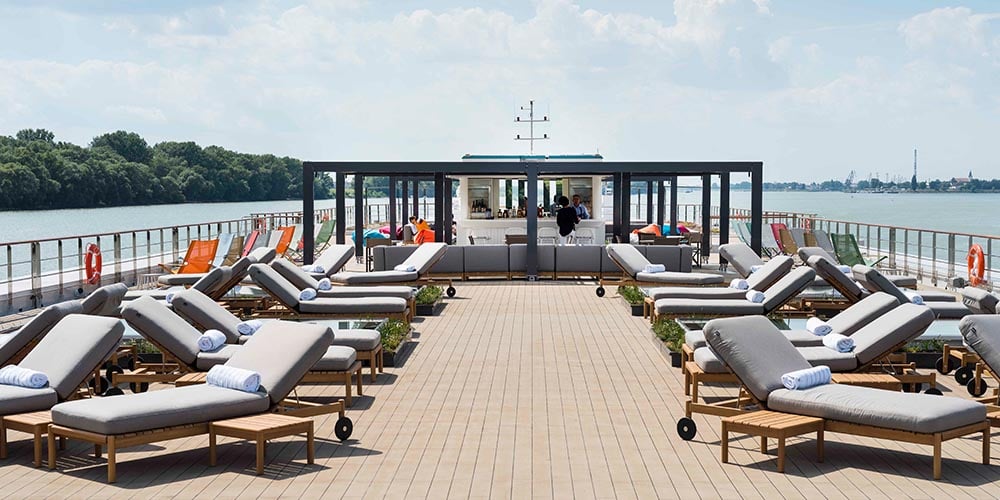 Crystal Cruises was created in 1988 with a vision to set a completely new standard in luxury travel and world exploration. Since then, they've expanded their product offering to include River Cruises, Yachting, AirCruises, and more. To ensure the delivery of the very best luxury product in the industry, Crystal occasionally invites travel professionals to experience their product as a customer would and give feedback on their experience. I recently had the great pleasure to sail the Danube River, Europe's second-longest river, aboard the Crystal Mozart on their 9-night roundtrip Vienna Christmas Markets sailing.
Arrival / Boarding
Upon arriving in the Vienna airport, a group of professional staff greeted us with a warm welcome and took us directly to the ship via a luxury vehicle. We did not have to wait for other cruisers arriving on later flights, which I've experienced with other cruise brands. Crystal personalized our transportation and accommodated our arrival schedule.
Arriving at the port, ship staff greeted us and took care of all of our luggage, though we were traveling with many bags in tow. Guests arriving whose cabin was not ready for check-in, were provided a lovely lounge equipped with complimentary food and beverages.
Crystal Mozart
We took a brief tour, getting acquainted with the layout of the Crystal Mozart. We found the ship to be beautifully appointed in full Crystal elegance. Originally built-in 1987, the 4,000 ton luxury river cruise ship has been refitted to the luxury standards of the world's most awarded cruise line. Interestingly enough, it is double the width of any other European riverboat. The ship has four decks that have everything from a full service spa/salon, swimming pool, fitness center, laundry, several lounge areas, three dining venues and one exclusive dining area for a special culinary experience.
The cabins contain king size beds and larger than average bathrooms furnished with state of the art Toto technology. (If you haven't experienced a Toto bathroom, you must Google it and then experience it for yourself.) The entire ship is high-tech with the cabins specifically having interactive TVs and iPads. Each cabin also has a private butler available 24/7 to accommodate you during the sailing. Prior to sailing, you can actually contact the butler directly if you have any special needs or requests. With only 77 outside cabins, 158 passengers and a crew of 92, we felt like we were about to partake in a private cruise experience.
Itinerary
The itinerary for this cruise was round-trip from Vienna, Austria. After starting in Vienna, we then visited Melk, Linz (overnight), Passau (overnight), Vishofen, Passau, Bratislava, and then back to Vienna (overnight). The overnight stops allowed us an in depth experience in each city. We even had time to see nearby cities like Salzburg and Berlin if we chose those shore excursions during the journey. This sailing took place near the Christmas holiday and each port was very festive with Christmas Markets aplenty.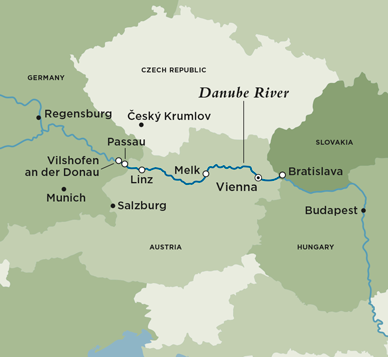 Who Sails Crystal River?
Guests on the ship were couples between 45-65 years old, however there were several multigenerational families onboard as well. The staff was very accommodating to each group. One family had an elderly member with a motorized cart who the crew assisted when participating on tours. Another family had an 18 month old and Crystal arranged a babysitter for them. All are welcome and properly pampered.
Dress Code
I would describe the dress code as cruise casual during the day and a bit dressier at night. Men do not need a sport coat and tie, but if you do dine in port, it may be required there, so best practice is to bring a jacket option just in case.
Dining
The dining experience while cruising Crystal is exceptional. Our butler booked a Michelin dining experience for us, which is something specifically unique to this cruise line. During the cruise, guests were given the opportunity to dine in a highly regarded restaurant in one of the ports; our particular dining experience took place in Vienna at Le Ceil. It was truly an elegant event, with white glove service, unsurpassed food and was even accompanied by live piano music. Most enjoyably, this was included in our voyage fare.
The nightly dinners onboard are open seating which I found was very popular with guests, allowing them to choose their own schedule and dining companions each night. The food was remarkable, with the chef using local ingredients and immersing guests into the regional cuisine and culture. The Vintage Room, had an additional cost; speaking from experience though, it was well worth the extra spend. Price depends on how many guests dine together but it is perfect for a small group, up to 12 guests. The menu and wine pairings can even be customized to the group, carefully chosen by the sommelier and restaurant manager for each course, making for a very memorable night. My experience in this venue was truly amazing. I don't typically take photos of food, but I did take them here!
Gratuities are included in your fare and additional tipping is not expected, which is nice. Complimentary water, soft drinks, and alcohol (including wine and spirits), are available throughout the ship and stocked in the cabins.
Entertainment & Relaxation
The ship was filled with entertainment and relaxation areas. The upper outside deck was definitely the "it place" while cruising. We were able to relax and view the landscape and architecture while passing by. On a lower deck, a small cozy library with an electric fireplace, was the perfect spot to read a book.
Each night, usually in the Palm Court, there was complimentary entertainment. Some nights Crystal brought local talent onboard, which was always of the highest caliber. The Opera singers, in particular, completely memorized passengers.
Amenities & Excursions
Crystal prides themselves as the best at "all exclusive travel." Some of the amenities offered were 60 minutes of free wifi per person per day, fitness classes, self-service laundry, and many included excursions. Every excursion was excellent, with professional guides and luxury motor coaches. For some excursions, they provided audio headsets to help us hear the guides no matter where in the group we were located. Crystal's attention to detail is unmatched.
Crystal Signature Event
I thought by far, the most spectacular excursion was the Crystal Signature Event at the Belvedere Palace in Vienna. It was so special words do not do it justice. We had transfers to the Palace and a tour of the art museum that houses many great works including those by Gustav Klimt. We were then escorted to a beautiful concert hall where we enjoyed a montage of music, dance, and opera by local professionals.
The ultimate highlight of the night was as we finished the concert, we rounded the hallway to a grand marble staircase only to see a full orchestra and a spectacular Viennese Waltz performed by couples dressed in gorgeous dresses and gentleman in tails! It was like walking into a movie - just breathtaking. To top it off as we were exiting the venue, it started to snow. Not sure how Crystal managed that one, but it was perfect.
I could go on-and-on, about what a wonderful experience this river cruise was for us. This trip is one I absolutely will never forget. I think for any of my clients who want to experience a luxury river cruise, this is the one for sure. I certainly would be happy to answer any questions you may have and would be thrilled to help you plan your next vacation, especially if you're specifically interested in a river cruising. You can give me a call at 267-291-2001 or email me at chris.knauer@travelink.com.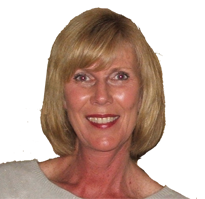 About the author
Chris Knauer

Topics: Cruising, Cruises, Luxury, Crystal Cruises