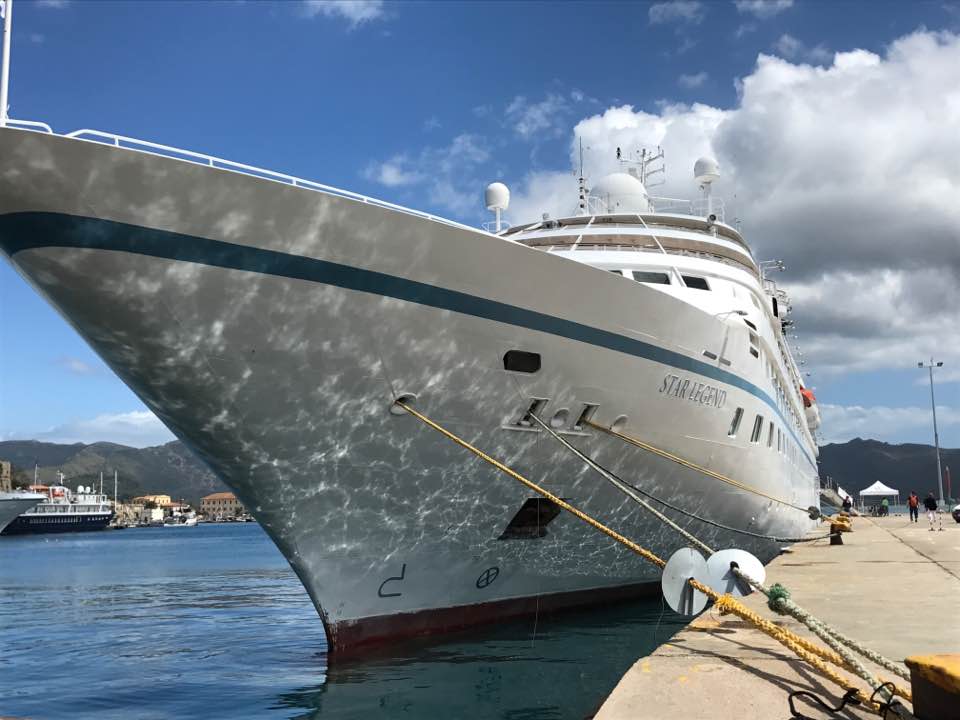 I recently had the privilege to sail aboard Windstar Cruises' Star Legend yacht on their Glitter & Glam of the Riviera itinerary in Europe.
Windstar prides itself upon small ship cruising and intimate cultural experiences. Each of its six yachts welcomes fewer than 300 guests onboard and offers small group, handcrafted shore excursions, highly acclaimed service, and contemporary accommodations.
One of my absolute favorite things in life is to photo document my travels with the intent to share the memories once I return home. I hope you enjoy a closer look at my trip and please reach out to me if you'd like my help ensuring you have a memorable vacation on a Windstar Cruise as well!
Barcelona, Spain
Although I've traveled to many places all over the world, my travels had never led me to the beautiful city of Barcelona prior to taking my very first Windstar Cruise. When I realized the Glitter & Glam of the Riviera's sailing would depart from the cosmopolitan capital of Spain's Catalonia region, I knew I would want to arrive a few days prior to departure allowing some quality time to explore and immerse myself within the culture.
Barcelona was just as exuberant as I imagined with an abundance of art, architecture and the most amazing food! I toured La Sagrada Familia which is a large Roman Catholic Church designed by Catalan architect Antoni Gaudi. I walked up and down La Rambla, a popular tourist street in central Barcelona. I took time to wander through Park Güell admiring the lovely gardens and colorful architecture and came across an absolutely amazing flamenco show. I also visited Montserrat, a multi-peaked rocky range in the region with stunning views.
Boarding the Star Legend ship went very smoothly; just one of the many benefits of cruising on a yacht with only 212 passengers. When leaving port (around 5pm), grandiose music played in conjunction with the ceremonial raising of the Windstar flag, making for a memorable "Windstar Signature Sail Away" moment and final experience in Barcelona.
Port Vendres, France
On our second day of the cruise, we arrived in Port Vendres, a small harbor in the south of France, known as a fishing village with a modern twist. I had a lovely time walking around the Mediterranean town admiring the Pyrenees foothills. Since the area is home to the prestigious vineyards of Banyuls, I was eager to attend a wine tasting at the charming wine cellar, Domaine Claire Mayol. Prior to departure, I decided to stop by an art gallery, as I always enjoy seeing the work of local artists from the regions of the world I visit.
Sanary-Sur-Mer, France
We arrived bright and early the next morning to Sanary-Sur-Mer, France's sunniest city! Located on the French Riviera in southeastern France, Sanary boasts a coastline speckled with small beaches. Here I visited a colorful Provencal market where farmers come into town from the neighboring villages with self-grown produce and wonderful displays of fresh-cut flowers. I shopped some of the area's storefronts, walked around town, and finally found an outdoor patio table to relax at and take-in the sights while enjoying an adult beverage and partake in local people watching.
Monte Carlo, Monaco
Next we ported in the exclusive harbor of Monte Carlo, Monaco, the second smallest country in the world. After disembarking, I went to The Cathedral, the final resting place of the beloved Princess Grace and Prince Rainier III. Every day, flowers are still left in their memory by the many visitors that frequent the cathedral. I then toured the Royal Palace on a hop-on-hop-off tour and went inside the Grand Casino where apparently, many fortunes have been won and shirts have been lost. I'm not much of a gambler, but I did want to see inside the legendary casino as it is a must-see tourist destination for Monte Carlo. We arrived in Monaco at 8am and stayed until midnight, the longest of any of the stops throughout the sailing allowing plenty of time to take in the must see places here.
Cannes, France
I spent this year's Cinco de Mayo in Cannes, France (of all places) but wouldn't have preferred be anywhere else. Cannes is a lovely port; one I had visited during the previous holiday season. This visit, I went fresh market shopping with our ship's Executive Chef, Jeff, and saw a professional photo shoot taking place for Fiat. Such a cool experience! Upon returning to the yacht, Windstar planned a Cinco de Mayo extravaganza where the culinary team and the bar staff onboard prepared Mexican tapas and all different flavors of margaritas for our enjoyment and a very memorable evening.
Portofino, Italy
Next stop, Italy! Once we arrived in Portofino, we took a complimentary private ferry to the very charming Santa Margherita Ligure. There we had lunch and explored the Villa Durazzo, strolled around the gardens, and enjoyed the live music with an amazing view of the Tigulio Gulf. I watched a lively pesto-making demonstration from a local chef, sampled some of the different olive oils from the region, and made sure to reward my taste buds with some real Italian gelato! As the day progressed, we learned we needed to leave port earlier than scheduled due to impending weather. Many thanks to our captain, Captain Richard Reville, for keeping us safe and informed!
Portoferraio, Italy
Portoferraio, our last Italian port before Rome, was located on the tranquil island of Elba. We docked right next to our sister ship the Star Pride! I spent the day walking around Portoferraio and explored the homes of Napoleon. Some of the other passengers visited a nearby countryside with small fishing villages, went to the Tuscan Archipelago National Park, visited the UNESCO Biosphere Reserve, or simply relaxed on the beach. Vacation the way you want, as I always say.
Rome, Italy
Our very last stop of the eight day sailing was in Rome, Italy. We arrived in port at 7am and since I've been to Rome many times before, I scheduled an early flight back to the United States, so I took a transfer directly from the dock to the airport.
Recap
I could not have had enjoyed myself more during Windstar's Glitter & Glam of the Rivieras itinerary. I'm very thankful I made the decision to arrive in Barcelona a few days early and highly recommend you do so as well to allow your body time to adjust to the new time zones and explore a bit before the cruise.
If you're interested in cruising, have any questions about my travels, or would like help planning your next vacation, I'd love to hear from you. You can contact me HERE.
About the author
Beth Wittrig
I love how travel can truly enrich the soul and requires your engagement to learn more about unique people and cultures all around this amazing world. I chose to become a Travel Advisor to help others experience a deeper connection with others and hopefully enjoy the same passion for travel. Personally, I prefer visiting exotic locations. In fact, seeing the New 7 Wonders of the World is one of my top priorities and I am thankful to say I have already checked off four; The Great Wall of China, Christ the Redeemer (Brazil), Chichen Itza (Mexico), and the Colosseum (Italy).
Topics: Cruising, Cruises, Food + Culture, Travel Advisor, Windstar