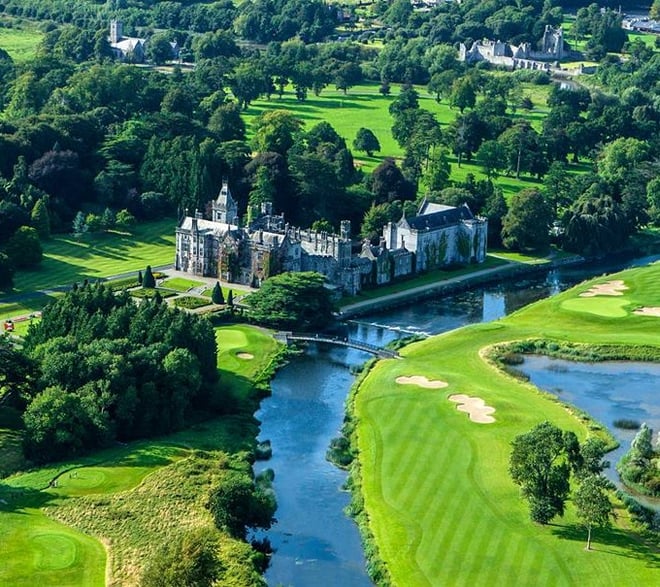 In the spirit of St. Patrick's Day, we've put together a list of the best West Ireland hotels to take the guess-work out of where to stay when visiting the west coast of the Emerald Isle. Lucky for you, one of our travel advisors, Anna Bright, visited a lot of hotels on her last Ireland visit to find the very best for your vacation.
1. Ashford Castle
Coming in at #1 on our list of Best West Ireland Hotels is Ashford Castle. Ashford Castle, located in Mayo, is every fairy-tale traveler's dream come true! Guests arriving are greeted by an over the top bagpipe player's welcome, amidst a sea of immaculately kept greenery. The property is surreal, the rooms are magnificent and the castle is stunning in every way possible. The castle offers extensive activities available on property including a spa, golf, tennis, fishing, falconry, equestrian, cycling, kayaking, clay shooting, archery, traditional boat trips, as well as luxury charter and lake cruising. Everyone staying at Ashford Castle has to experience the Hawk walk!
2. Hotel Meyrick
Hotel Meyrick, located in Galway, is quintessentially Irish! Hotel Meyrick first opened its doors to guests in 1852. It was previously known as the Railway Hotel making it the oldest hotel in Galway. This historical hotel is one of Ireland's most elegant and refined accommodations. It offers various room categories for guests, a warm and welcoming foyer with a big burning fireplace, and an extensive tasty breakfast each morning. Another major plus for this hotel is its great local walkable location to the city.
3. g Hotel
g Hotel, located in Galway, is one of Ireland's most vibrant, luxurious and whimsical places to stay! The hotel's design director and famed hat designer, Philip Treacy, created dramatic interiors, where old-fashioned Hollywood glamour meets 21st century style. Exceptional attention to detail is evident at this location. The hallways to the bedrooms are intentionally kept dark so guests feel that they are walking into the light when they open the door to their bedroom. The hotel is also home to award-winning restaurant, GiGi's.
4. Ballynahinch Castle
Ballynahinch Castle, located in Galway, provides some of the very best hospitality. Set in a private 450 acre estate of woodland, rivers, and walks in the heart of Connemara Co. Galway this authentic and unpretentious Castle Hotel stands proudly overlooking its famous salmon fishery, with a backdrop of the beautiful 12 Bens Mountain range. The warmth of the castle staff is extraordinary, the gardens are gorgeous, the meals are fabulous, and the beds are heavenly. Everything about this property is remarkable. Travelers will absolutely fall in love with it.
5. Adare Manor
The Adare Manor, located in Limerick, is one of the few buildings laid out in the world as a Calendar House. It has 365 stained windows and 52 chimneys marking the annual tally of days and weeks. The hotel occupies an 18th-century castle that was once the private home of the 2nd Earl of Dunraven, an architectural masterpiece of towers, turrets and stonework. Equally stunning are the natural surroundings, including 840 acres of gardens and parkland. There is incredible detail throughout the Manor House. It is like a grand fairy tale home with high ceilings, exquisite carvings, a large ballroom, and many nooks and crannies begging to be explored.
6. Ballygarry House Hotel & Spa
The Ballygarry House Hotel & Spa, located in Kerry, is a family owned and operated property. The Ballygarry House was built in the 18th Century as a majestic landowner's house surrounded by an orchard and a boundary wall, which can still be seen at the Western side of the building today. This property has great amenities including a beautiful spa, a state of the art fitness suite, and a variety of lovely and well decorated bedrooms.
7. Cashel House Hotel
The Cashel House Hotel, located in Galway, is listed in the 1,000 places to see before you die book. Built in the 19th century this gracious country home overlooks the majestic Cashel Bay on the west coast of Ireland. Each of the 30 bedrooms and suites are individually decorated and furnished with antiques presenting a charming chintzy country-style. It almost feels like staying at your grandmother's home when you're a guest at The Cashel House.
8. Delphi Lodge
The Delphi Lodge, located in Connemara, is located amongst one of the most breathtaking settings. Delphi Lodge is a delightful 1830s country house and fishing lodge offering charming accommodations, glorious scenery, great food, and total tranquillity. The Lodge is surrounded by the tallest mountains in Connemara and overlooks the lakes and rivers of the Delphi Valley. Delphi Lodge's cuisine is amazing, so much so that it's not uncommon for the chef to receive a round of applause after a meal is served.
9. Dromoland Castle
Dromoland Castle, located in Clare, has an extraordinary history stretching back to the 5th Century. Dromoland Castle was originally the ancestral home of one of the few families of Gaelic Royalty; direct descendants of Brian Boru, the High King of Ireland. The property offers amenities and activities you can enjoy while staying at one of the most prestigious 5 star hotels in Ireland such as gourmet fine dining, delicious wines, a 5 star luxury Health Spa, an indoor heated pool, a Championship Golf Course, horseback riding lessons, 5 star fishing, falconry, clay shooting, archery, and tennis. The castle has a stunning exterior, beautiful common areas and culinary delights.
10. Mustard Seed
Mustard Seed, located in Limerick, has been most recently awarded "Outstanding Guest Experience" by Georgina Campbell in 2016. The Mustard Seed at Echo Lodge in County Limerick overlooks the sleepy, rural village of Ballingarry. Guests at Limerick Country House can experience tranquillity, clean air and delightful walks in the surrounding hills and lanes. All of the rooms are unique with quite a bit of Asian influence in the decor, making for an eclectic mix. The Mustard Seed is a magical place perfect for a hideaway.
11. No. 1 Pery Square
No. 1 Perry Square, located in Limerick, is composed of townhouses connected together. It overlooks the tree-lined People's Park in Limerick's historic Georgian Quarter. Widely regarded as the best example of late Georgian architecture in Limerick and probably in Ireland, No.1 is a wonderful building that wraps around the corner of this impressive terrace. The location and feel of the property are lovely and home to the charming restaurant, Sash.
12. Dingle Skellig Hotel
Closing out our list of Best West Ireland Hotels is the Dingle Skellig Hotel. The Dingle Skellig Hotel, located in Kerry, is situated on the most westerly peninsula in Europe. The hotel was constructed in 1969 and provides guests with great views of the water in a good location. The town of Dingle is a wonderful place to visit!
Interested in traveling to Ireland? Get in touch with Anna to start planning your next adventure!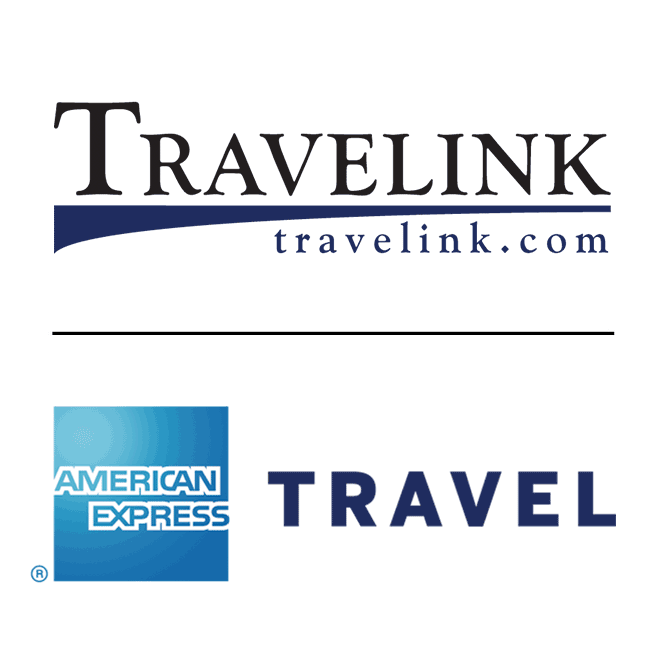 About the author
Travelink
Headquartered in Nashville Tennessee, we operate nationally with a combination of boutique business call centers, vacation travel retail locations, a groups & meetings travel business operations center, as well as our host of experienced virtual travel advisors.
Topics: Hotels + Resorts, Travel Advisor, Ireland