Last October, I had the incredible joy of experiencing an African safari through Zambia, Zimbabwe, and Botswana with our preferred partners at Abercrombie & Kent. As a leader within our Privileged Journeys luxury travel advisor team, I craft custom experiences for my discerning customers every day. Working alongside A&K on my own adventure was an exceptional process, even with my high expectations for the partners to whom I entrust my clients' (and my own) precious vacation time.
From the bustling city of Johannesburg to our quaint safari camps, A&K ensured even the tiniest of details were well thought through. Read on as Charlie (hubby) and I embark on our 10-day journey through Africa!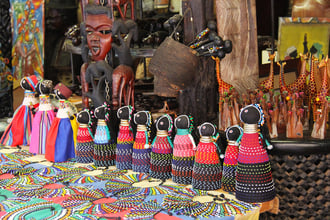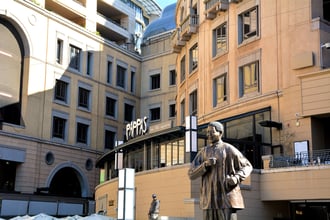 Day 1: Johannesburg
Awaiting our entry in the arrival's hall, we were warmly greeted by George, the A&K South Africa liaison who provided us with a Welcome package and escorted us to our driver who quietly whisked us away to the beautiful Saxon Hotel.
The Saxon Hotel, with its boutique of 53 rooms and suites, is located in an upscale residential neighborhood of Johannesburg, in Sandton. The current President of South Africa vacations in his personal residence next door to the hotel. This luxury hideaway also was home to Nelson Mandela for three years after his release from prison. It was during this time that South Africa's former President used the serene setting of the Saxon Hotel to edit his autobiography Long Walk to Freedom.
We chose to tour the hotel and grounds before checking into our villa suite. As we did not have plans to meet our group until dinner, we informed our concierge we wanted to do some shopping. A mere thirty minutes after getting settled and freshening up, Masood, the head concierge at the Saxon, met with us in the villa lounge to learn more of our specific desires, he recommended three places based upon my wish list, and arranged for a driver to escort us on our three hour shopping excursion. I explained to Masood I had not had time to exchange my US Dollars for SA Rand arranged to have the front desk bring me Rand in cash, which would be charged to my room.
In the evening, we met the rest of our group and the staff of the Johannesburg A&K office. They arranged a presentation from a certified photographer providing valuable instructions on how to best utilize all of the features on the cameras we chose to use on this trip as we attempt to capture important moments of this unforgettable experience.
Day 2: City Tour
A&K arranged a tour of one of the poorest parts of SOWETO, South Western Township, along with a visit to the KYP, Kliptown Youth Program, which is organized by a former CNN Heroes finalist, Thulani Madondo. Although it was heartbreaking to see the poverty, it was equally inspiring to see happiness as children played, and the people overcoming the challenges of growing up in this environment. It was a very humbling experience, causing a deep gratitude for all that we have, and one of the highlights of our trip.

Nelson Mandela's former home is on the only street in the world where two Nobel Prize winners have lived: Nelson Mandela and Archbishop Desmond Tutu. The tour of the home is not lengthy, only about 20 minutes, as it is not large, but it is very impactful. We then had lunch just up the street at a Yaregs restaurant, which offered a typical local lunch menu, nothing fancy.
The afternoon was spent at the Apartheid Museum and if you truly enjoy history, you'll want to plan up to three hours to experience both the indoor and outdoor exhibits. Unfortunately, it poured all afternoon, so we were only able to view the indoor exhibits. Dinner was at our leisure, and we chose to meet a few of our group members at the hotel restaurant for dinner. I am a far more adventurous diner when traveling so I chose the Kingklip fish, an eel-like fish native to South Africa. It was fantastic!
Day 3: Livingstone
We caught an early, 90-minute flight from Johannasburg to Livingstone, a town in Zambia named after the Victorian missionary explorer Dr. David Livingstone. Upon arrival, we were greeted by our tour director, Poniso Shamukuni, upon securing our Zambia/Zimbabwe Univisa, A&K reps managed our luggage, and we were transferred in very comfortable mini buses to our first camp, the Sanctuary Sussi & Chuma. This property is built on a dramatic bend of the Zambezi River in the Mosi-Oa-Tunya National Park, just upstream from the world-famous Victoria Falls.
We were individually escorted to our treehouse villas, all of which had a stunning view of the Zambezi River. The villas offered complimentary minibars, stocked daily with alcoholic and nonalcoholic beverages. That afternoon we enjoyed a river boat excursion for our first, up-close, hippopotamus and elephant viewings. Concluding our exciting day, we enjoyed a fabulous dinner with orange lentil soup, impala burgers, and Amarula cheesecake. Then settled into a restful sleep in our luxurious treehouse as many more exciting adventures await us early in the morning.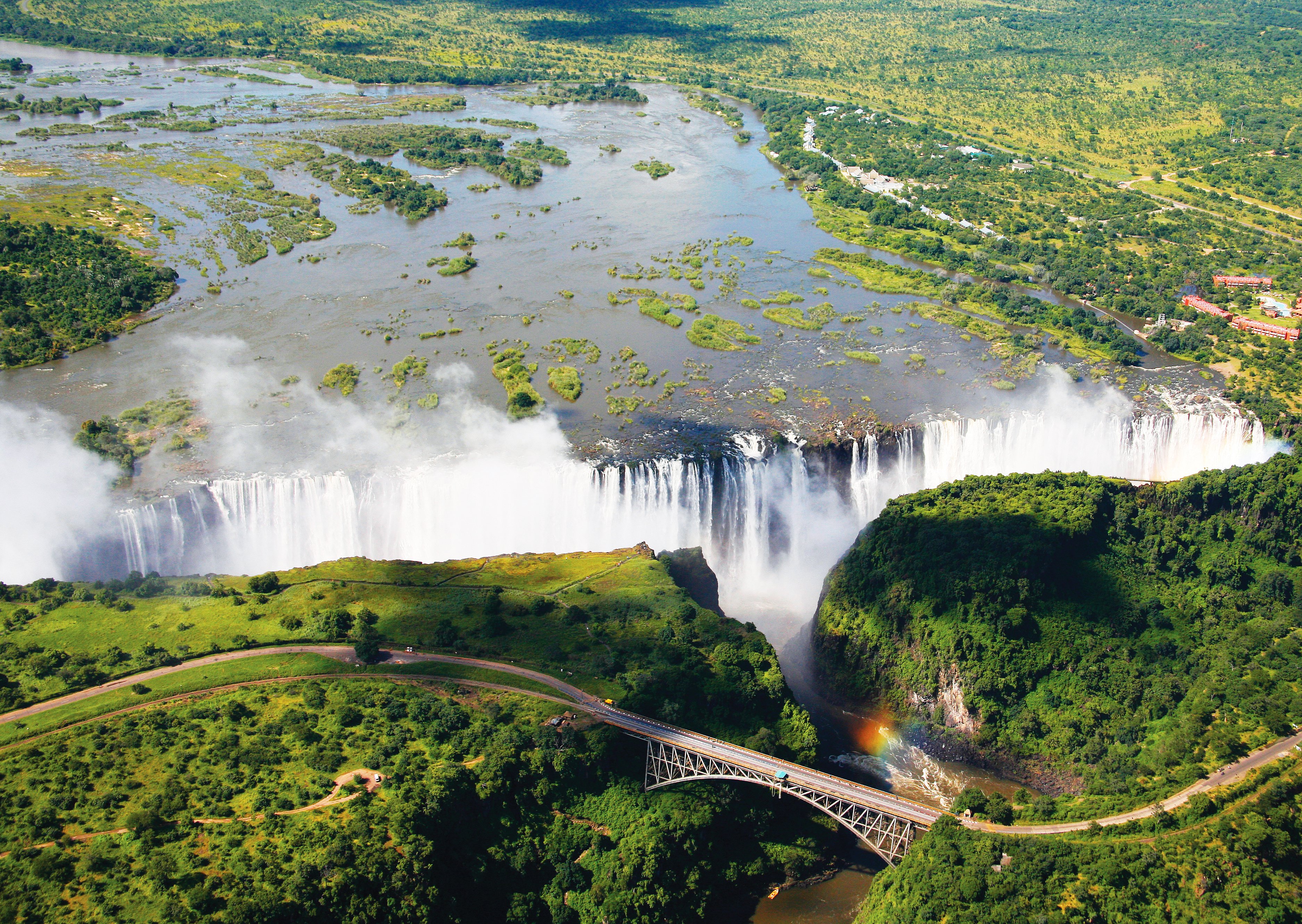 Day 4: Victoria Falls
At 7:00am, Charlie and I left the Treehouse Lodge for a private helicopter ride over Victoria Falls! Our launch site was only 20 minutes away and even though it is only a 15-minute flight, the overwhelming experience was worth every second. The falls, which border Zambia and Zimbabwe, are the result of the Zambezi River plummeting over a cliff and flowing through a series of gorges. While not the widest or highest waterfall in the world, Victoria Falls is still twice as tall as Niagara Falls and considered the world's largest continuous sheet of falling water. Our guides showcased incredible professionalism and knowledge of the falls.
We joined the rest of our group in Nakatindi Village for a tour of the village, the local school house, and the maternity ward. We walked with the local kids on our visit to A&K's philanthropy project, the Chipego Bike Shop, where local women earn a living assembling bikes from donated parts.
Utilizing our Univisa, we journeyed to the Victoria Falls Zambia side without the hassle of having to secure several visas. The Zimbabwe side is known to have a wider view of the falls themselves, but the Zambian side puts you up close to the thundering water. Definitely experience both sides, if you have time!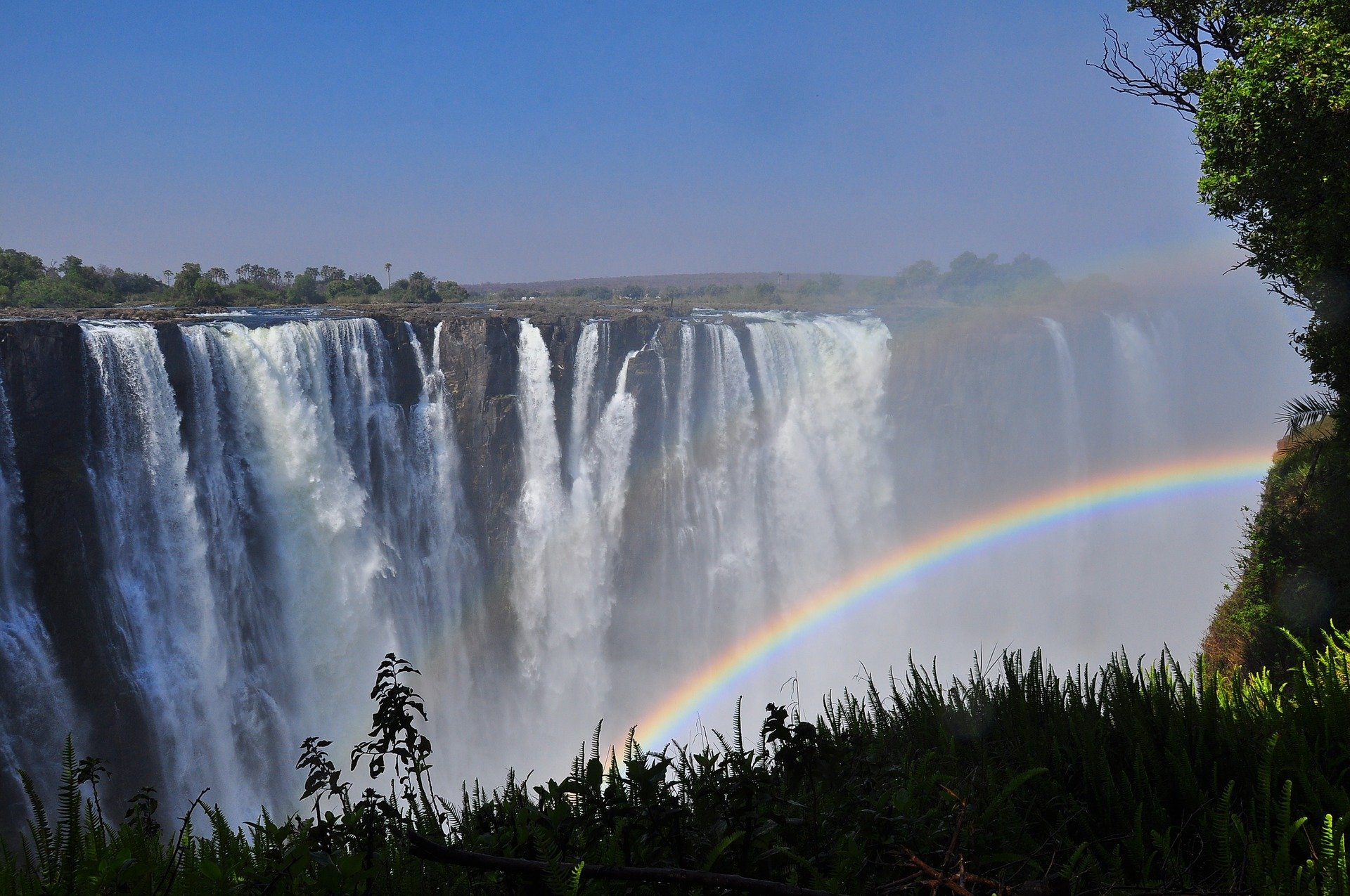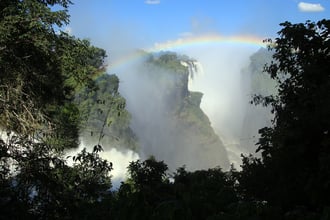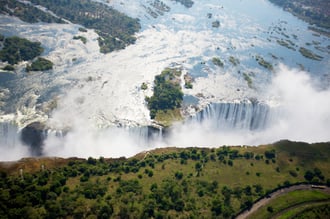 Day 5: Zimbabwe & Botswana
Our luggage was collected from our rooms at 7:30 am, and we departed for Zimbabwe. The border crossing was handled by our fantastic driver, George, who "bribed" the border crossing personnel with a "lunch box." What took us only 30 minutes, could have taken about 2 hours otherwise. Our first stop today was Victoria Falls on the Zimbabwe side, the more scenic side of the Falls. We walked across the historic Victoria Falls Bridge and met our ride on the other side. The bridge was built with the hope there could be a train that would run from Cape Town all the way to Cairo, but that project was never finished.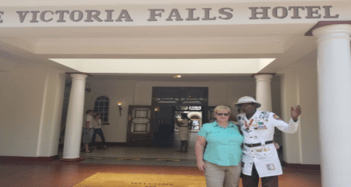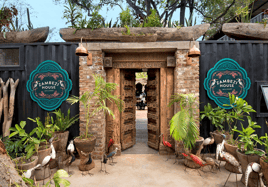 We stopped at the historic Victoria Falls Hotel and were able to see a few of the concierge level "stable rooms" rooms where A&K guests enjoy staying. Then drove to the Zambezi House for an amazing lunch, which you must experience when passing through. The ambiance and the food are incredible.
We crossed the border into Botswana, and although no visa is required, we individually showed our passports at a customs checkpoint. We arrived at the Sanctuary Chobe Chilwero in time for dinner. After a quick briefing, we checked into our rooms, and then boarded luxurious safari vehicles for our first evening game drive. It was exciting to watch large herds of elephants, giraffes, warthogs, and some lionesses near an elephant kill as the sun set on the African plain.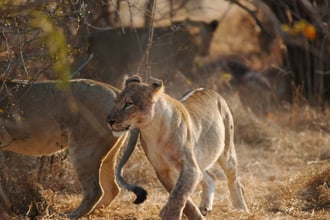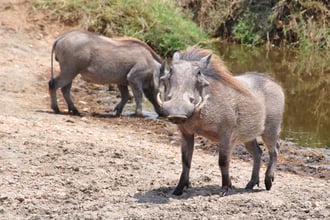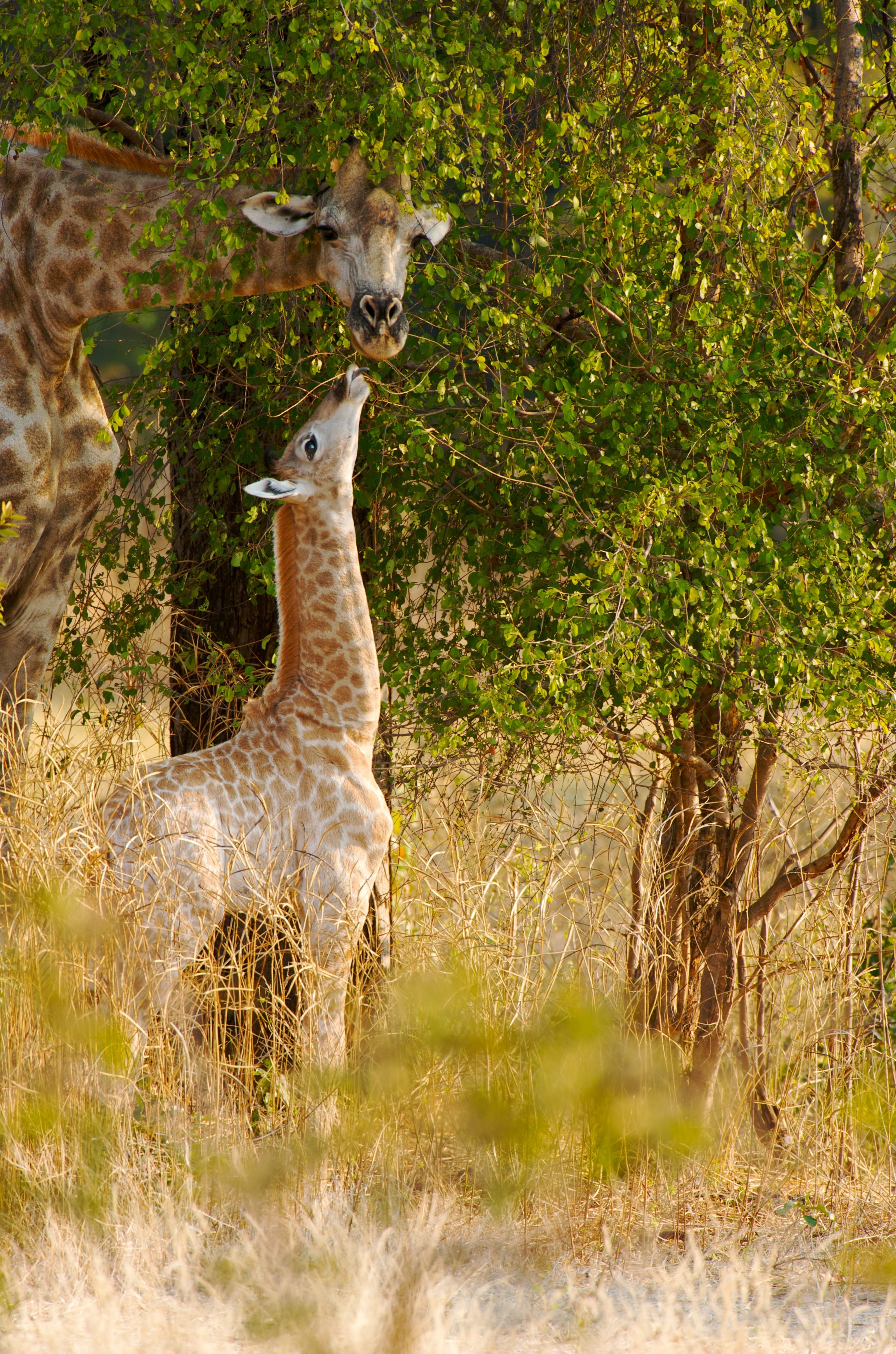 Day 6: Safari in Botswana
Our morning started bright and early with breakfast followed by our morning game drive. We saw huge, roaming groups of giraffes and elephants. We even visited the kill we saw the previous day. Finished with their meal, the lions had moved on from the mess they left behind and now ominous vultures had taken over the carcass. We made our way back to the lodge for lunch, followed by some free time before afternoon tea.
In the evening we relaxed with a sundowner cruise on the Chobe River. We viewed giant hippos and a massive male elephant on an island. It was a once in a lifetime experience watching that elephant cross the river over to the mainland. We also had close encounters with African buffalo and small crocodiles. The sunsets in Africa are more vibrant and stunning than at home. I will never forget the awe-inspiring view of pink and orange hues settling over the vast, untamed terrain. We were back in the camp around 7:30pm for another incredible dinner.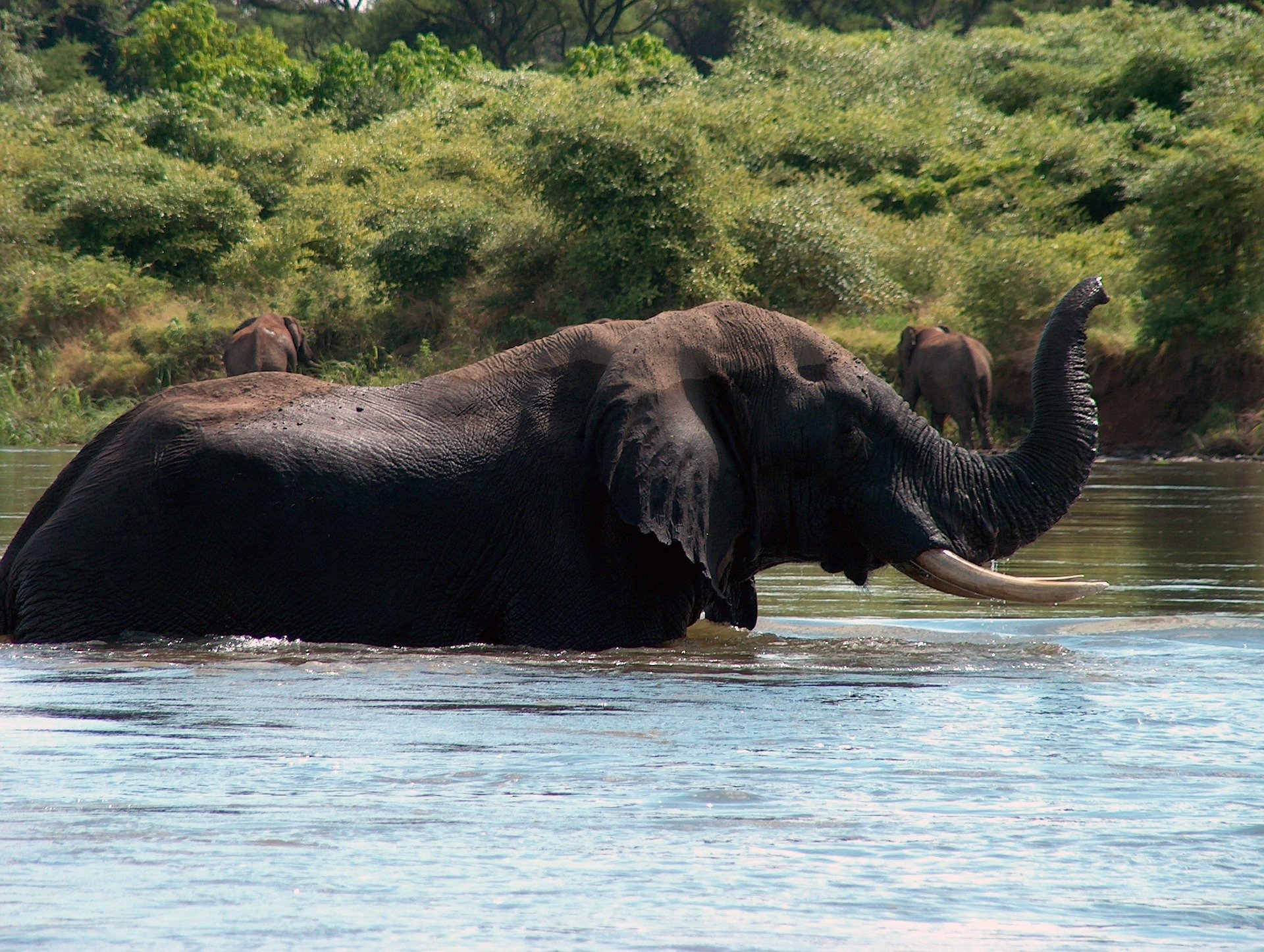 Day 7: Stanley's Camp
We left the camp in the morning for a 20-minute flight from the Kasane airport to the Sanctuary Stanley's Camp in the Okavango Delta. The afternoon highlight was a tranquil ride in a traditional dug-out canoe called a "Mokoro." The boats quietly slide through the water, and as we drifted along, our experienced guide explained the landscape and scenery we passed through. The experience was serene and lovely, connecting us with the environment in a new and memorable way. At the end of the Mokoro ride, we were met with sundowner drinks and snacks, then shuffled off to dinner in the camp, which was served as a wonderful outdoor BBQ.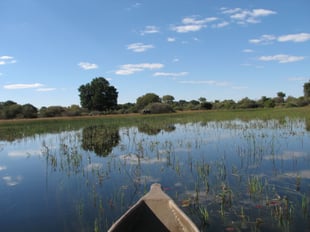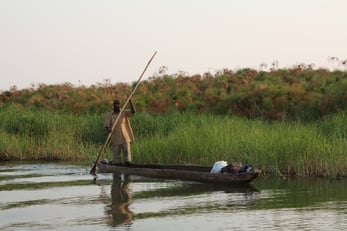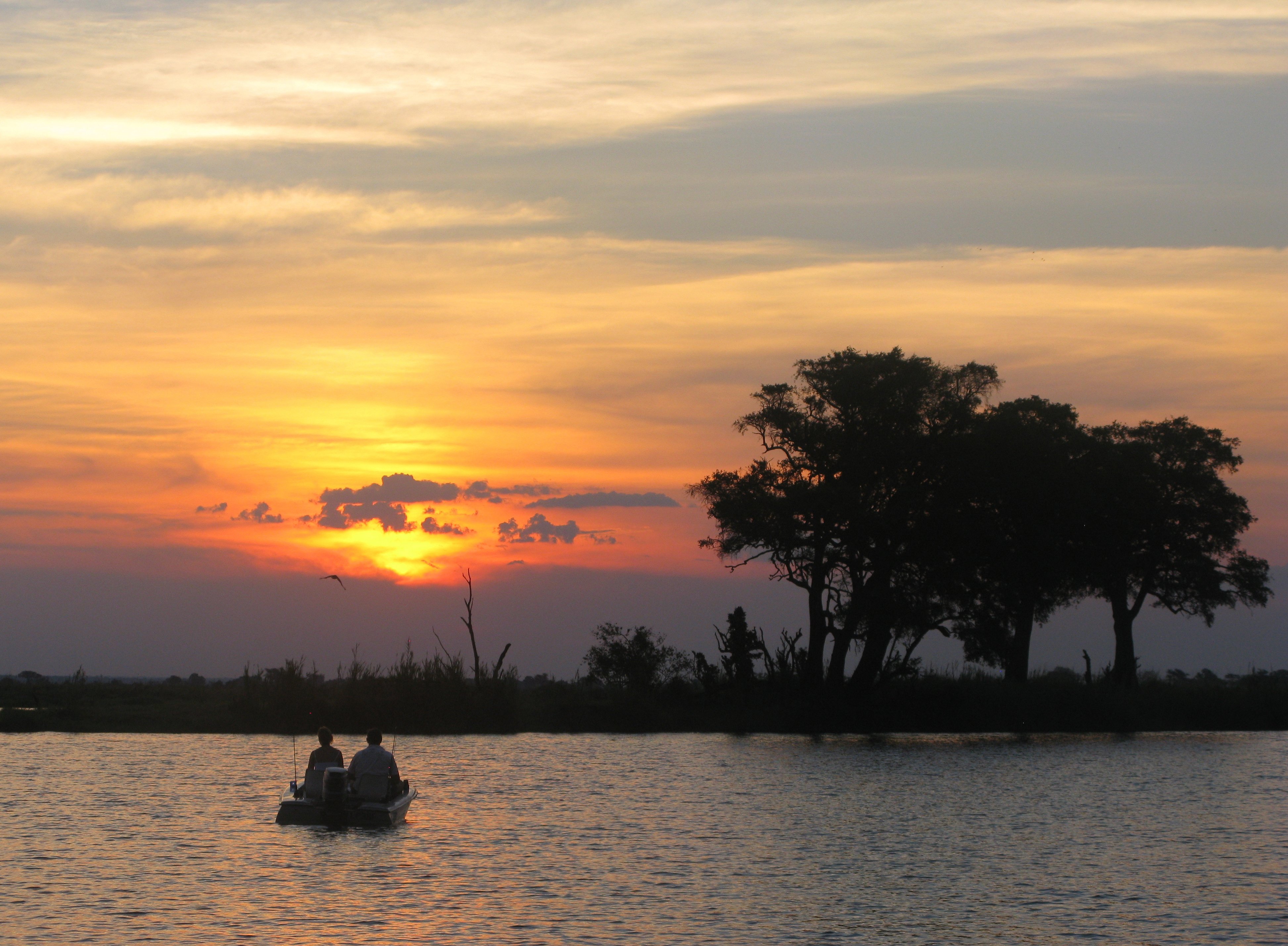 Day 8: My Elephant Encounter
Although the entire safari was a life-changing experience, one of the best days of my life was meeting the people behind the Living with Elephants Foundation. I met two of the most selfless people I have ever had the pleasure of encountering: Doug and Sandi Groves. They also introduced us to their larger than life "children", the elephants -- Jabu and Morula. The Living with Elephants Foundation is a non-profit dedicated to the conservation of African elephants. If you're interested in learning more about their story go to www.withelephants.org.
Day 9 & 10: Chief's Camp and the (Almost) Big Five
In the morning we departed Stanley's Camp for our 15-minute flight to the beautiful Chief's Camp for more wild game experiences. Located on famous Chief's Island in the Moremi Game Reserve, this luxury safari camp boasts some of the largest suites in the area and is rated one of the top safari camps in Botswana by both Travel + Leisure and Condé Nast magazines. We spent two amazing days immersing ourselves in the action-filled wilderness followed by relaxing gourmet dinners.
At the end of our 10-day safari, we had seen all of the "Big Five" except the illusive leopard. For those who don't know, the Big Five are the top sought-after wild game animals in Africa to see while on safari and they include: the lion, leopard, rhinoceros, elephant, and Cape buffalo. The term "Big Five" is widely used by safari camps, especially because all of these animals are a big focus for wildlife conservationists. Three of the five animals are considered vulnerable species and the black rhino, in particular, is critically endangered. To have seen even four of the five was an amazing experience, and I am forever grateful to have had the opportunity.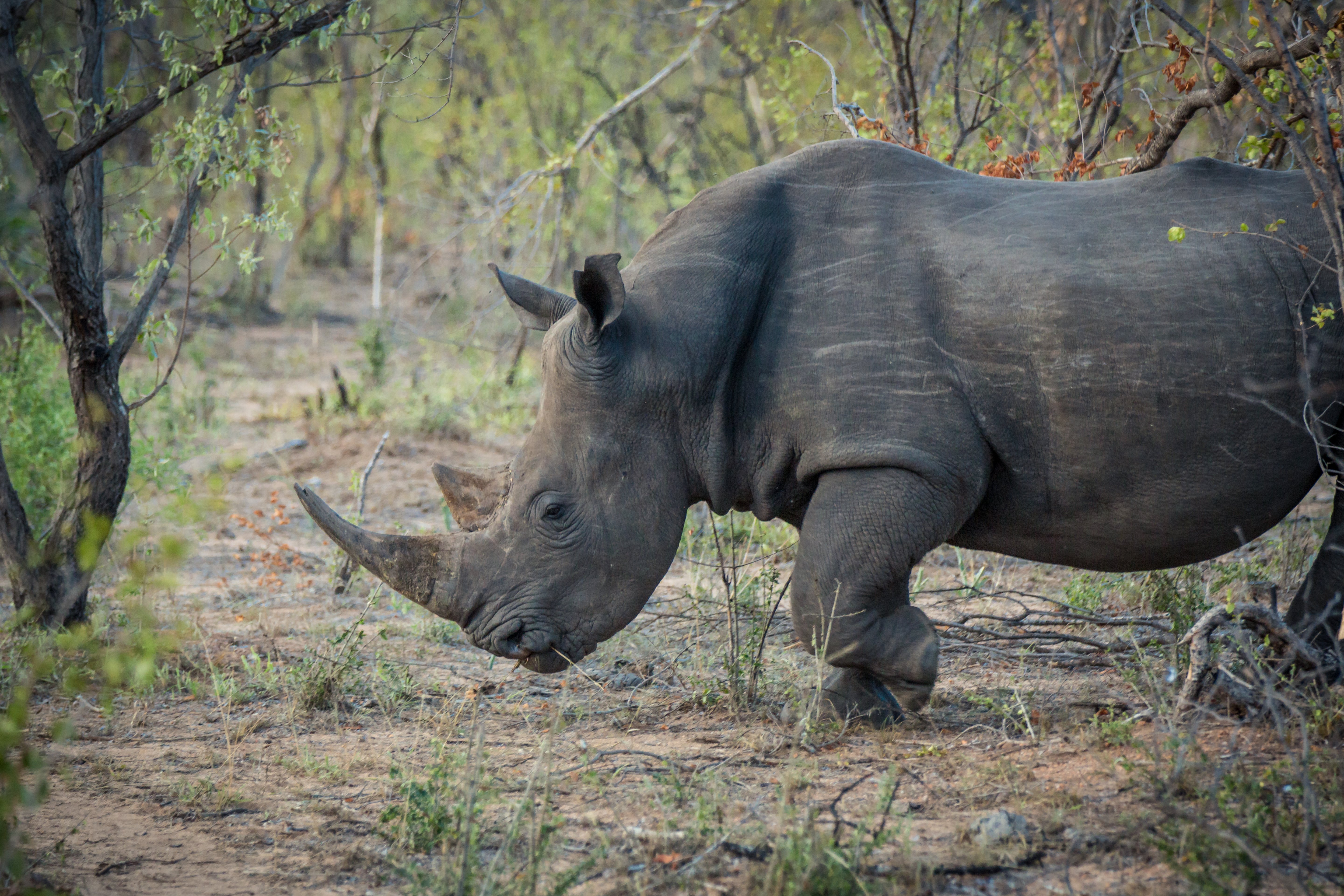 One thing that makes this tour so special and carefree is having all the camps we enjoyed as all-inclusive so we were not concerned about daily expenses throughout the trip. The villas each had a coffee percolator, a selection of hot teas, and a refrigerator stocked with nonalcoholic and alcoholic beverages of your choice, as well as some light snacks. The camps also provide bug spray and walkie talkies, which is a very thoughtful amenity to have while visiting. It felt as though my partners at A&K thought of everything while we were there, and even the big hassles of traveling to a foreign country, like currency exchange and visas were a breeze. Not to mention, each of our meals was outstanding, with high-touch service and a unique, local flair that makes a meal memorable and relatable to the destination.
I checked everything off my African safari bucket list and then some. The plush accommodations, seamless transfers, and the more-than-hospitable guides and directors were icing on the cake. If you are interested in experiencing a once in a lifetime journey to Africa, I highly encourage you to let me show you more of what A&K has to offer. Submit a trip request and let's plan your journey today!
About the author
Petra Wilkerson
As a travel consultant with over 21 years in the industry and a lifetime of personal travel experience, I can anticipate many of the questions and concerns that can arise prior and during your trip. My philosophy is to provide each and every client with a truly memorable vacation.
Topics: Travel Advisor, Vacations, Safari, Africa