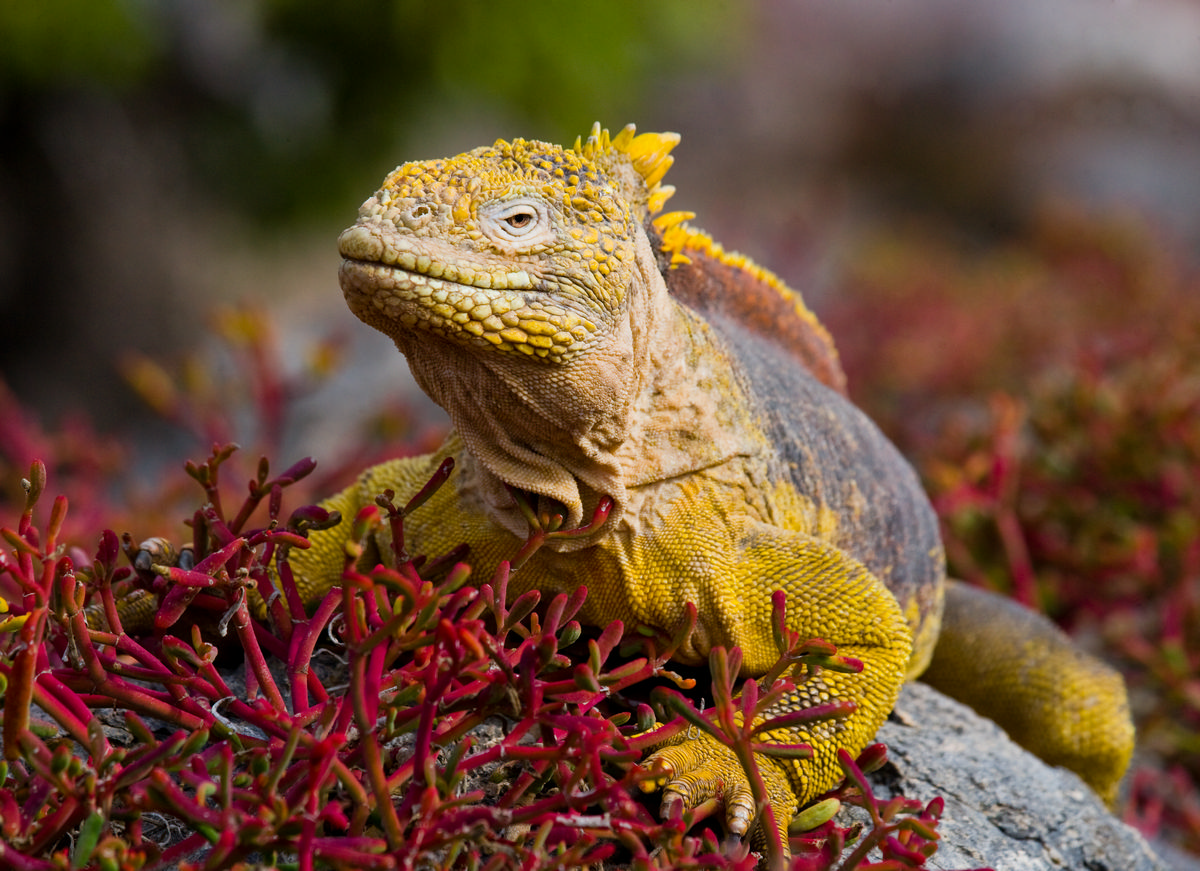 The buzzword around travel trends this year is "transformational". I've always been of the mindset travel has the ability to transform our point of view, our compassion, and gratitude for everyday life when we return. The idea of transformational travel today is about a deeper engagement wherever one travels. Some destinations lend themselves to have a greater impact on your mind and understanding of world politics. Others will deeply impact your heart and soul. Some will bring excitement to your senses and are thrilling to behold. My most recent trip to the legendary Galapagos Islands engaged me in a whole new way and I left with an even greater appreciation for preserving our natural resources.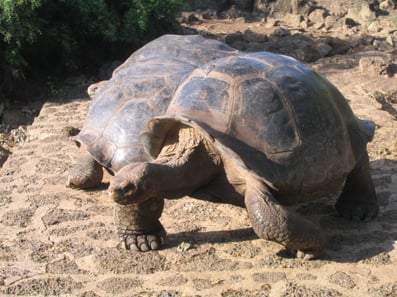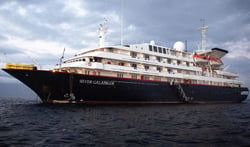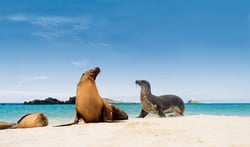 It's been eleven years since I last visited the Galapagos and while this is one of the slowest changing places on earth, by design, it's a destination rapidly rising on more bucket lists than ever. Never fear, the islands still limit visitors as an environmental protection measure, but that means you should plan ahead as the most desirable options book up quickly. Most people don't realize the 19 islands are spread out over 23,000 square miles of ocean making it an ideal destination for small expedition ships or chartering luxury yachts for your family and friends.
For this trip we chose to sail a small luxury expedition ship, the Silver Galapagos with our hosts at Silversea. The benefits of a partner like Silversea is they have a large, knowledgeable expedition team providing top quality equipment and education while snorkeling, kayaking, and during nature walks, as well as commentary on the ship. The most important aspect to engage in the soul of a destination is the quality of your guides. Every ship operating in the Galapagos must employ Ecuadorian citizens, which provides a deep-dive into their culture like no other destination. The people are passionate about protecting this pristine environment and sharing their unique home with curious visitors. The personal connection with them and the stories of their lives will transform your view of what each of us can do to help preserve our natural resources.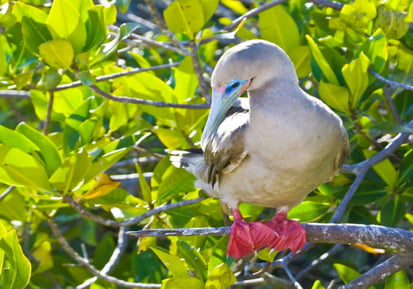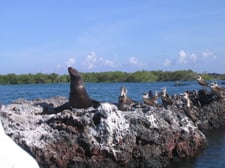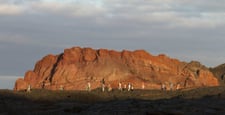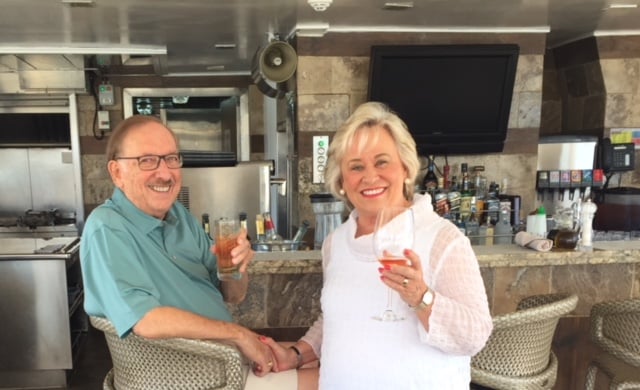 Selecting a luxury cruise experience also ensured we could easily accommodate our group of friends and all our unique needs. Comfortable sleeping arrangements, fine dining, 24-hour butler service, and Wi-Fi allowed us to share the most beautiful images of our experiences making memories together. Nighttime was very special on board the ship 600 miles from shore with no light pollution to block our expansive view of the stars. We were easily able to spot the vivid constellations of both the Northern and Southern Hemispheres. When leaving the ship for day trips on each new island we were well rested, fed, and ready for our very active excursions exploring the treasures of the Galapagos.
Our north-central Galapagos cruise itinerary began on a sunny Saturday in Baltra, also known as South Seymour, where we transferred from the airport to the dock and a zodiac swept us away to our ship. We set sail the same evening for a sunset cruise around Isla Daphne, a major volcanic tuff crater island. Only scientists are allowed to land on this rugged island, but we crept in close enough to spot some Brown Pelicans and Red-billed Tropicbirds with the help of our expert guides on board.
When we arrived at Genovesa Island, we anchored in Darwin Bay, an ancient volcanic crater now flooded by the sea. Our zodiac carried us to land on a white, sandy beach where the sea lions sun themselves at leisure and the marine iguanas reign like dinosaurs of old. Flocks of Red-footed Boobies are found here and aren't afraid to be close enough for a good Instagram photo.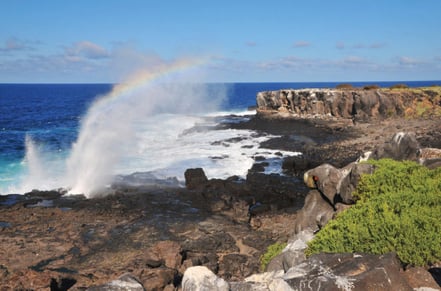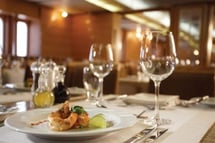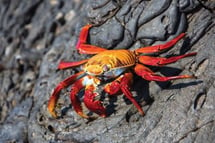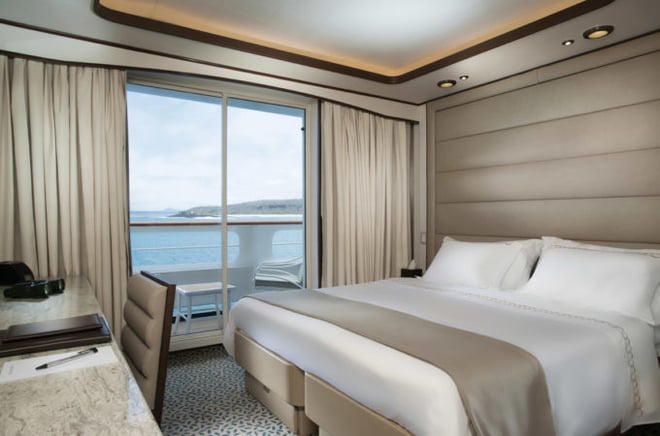 On to Seymour Norte and Bahia Sullivan, Santiago. After a short climb up from the black lava rock landing area, we enjoyed the plateau where sea lions nurse their pups and frigate birds nest. Then we were on to examine the lava fields of Sullivan Bay on Santiago Island where it seemed we stepped onto the barren planet of Mars for the afternoon. The lava flows here are young at just over one hundred years old and our expert guide shared all the geological wonders of this specific formation.
We found the shallow waters around El Eden Island perfect for viewing Pacific green sea turtles, reef sharks, eagle rays, and Sally Lightfoot crabs. Generally speaking, I don't care for reptiles of any kind, but the legendary giant tortoises on San Cristobal Island are truly magical to encounter. The oldest island, Española, offers sheer cliffs and thermals making it the perfect nesting ground for the Blue-footed Boobies and a host of other unique birds we were excited to see.
The Darwin Research Station on Santa Cruz was another highlight and an incredibly educational one. It houses a breeding and reintroduction center for the giant tortoises and land iguanas, another reptile I have come to appreciate. There are opportunities on this island to purchase and bring home the work of local artists and relax while enjoying a treat in a local café.
If an experience in the Galapagos Islands has not been high on your list, I hope we can sway you to take a new look at this very special, timeless place. It will surely impact your outlook on preservation, our natural resources, and the power each of us has to positively impact our world. This is the transformative power of travel and why we love to share it with you.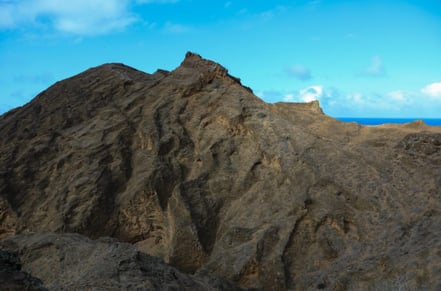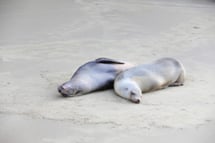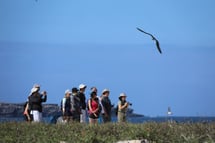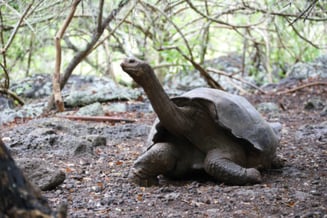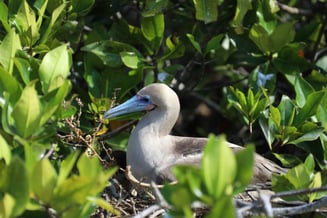 - LINDA M. RAYMER
President, Vacation Travel Services

This trip was sponsored by our travel supplier partner. #ad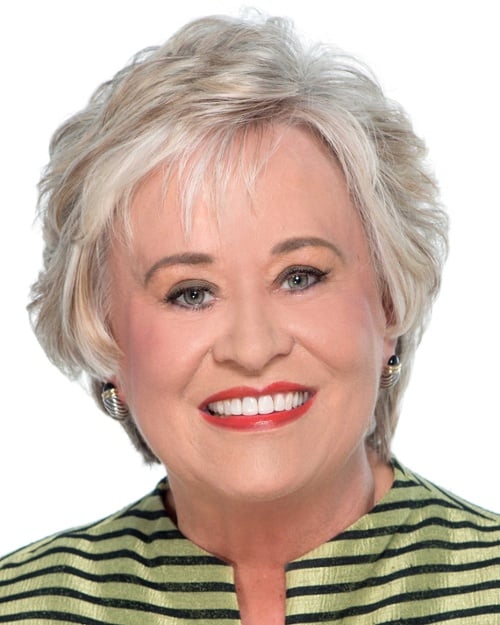 About the author
Linda Raymer
Following a career of 35 years in the industry as owner and senior executive of one of the top American Express Franchise agencies, now as President Emeritus at Travelink, Linda's influence and impact on our business and the travel industry is everlasting. Having developed the luxury division of our leisure business, Privileged Journeys, she continues to support our growth and remains available to develop luxury itineraries for individuals and custom groups as well as represent our company in local charity work. Linda has served on the American Express CTN Advisory board as well as the American Express Vacations Advisory Board, the Bedsonline Advisory Board, the Departures Luxury Council and the Departures Magazine ETA (Elite Travel Advisor) Board.
Topics: Cruises, Leisure Travel, Vacations