The mere mention of Transylvania conjures images of vampires, werewolves, and haunted forests. Lying in wait for your arrival, at the foot of the Carpathian Mountains, you'll find the home of many myths and legends in Transylvania. My husband and I toured this region before embarking on an AmaWaterways Danube River cruise. This bucket list experience was my birthday present and was truly magical. With all the dark lore surrounding this region, I was surprised at the magnificent beauty and authentic hospitality of the local people and I look forward to returning to central Romania.

Bucharest
The bustling city of Bucharest was a welcoming start to our journey. We explored this imperial city before venturing into Romania's countryside and adored our stay at the Relais & Chateau Hotel Epoque, a boutique luxury hotel walking distance to several parks, the Palace of Parliament, and old town Bucharest. We enjoyed the evenings, dining outside at cafes and experimenting with local food such as sarmale (stuffed cabbage rolls) or a covrigi (soft pretzel topped with salt or poppy seeds). No visit to Bucharest is complete without visiting the indulgent Palace of Parliament. This historical building is the largest parliament building in the world at more than three million square feet and has more than a thousand rooms. Emptiness remains within many of the decadent halls, reflecting the ego of former dictator Nicolae Ceausescu and his wife, Elena, who both played a direct role in its construction.
Using Bucharest as our base, our English-speaking, private driver/guide took us through gorgeous countryside and into Transylvania. He even recommended a few key spots along the way to stop and take pictures. The most noticeable difference between Bucharest and the region of Transylvania is how the pace of life slows tremendously.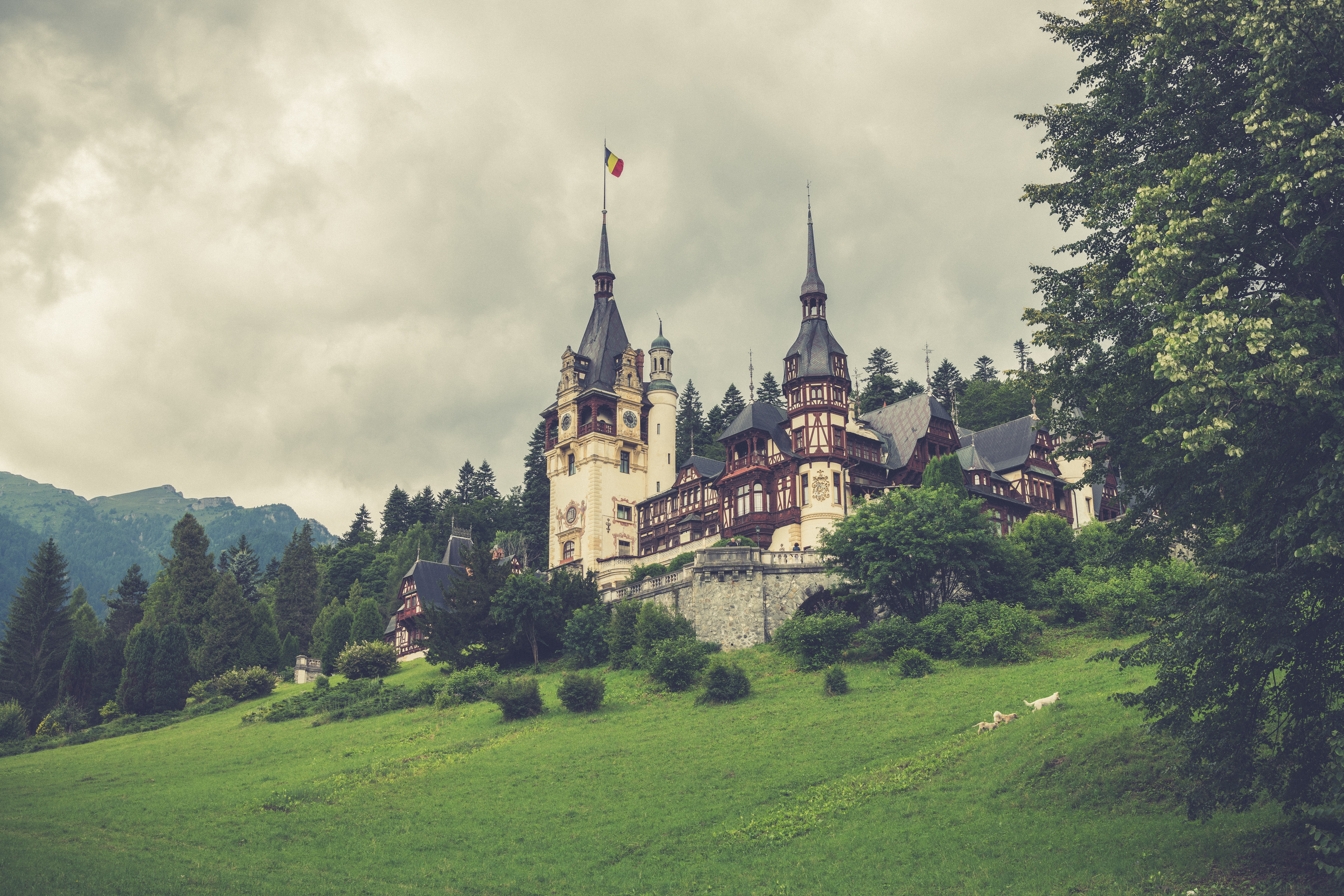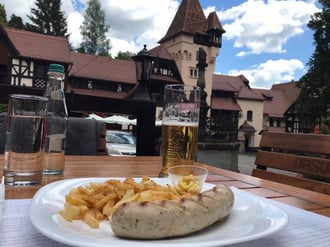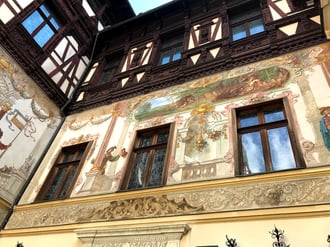 Peleș Castle
Our first stop was Peleș Castle in the Carpathian Mountains near Sinaia. This Neo-Renaissance castle is my favorite European castle, by far. It was built between 1873 and 1914 on a medieval route linking Transylvania with Wallachia. Constructed for King Carol I as his summer palace, he loved it so much he chose to spend his last days here and this is where he passed. Born as a prince in southern Germany, Carol I was brought to Romania to be their king and unite the Romanian territories. He imported German artisans from the Black Forest to complete the luxurious, wood-carved interior along with over 800 stained-glass pictorial windows crafted in the Germanic style. It is truly magnificent so plan to spend at least half of the day here. The onsite restaurant has a lovely menu and refreshments so we took our time and lingered in the cafe to enjoy our surroundings.

Bran Castle
The next day we drove to Bran Castle for a bit of creepy fun. Approximately a two-hour drive from Bucharest, it was originally a fortress and not crafted beautifully as most castles were. Vlad III Draculea (meaning: son of the dragon) was the second son of Vlad II Dracul and became ruler of the region in the 15th century after his father and older brother were brutally tortured and murdered by their enemies. Literature claims he killed 80,000 people, of which 20,000 died by his favorite method of impaling them. He was constantly embattled and at one point was held prisoner in this fortress for several months. Vlad was a man who enjoyed the violent deaths of any who opposed him, but he was not a vampire. Bram Stoker's book is a melding of the many myths and legends in Transylvania crafted together with facets of Vlad's vicious reign, but the castle holds both facts and fiction for all who enter and dare to learn the truth.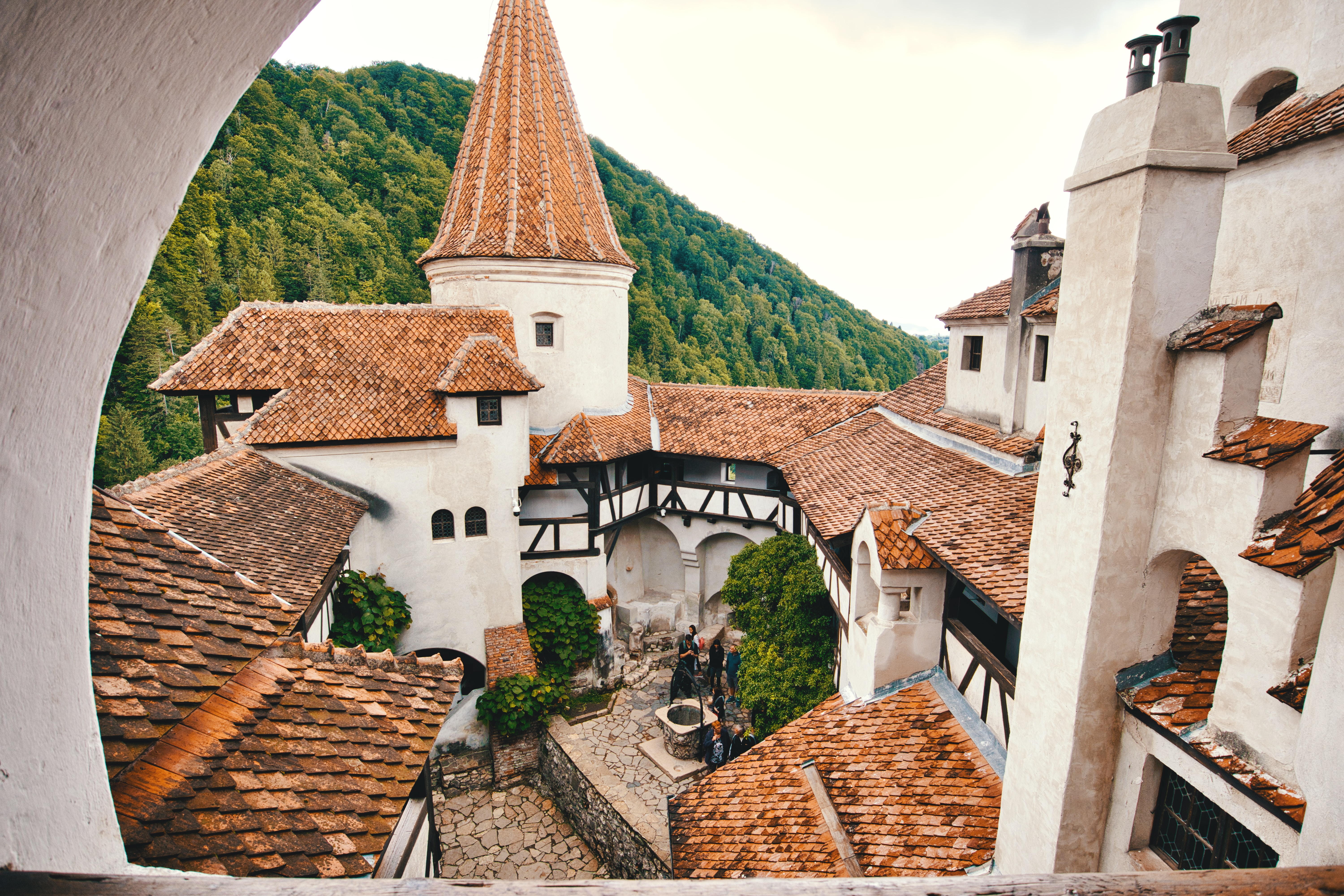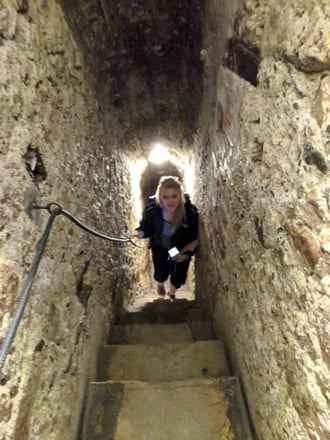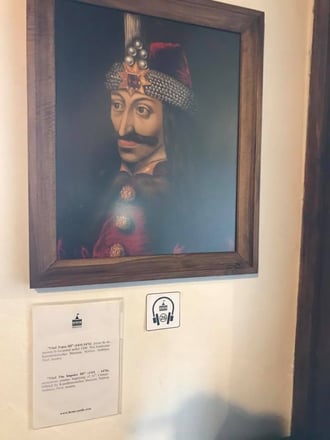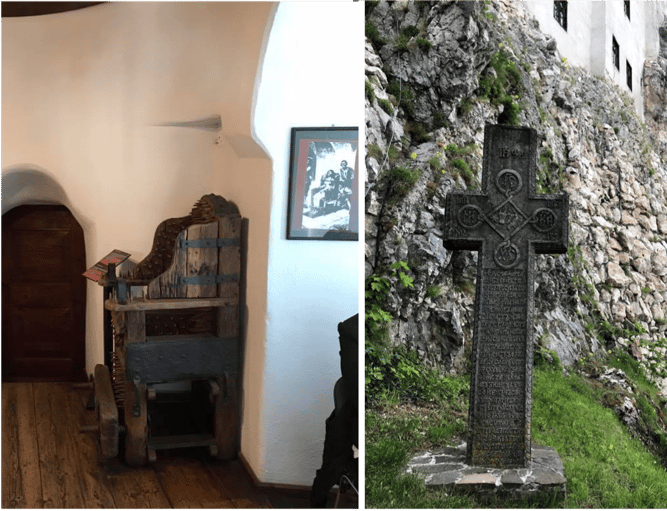 Arriving at Bran Castle, we immediately note this is not for the faint of heart or feeble of step. We walk up a steep hill to the castle only to be met with nearly vertical stairs before finally gaining entrance. Touring through the four levels of castle and inner courtyard is a bit of a maze with tight stairways and small doorways. The view of the surrounding landscape is magnificent from the top, but while we were on a balcony the clouds rolled in and eerie feelings tingled up my neck. We went back inside to learn more about the vampire myth alongside Vlad's very real torture devices, such as the chair of nails featured in the picture above.
Once our tour of the castle was complete, we walked back down the hill for souvenir shopping in the Bran market. Dracula is big business here and we weren't disappointed in the selection of items to bring home to the kids. There are also horror house and movie experiences available to keep the mood dark. Each year on Halloween, Bran Castle hosts an all-night party at the castle, if you're interested...or should I say, if you dare...we would be happy to book your vacation here for next Halloween as an optimistic round-trip affair.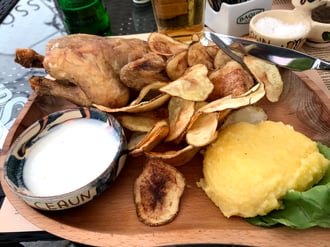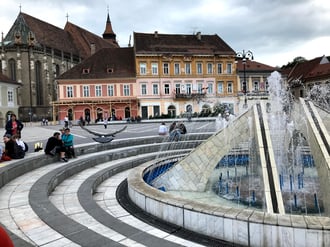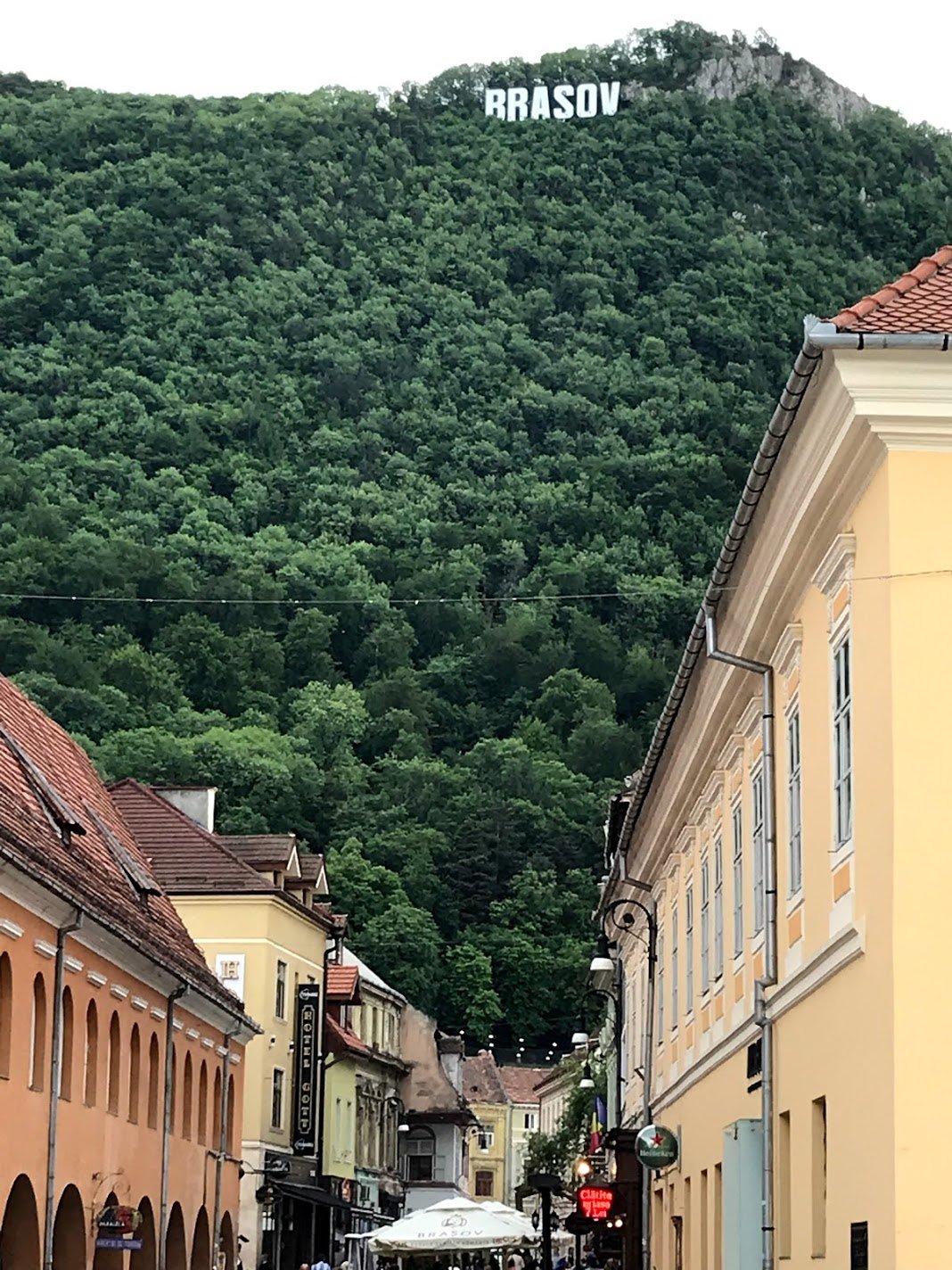 Brașov
Late afternoon, we continued on to Brașov for a tour of the Black Church and this medieval town's square, which had been the location of many public executions. Today, it's filled with fine dining, shopping, and is a wonderful place for socializing along with people-watching. Entering the Black Church, which sits just off the main square and is not black in color, we learned it's the largest Gothic church in all of Eastern Europe. The church earned its common name after a fire in 1689 when dense smoke darkened the walls. The interior is not as ornate as others in Europe, but the influences from the Kingdom of Hungary, the Ottoman Empire, and the Saxons are well-blended in with the Gothic architecture. After a hearty dinner in the town square, we were ready for our journey back to Bucharest and a good night sleep, free from the legends of Transylvania. However, if you wish to stay and impale the heart of this region further with your curiosity, Brașov has a lovely selection of hotels. We would be delighted to book you in a comfortable room, but cannot guarantee a "peaceful" night's sleep after a day spent with Vlad the Impaler and his blood-thirsty history. This very real man was more horrific than the fictional Dracula ever was.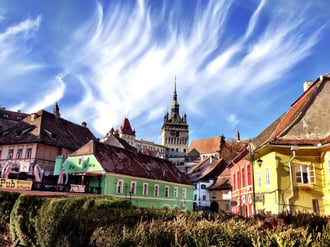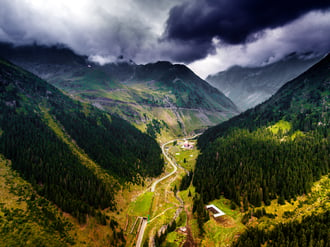 There is more to see in forest-dense Transylvania, including the eagles, wolves, lynx, and famous brown bears within the amazing Carpathian Mountains and the reserves that protect them. Next time, I plan to see the quaint little village of Sighișoara with its beautifully preserved UNESCO World Heritage walled old town, which sits on the banks of the Târnava River. (It's also the birthplace of Vlad the Impaler.) Also on the list is a stay in the Romanian guest home and nature retreat owned by H.R.H. Prince Charles of Wales. He traced his own lineage back to Transylvania and Vlad Dracul. He loves this unique part of his heritage and invests in the restoration of homes, villages, and preserving Transylvania's natural resources. If you love hiking, biking, skiing, or simply getting away from it all, I'm confident you'll love it here too. As an added bonus, Romania's red wines, especially the Pinor Noir from Prahova Valley, are exceptional! I'm confident you'll return home from this lo-tech, high-culture vacation with legendary stories of your own.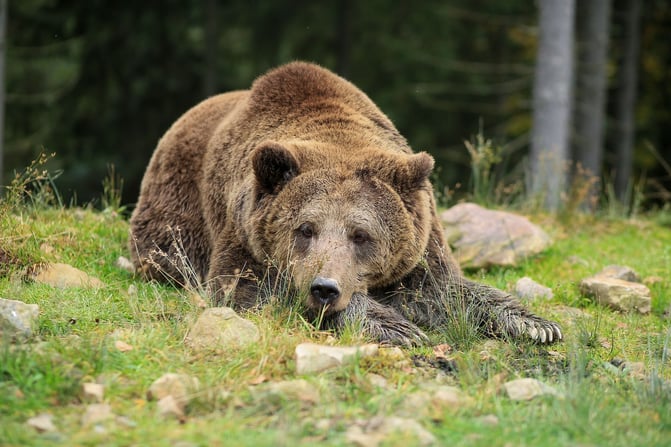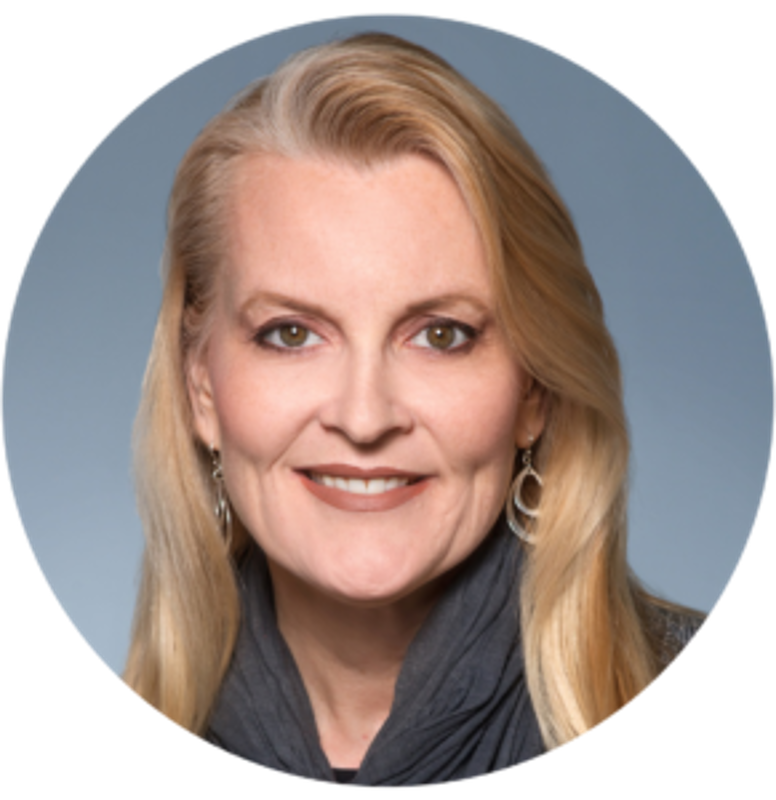 About the author
Sandy Schadler
Sandy is responsible for executing all marketing and advertising for Travelink and its sub-brands, Employee Vacation Programs and Privileged Journeys (luxury/VIP personal travel). In addition, she maintains a close relationship with American Express Marketing in New York and their Preferred Travel Suppliers globally to ensure all marketing and advertising channels are delivering the high caliber of results for which the American Express brand is well known. Sandy also holds an advisory board position for Travel + Leisure magazine and the German National Tourism Office in the USA.
Topics: Leisure Travel, Vacations