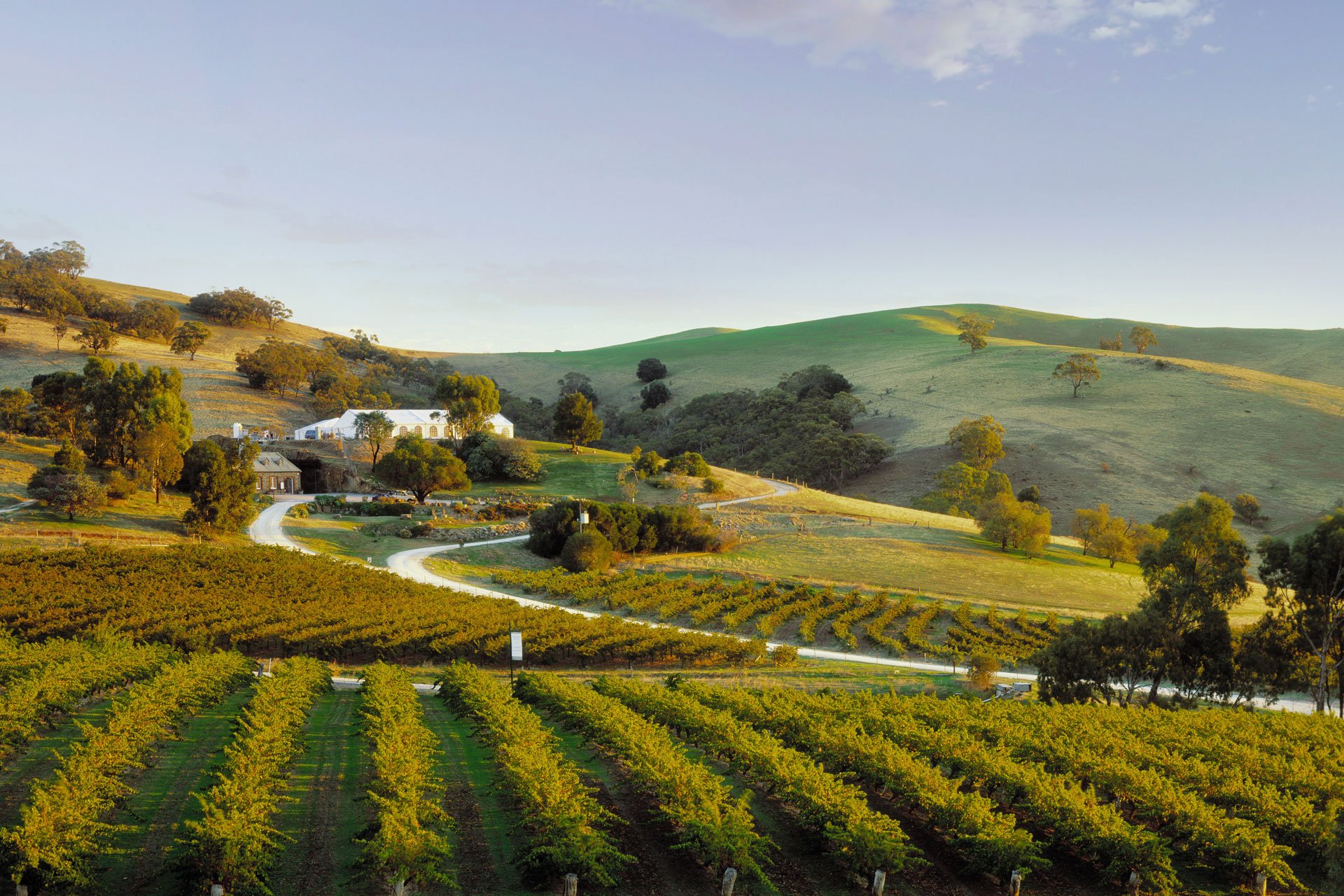 Australia is at the top of most people's "Live Your List" destinations with Sydney as the first stop. However, if you are a foodie who loves Napa Valley or the European wine regions, then you will want to include Barossa Valley, South Australia in your plans. Located approximately 40 miles to the northeast of Adelaide city centre, Barossa Valley is one of Australia's oldest and most highly renowned wine producing regions in the country, with around 150 wineries and cellar doors.
During my very first trip to the land down under, I was able to visit three wineries in this region: Seppeltsfield Winery, St Hugo, and Two Hands Winery for three very different experiences. My home away from home here was The Louise, a Relais & Chateaux property centrally located to the wineries, in whose amazing restaurant you may have the chef pair all your local favorite wines with an unforgettable meal. More on the Louise later, first we must try the wine.

Tasting #1: Seppeltsfield Winery – Tasting History
For our very first stop of the day, at 10:30am, I was able to experience the VIP behind the scenes tour of the legendary Seppeltsfield Winery with a diverse group of people from China, Italy, Spain, the UK, and Nicaragua. I assure you, not a bad way to start of a morning!We did a full fortified wine tasting and following that went up to the hidden rooms where for the past 130 years, Seppeltsfield has been storing one barrel of wine from each year. Seppeltsfield is actually the only winery in the world that has wine from every year, including all of the Great War years. Because of their extensive collection, each of us in the tour group had the chance to taste wine that was created in our birth year as well as a wine that was 100 years old. Absolutely unforgettable.
According to our host, Seppeltsfield has had customers who have turned 100 years old brought into the winery to taste the wine from their birth year which usually becomes a time for family sharing and ultimately turns into what will be one of the most memorable life experiences that will be passed down from generation to generation. We also noted that the British Royal Family has set aside rather large barrels for each of the children to enjoy. William, Harry, and even little George and Charlotte each have their own wine barrels stored here from their birth years. What a lovely gift from Prince Charles and Lady Diana.
Takeaway: The wine created in my birth year was a bit nutty!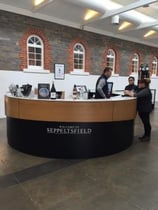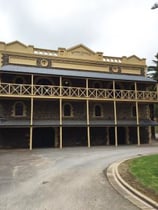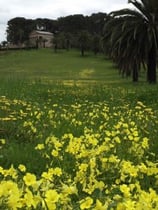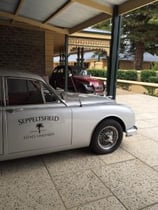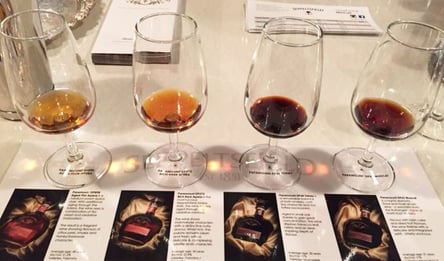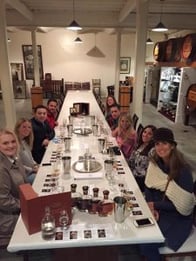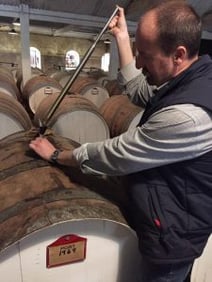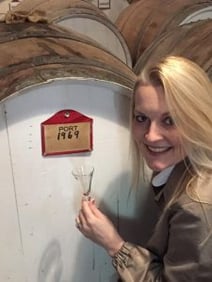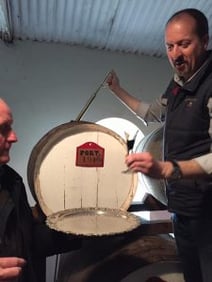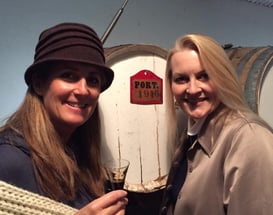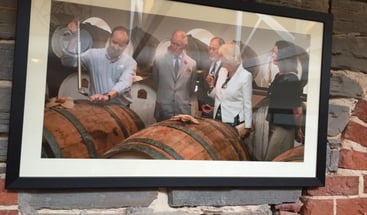 About Seppeltsfield Winery:
With a proud and priceless legacy dating back to 1851, Seppeltsfield is Australia's iconic wine estate. Seppeltsfield was established in the Barossa Valley by Joseph and Johanna Seppelt just 15 years after the European settlement of South Australia. The estate is considered a true national treasure which helped shape the history of the Australian wine industry.Seppeltsfield are the proud custodians of the CentennialCollection, which is believed to be the world's only unbroken lineage of single vintage wines spanning more than 130 consecutive vintages, each still in barrel. Seppeltsfield is also famed for the 1888 Gravity Cellar. Established in 1888, the historic building was designed and constructed by Oscar Benno Seppelt, son of Seppeltsfield founders Joseph and Johanna.
Tasting #2: St Hugo – A Modern Treasure
Our next wine stop was to a brand new winery, St Hugo, where we were treated to lunch, another wine tasting, and kangaroo sightings!
At St Hugo they do things a little bit differently. Typically restaurants pair wines with the meals the chefs create. According to Chef Mark, here at St Hugo, the Sommelier picks the wines first and then he creates the dishes to pair. This flipped approach creates for a perfectly well-paired meal based upon the best offerings of the winery. The restaurant and wine tasting facility was opening to the public the very next evening so the staff was buzzing with excitement during our preview. The property is set up for groups large and small to enjoy and would even be wonderful for a destination wedding.
Once seated for lunch, I discovered we had kangaroo on the menu and decided to give it a taste. When in Rome and all that. The verdict? I've checked that off as done and it is something I won't need to do again. From others at the table who have had kangaroo before, they said it was the best they've experienced. I couldn't get past the fact that I would rather hug one than have it for my meal. Overall the food at St Hugo was amazing and we especially loved the bread! I wanted to live inside the local bread it was so amazing.
As our trip started in Sydney, where the kangaroo do not roam the streets, we had a deep desire to see them in person. Greg, our host, was so kind that he took us in his personal 4x4 out into the vineyards where they love to roam so we might spot some. This added an element of fun we hadn't anticipated, but the team at St. Hugo aims to please in every way and they delivered. Many of us saw our first kangaroos there amongst the vines.
Takeaway: A bottle of St Hugo wine, my favorite from the tastings, the Private Collection Shiraz 2012.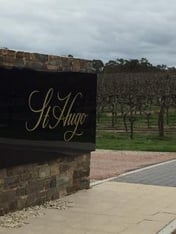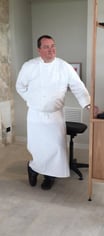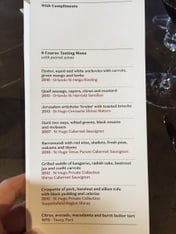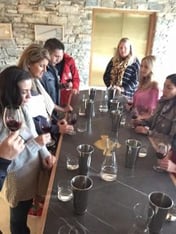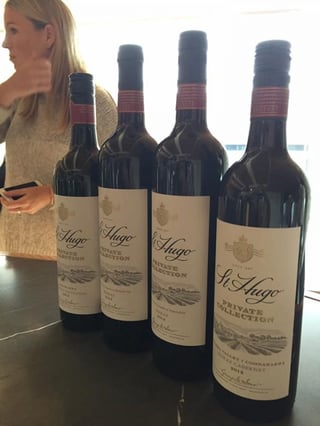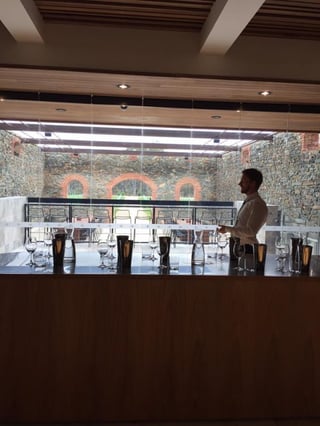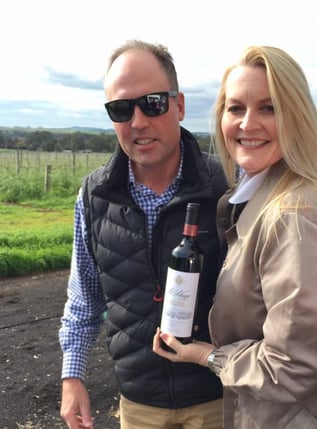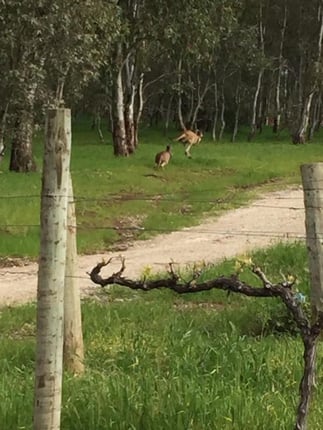 About St Hugo:
A new milestone is marked with the opening of the St Hugo home in the Barossa Valley. Here, visitors can indulge in the outstanding collection of St Hugo red wines in this beautifully restored building that reflects the rich history of Hugo Gramp and his lifelong connection to the region. St Hugo wines can be enjoyed in the luxurious lounge, in private underground tasting rooms, or as part of the fine dining experience in the restaurant.

Tasting #3: Two Hands Wines – Australia's Most Exciting Winery
Our final stop on our Barossa Valley wine tour was to one of Australia's most unique and adventurous experiences, Two Hands Wines. Upon arriving, we were pleasantly surprised with two Land Rover Defenders waiting to whisk us away, resulting in one of the most amazing wine tours I've ever done. The Defenders took our group of nine up to a hilltop overlooking the entire valley for a tasting with the most magnificent views. The weather was cool at the end of September when I visited, as spring time had arrived in South Australia, but there was no wind so we were able to enjoy our wine and take in the magnificent sights at our leisure. For those days when the wind gets just a little too brisk a top the hill, visitors are able to enjoy their tasting down the hill by the vineyard's gum tree.
We had wonderful, knowledgeable hosts and the wine was delightful. The winery even had two resident dogs, mother-daughter duo, Daisy and Safire. They were so sweet and not at all bothered by guests.
Takeaway: God gave us two hands so why not a glass for each? They have special packaging ready so gift glasses came home with me as well.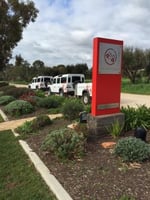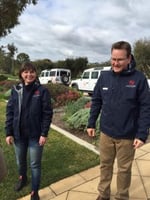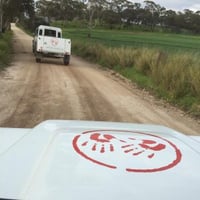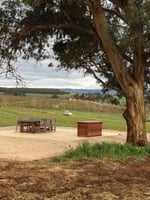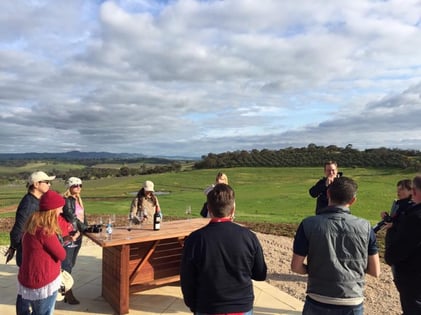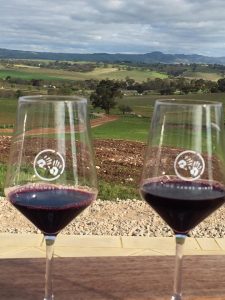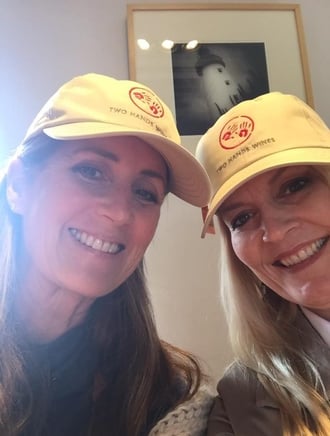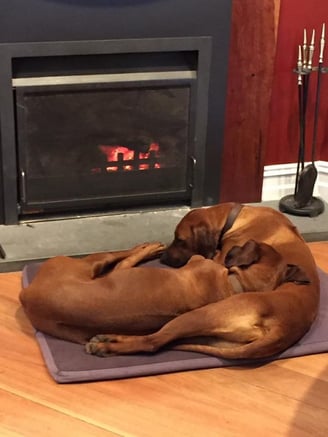 About Two Hands Wines:
The idea for Two Hands was born in September 1999 when founders Michael Twelftree and Richard Mintz sat at a friend's engagement party and decided it was time to make their own wine and market it on the world stage.
The original aim was, and still is, to make the best possible Shiraz-based wines from prized growing regions throughout Australia. With so much Australian wine being sold around the globe under multi-region labels in a formulaic style, the intention was to break the mould and showcase the diversity of Australian Shiraz by highlighting regional and vineyard characteristics by allowing the fruit to be the primary feature of the wines.

The Louise: My Home Away from Home
After this very full day in the region, my comfortable suite at The Louise was a welcome sight. The owner is an American business man and his wife, Jim and Helen Carreker. Jim was in town and joined us for dinner in their five-star restaurant, Appelation, which felt more like having a private chef and sommelier in our own home. Executive Chef Ryan Edwards takes great care with the menu and his team never forgot about my food sensitivities, creating my own wine-paired menu without lactose at every meal. Their commitment to service befits the expectations of Relias & Chateaux properties around the world so that every personal detail was considered and cared for. The peaceful grounds paired with a full day of unique experiences, and comfortable setting provided for nights of sound, restful sleep.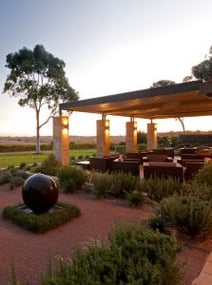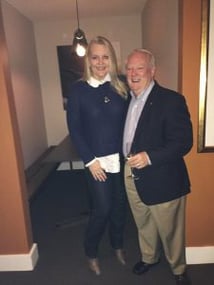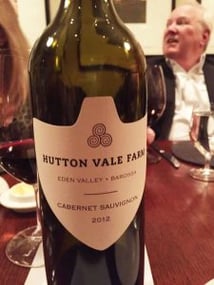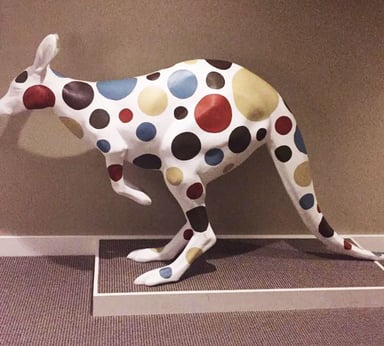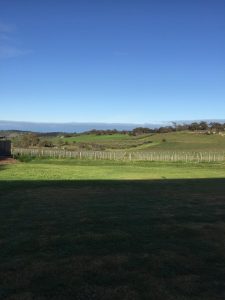 About The Louise:
In the model of many highly regarded hospitality venues in those regions, the primary destination is the restaurant and its carefully developed cellar, and luxurious accommodation is supportive and complementary to the spotlight focus on superlative food and wine. This concept is relatively rare in Australia and the Barossa in particular. Following significant upgrades and major works to the original Hermitage property completed in September 2006, The Louise is the launch site for this unique blend of seasonal regional food, world-class wine, and private hideaway accommodation.
Barossa Valley was all I every could have dreamed of and more. The views were lovely, the wine spectacular, our hosts were most gracious, and the experience was unforgettable. Our team will be happy to curate your own personal, unforgettable experience in South Australia. We'd love to talk about planning your next trip.
Read more about Australia and the wonders that its capital city, Sydney, has to offer.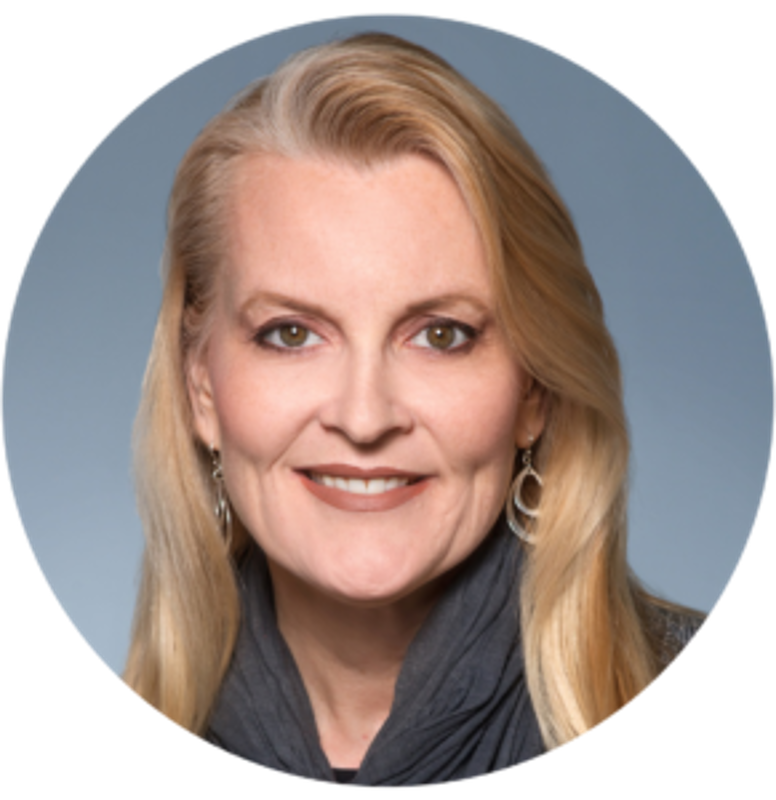 About the author
Sandy Schadler
Sandy is responsible for executing all marketing and advertising for Travelink and its sub-brands, Employee Vacation Programs and Privileged Journeys (luxury/VIP personal travel). In addition, she maintains a close relationship with American Express Marketing in New York and their Preferred Travel Suppliers globally to ensure all marketing and advertising channels are delivering the high caliber of results for which the American Express brand is well known. Sandy also holds an advisory board position for Travel + Leisure magazine and the German National Tourism Office in the USA.
Topics: Privileged Journeys, Food + Culture