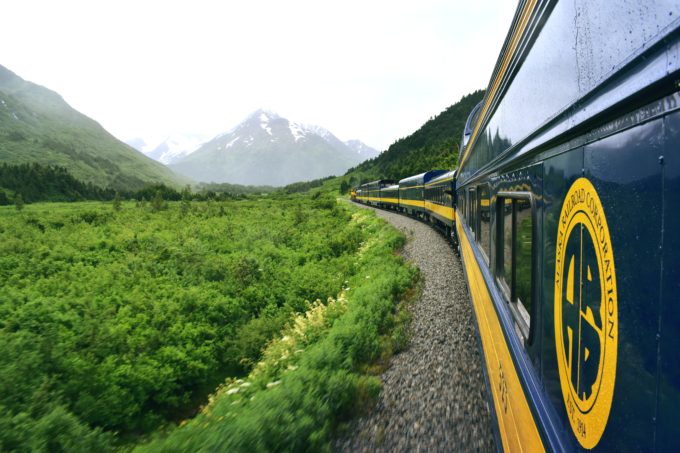 America's largest and least populated state is a huge wilderness and is one of those places that looks as beautiful and pristine as the post cards. Alaska boasts more national park land than the rest of our nation combined and is home to eight national parks including three of America's largest. I lived in Alaska from 1957-1959. I had also been on an Inside Passage Cruise in the 1980s, so I wanted to experience Alaska's unique beauty again and see how it has changed over the past 60 years. In late July, my husband and I set off with four other hearty travel pals to explore as much as we could of this iconic destination using planes, trains, automobiles, and a luxury cruise ship to see all the best bits of Alaska we could squeeze into two weeks.
We flew from Nashville through Seattle into Fairbanks. The long flights and three-hour time difference did give us a bit of jet lag, but the 24-hour daylight and spectacular July weather with very low humidity made the journey worth it.
The first day was spent reliving childhood memories at Fort Greely, the Army base 100 miles southeast of Fairbanks where I was living when Alaska became a state in 1959. It was fun seeing places that had changed dramatically and others looking basically the same, including the little school I attended as a young girl. We returned to Fairbanks in time to greet our other four travelers and enjoy our first meal of fresh Halibut fish and chips. The Riverboat Discovery trip in Fairbanks was the beginning of our second day and was a very nice orientation to the Alaskan culture. We were thrilled to see the famous kennels of Susan Butcher (the 9-time Iditarod champion) and getting a firsthand demonstration of how the huskies are trained to work together to pull a sled, which when fully-loaded could weigh as much as 600-800 pounds.
A visit to an Athabaskan village gave us a lesson in the art of catching salmon, drying it, and learning how this culture uses absolutely every part of the animals they trap for food, clothing, and shelter. The diet of the locals includes salmon at least once if not twice a day. The growing season is very short but produces amazing vegetables and berries so the summer meals have beautiful produce and truly define farm-to-table dining. We marveled at the variety of homes along the Chena River from large modern structures to simple welcoming log cabins. Many parts of Alaska are inaccessible except by air and we learned that one in seven people in Alaska have a pilot's license even before or in place of a driver's license. For those living on the rivers and lakes, it is as common to see a float plane tied to the dock as a boat. We concluded this excursion by quickly getting into a special photo booth to experience 40 degrees below zero and have the picture to prove we survived.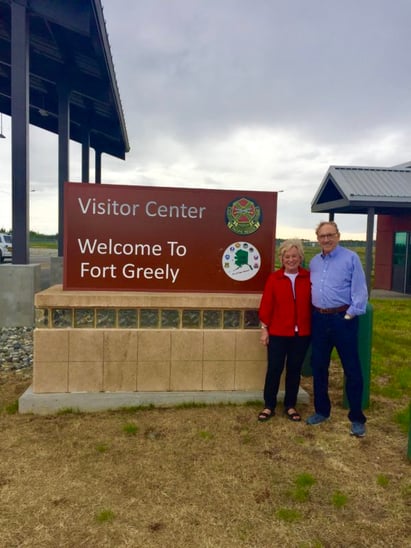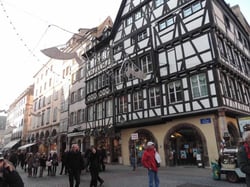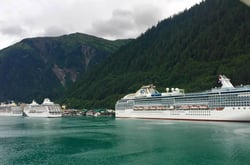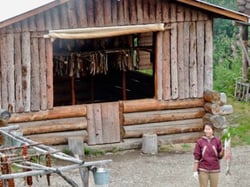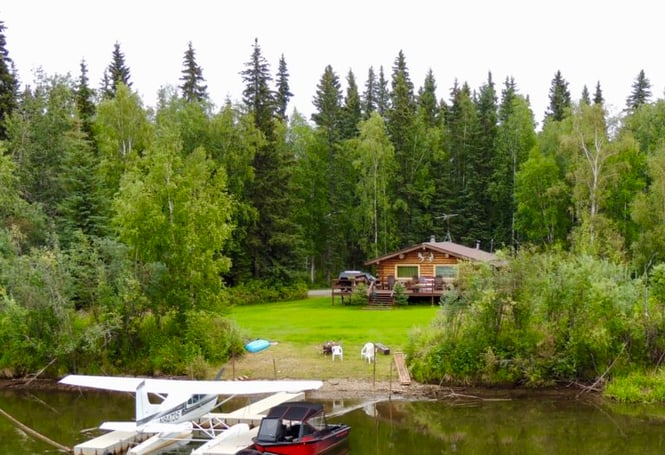 We believe travel is more than visiting a destination; it is about the journey. So, early the next morning we hopped on the Alaska Railroad headed for the largest US National Park, Denali. The weather was AWE-mazing! The glass-dome ceilings and huge side windows as well as the viewing platform at the back of the car gave us terrific views of the unmatched scenery during the 4-hour trip. We even had a crystal-clear view of the tallest peak in North America, Mt. McKinley; now referred to as Denali. Guides provided narration as we traveled. We checked in to Denali Bluffs hotel for two nights. We enjoyed hikes and taking time to appreciate the wild flowers, the mountains, the trees, the streams, and the fascinating history of this park. Most people go to Alaska in search of wildlife and it is a badge of honor to say you have seen the Big Five: moose, caribou, bears, wolves and Dall sheep. Of course, the sixth thrill is to catch a glimpse of Denali itself and often that is more difficult than seeing the animals as the mountain is usually covered by clouds. We had the great fortune to see Denali on our hike as well as on both train trips. To count having seen all the wildlife, we made a stop at the Wildlife refuge which may be cheating a little bit, but is totally worth it.
The fourth day we boarded the Alaska Railroad at 12:30pm bound for Anchorage. This was an 8-hour ride, but again we enjoyed clear and spectacular scenery all the way, including several more views of Denali. We passed three towns on this leg of the journey. The first was Nenana, originally an Athabascan village located at the confluence of the Tanana and Nenana Rivers. The second was the charming town of Talkeetna which began as a trapping and mining outpost, but today serves as the base station for Denali climbing expeditions and the starting point for the Hurricane Turn Train, which provides essential year-round access to off-grid residents. Finally, established alongside the Alaska Railroad in 1917 as a strategic stop between Anchorage and Fairbanks, we came to the town of Wasilla. This is a little resort town with tourists and locals enjoying picnics, boating, and sunbathing along the riverbank and then we continued on to Anchorage.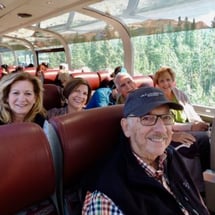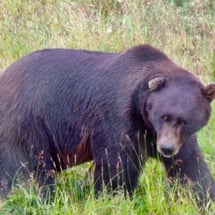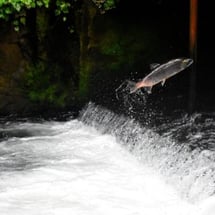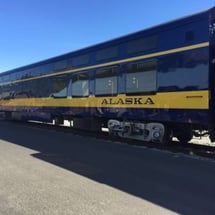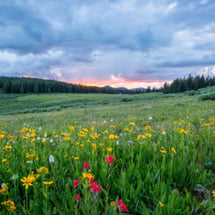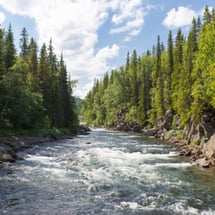 The morning of the fifth day we began our tour in Anchorage with a visit to the Native Heritage Center where we had a demonstration of traditional songs and dances and enjoyed a private tour of a small village. Lunch was at the lively Glacial Brew House where we all happily consumed a delicious meal of local fish and chips before our final private tour of the Jack Hernandez Fish Hatchery. We learned about the work being done to feed lakes and streams with 4–6 Million salmon each year to give local people places to catch their own fish. It is an ambitious project and fascinating process involved to raise the eggs of the several different types of salmon when they swim upstream to spawn all the way until they release the full-grown fish into the lakes and streams. That night, several of us enjoyed a meal of freshly caught Silver Salmon at Jen's restaurant, one of the top choices in Anchorage.
When we arrived in Seward, the small fishing town where we were to board our cruise for the southbound trip to Vancouver, we learned it was surrounded on all sides by Kenai Fjords National Park, Chugach National Forest, and Resurrection Bay. At about 1:00 in the afternoon under a lite drizzle, we quickly boarded Silversea's Silver Shadow, our home for the next seven days. While we waited for our suites, we had a delicious lunch in the dining room. Unaware of what awaited us in the next 36 hours, we busied ourselves getting familiar with the layout of the ship and unpacking. It was wet and a bit chilly when we sat at the table for dinner and it pretty quickly turned into serious rain, wind, and freezing weather. We were good sports and made it for a while wrapped in blankets, but gave up quite early and went to enjoy our nice warm beds.
The Gulf of Alaska then gave us the wildest sea experience any of our traveling group has ever endured, including the dreaded Drake Passage on our adventure to Antarctica last year. The winds were 60-80 mph and the waves 12-15 ft high. Most of us remained in bed nearly all the next day and night. Sadly, it meant we completely missed the Hubbard Glacier. To our surprise and delight, the captain told us the minute we entered the inside passage at 2:00 am (on the second night) it would be smooth and he was right, almost to the minute! We noticed at 1:57 am the seas were as calm as if we had imagined the entire storm. Sailing into the capital city of Juneau, the sun was shining and we were giving each other high fives for surviving, but we were ready to put our feet on land for an excursion.
Juneau is Alaska's capital and third largest city, but is also one of those places in Alaska not accessible by road. Its population of only 5,000 depends on air and sea for all the necessary provisions they cannot produce, catch, or trap themselves. Our excursion choice was to visit a summer dog musher camp and see how the dedicated young people keep these sled dogs in shape during the summer. After getting a feel for what the mushers do during a race, we climbed into a sleigh on wheels to experience the power of these four-legged wonders and the commitment of their mushers. At the end of our ride we were allowed to hold the darling puppies that were only about 10 weeks old. Some of our group enjoyed going to the Glacier and whale watching in Juneau, seeing over 50 whales and lots of sea lions. We were sorry to miss it, but agreed the dog summer camp was fascinating.
Our hands-down favorite was Sitka. This charming town was home to the Kiksadi clan of the Tlingit people for centuries prior to the arrival of the Russians, under the territorial governor Alexander Baranof who believed the region was ideal for fur trade. Many shops along the main street filled with stunning fur coats, jackets, and hats would suggest he had been correct. We enjoyed this small village partly because it does not allow the large cruise ships to come in and it feels more like the expected pace of Alaska. The shops and galleries here are family owned and have things actually made in Alaska, not shipped in knick-knacks from China. The Russian influence is interesting in much of the architecture around town.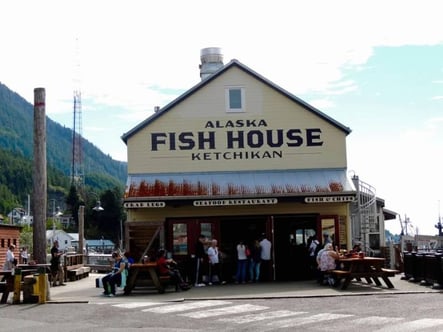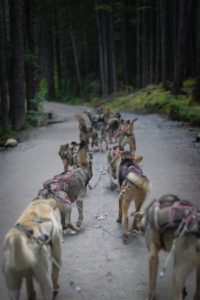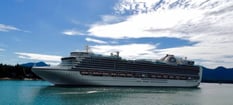 As we bring our trip to a close, the last day was a lovely sea day passing Pine Island and the Seymour Narrows. I paid for our passage with my American Express Platinum Card and one of the benefits was a beautiful bottle of champagne. Our butler provided a lovely spread in our suite of caviar, shrimp, egg rolls, and other delicacies for our group to enjoy with the champagne before our farewell dinner in the dining room.
Our 7-night cruise of 1,629 nautical miles was a wonderful floating, luxury hotel from which we could explore new destinations without having to spend time packing and unpacking or taking time to check in and out of different hotels as we do during land vacations. Of course, one of the treats when you sail on Silversea is having a trained butler assigned to every suite, who is happy to unpack and pack your luggage for you (if you so desire). We awoke on disembarkation day while sailing into the glistening port of Vancouver on a sundrenched morning so we enjoyed breakfast on the verandah outside La Terraza restaurant before saying farewell. The process to leave the ship was just as easy and civilized as boarding so after the last good-byes, we were headed back to the reality of preparing our own morning coffee and making our own beds.
Alaska is truly an extraordinary destination and definitely worth priority placement on your bucket list. It is our recommendation to consider a vacation that includes both land and sea as the experiences are very different with each educational and enjoyable in their own way. For the cruise portion, while the large ships do an excellent job of planning and executing the logistics, we much prefer the smaller ships as it is possible to see places such as Sitka that are not available to the larger vessels. The train journey is available all the way from Seward to Fairbanks or it can be done in segments either direction as we elected to do. The state relies heavily on tourism so the people you meet are extremely enthusiastic and anxious to make certain you have a wonderful time.
As is always the case, we recommend you read and prepare yourself for what you hope to experience. The three parts of any vacation are still the planning and preparation, the actual experience, and then the stories from the unforgettable memories you take home. We would love to help you with the planning and preparation, will be there with you through the actual experience should you need us, and then we love to hear your stories and see pictures of the amazing memories you bring back. We have lots of experience with Alaska on our team, including an official American Express Travel Insider for Alaska so your precious vacation time will be in good hands. We invite you to submit a Trip Request below to get started on your own Alaska adventure by land and by sea.

- LINDA M. RAYMER
President Vacation Travel Services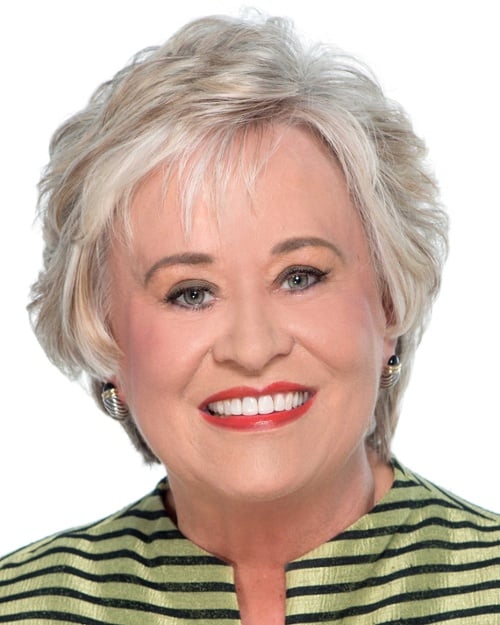 About the author
Linda Raymer
As President of the Vacation Division of Travelink, Linda has developed the luxury division of our leisure business, Privileged Journeys, and continues to grow the company applying new, creative media channels. Linda has served on the American Express CTN Advisory board as well as the American Express Vacations Advisory Board and the Departures Luxury Council.
Topics: Cruises