Late in the evening after the long flight to Siem Reap, Cambodia, my fatigue quickly eased into comfort after our royal reception at Raffles Grand Hotel d'Angkor. A magical welcome is a regional trademark, generously given with a level of charm and hospitality radiating pure luxury. Located in the heart of the city, and set amidst 15 acres of beautifully landscaped French gardens, it offered an intimate starting point for our journey through Southeast Asia. The hotel is only eight kilometers from Angkor Wat, so after a restful sleep and hearty breakfast, we were ready to begin our adventure.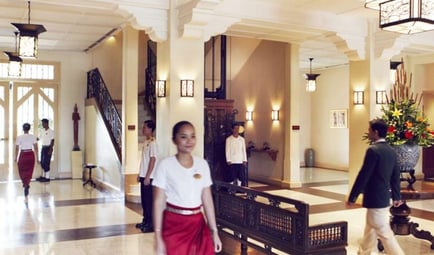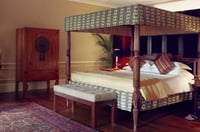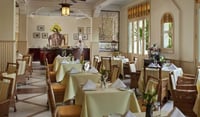 On the way to Angkor Wat, we enjoyed an elephant ride around the Bayon Temple within Angkor Thom and were transported ten centuries into the past. Our guide dutifully unfolded Cambodia's history and the importance of this archeological site right up to his present day family recollections of growing up here during the Vietnam War. All of these extraordinary temples rising out of the jungle are Cambodia's most prized national treasures, and Cambodians are proud to share their magnificence with the world.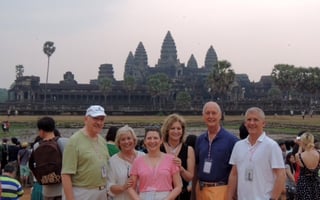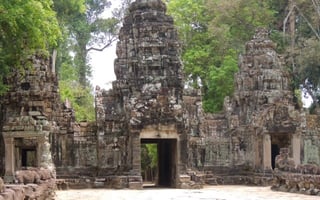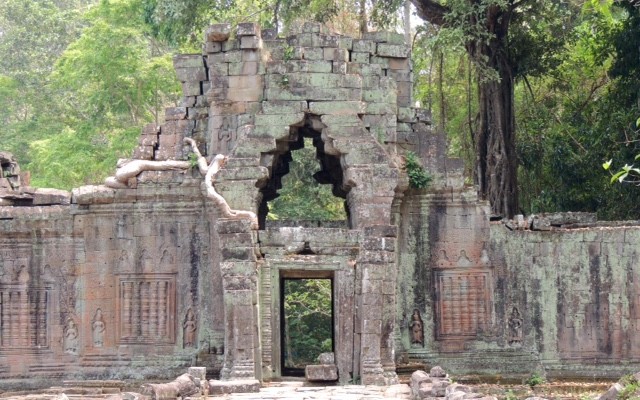 The elaborate beauty of Cambodia's 12th-century Khmer temple of Angkor Wat is the reason most seasoned travelers visit this UNESCO World Heritage Site. Our passionate local guide articulated how this magnificent city, once home to a million people, was built using an estimated 300,000 laborers and 6,000 elephants over 35 years, and used more stone than all the Egyptian pyramids combined.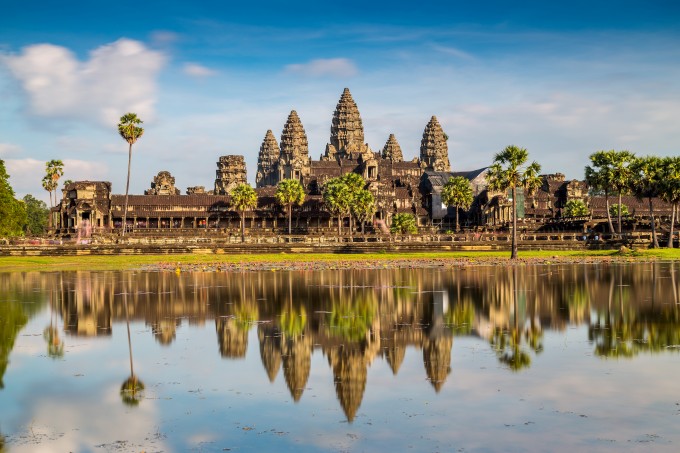 Our exploration of Cambodia continued as we flew 30 minutes into the capital city of Phnom Penh, moving from the tranquil jungle to a bustling city filled with tuk tuks (motorized rickshaws), cars, bikes, and buses. Phnom Pen is a city offering magnificent architecture from the incredibly ornate Royale Palace to common living environments with packed markets and what most Americans would consider poverty-level living conditions that represent approximately 25% of the city's population. The local citizenry were kind and happy to share their personal lives, which was very touching.
For the next chapter in our journey, we boarded the 124-passenger AmaLotus, built specifically by our partners at AmaWaterways to cruise the famed Mekong River. As we enjoyed in Siem Riep, a simple colonial elegance and welcoming service awaited us. The ship's atmosphere was relaxed and the cuisine offered a delicious mixture of Western and local specialties. At the beginning of the cruise most guests ate familiar foods, but by the end of the week the line was longest at the local food specialty stations operated by very helpful chefs eager to explain each delectable dish.
Located just an hour outside Phnom Penh, our time spent walking the infamous Killing Fields was a somber and educational day. Our local guides here shared very personal stories of lost loved ones during the dark days of Cambodia under Pol Pot's Communist dictatorship. In only four years, two million of Cambodia's population of eight million lost their lives during Pol Pot's leadership until the Vietnamese overthrew him in 1979. Learning this history deeply moved everyone in our small group, making this an unforgettable experience.
Our journey down the river from Phnom Penh across the border to Vietnam provided lush and pastoral scenery. Along the way, we stopped for private tours of a silk weaving factory, a family run candy-making operation, a fascinating mat weaving factory, a visit in a private home, as well as a Backroads tour organized bicycle ride through some of the most picturesque rice paddies.
Arriving in Saigon, known today as Ho Chi Minh City, it was immediately clear Vietnam has progressed years ahead of Cambodia with a modern infrastructure, including new arrivals such as luxury hotels, designer clothing stores, and Starbucks. This lively, evocative city is experiencing a resurgence of art and culture after its fall to the Viet Kong 40 years ago. It's easy to see the vibrant, bustling energy of a people on the move, wholeheartedly embracing the trappings of a western culture. Remnants of the colonial influence can still be felt when visiting the City Post Office, the Cathedral of Notre Dame, and the Opera House.
The best way to bring an adventure to a close is to experience the finest accommodations a destination has to offer. For this, we turned to our connections at The Reverie Saigon, a member of the Leading Hotels brand. The finest Italian interior designers such as Provasi, Colombostile, Giorgetti, and Visonaire have designed the guest rooms. The Reverie Saigon is home to five of Saigon's most exemplary restaurants and bars, each representing the epitome of what the region has to offer culinary enthusiasts. The Reverie Saigon goes beyond gourmet cuisine, elevating and celebrating the art of fine dining and surpassing expectations in the arenas of service, style and sophistication. You may want to book a few extra nights here to simply enjoy this unique and lavish hotel with its two full floors of spa and wellness center.
The greatest gifts of global travel are connecting with people of other cultures, their history, their customs, and local gourmet delicacies. While the locals in this region are very aware of their stormy past, I've found them to be among the most welcoming and genuinely happy people I've met. Growing up during the Vietnam War, this journey was a unique opportunity to demystify preconceived notions and get to know the people who make up this contrasting ancient culture existing in a contemporary world. We would love to help you experience the magical welcome of Southeast Asia.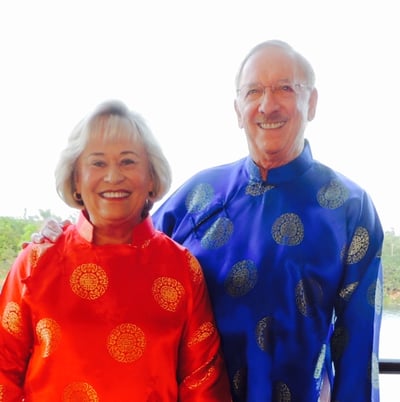 View this article in Nashville's Sophisticated Living Magazine on pages 6-7.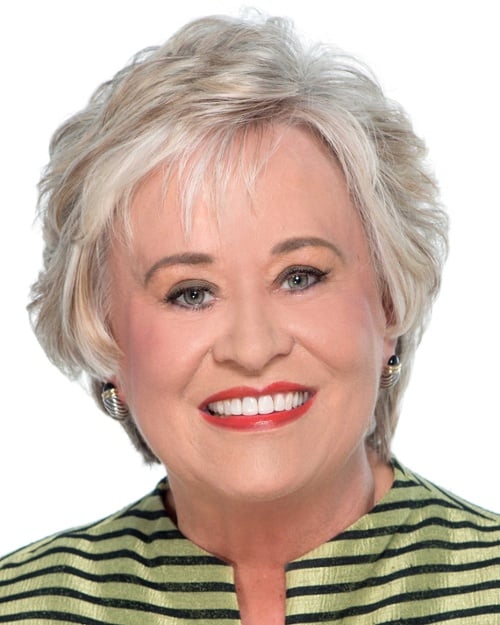 About the author
Linda Raymer
Following a career of 35 years in the industry as owner and senior executive of one of the top American Express Franchise agencies, now as President Emeritus at Travelink, Linda's influence and impact on our business and the travel industry is everlasting. Having developed the luxury division of our leisure business, Privileged Journeys, she continues to support our growth and remains available to develop luxury itineraries for individuals and custom groups as well as represent our company in local charity work. Linda has served on the American Express CTN Advisory board as well as the American Express Vacations Advisory Board, the Bedsonline Advisory Board, the Departures Luxury Council and the Departures Magazine ETA (Elite Travel Advisor) Board.
Topics: Privileged Journeys, River Cruise, Food + Culture