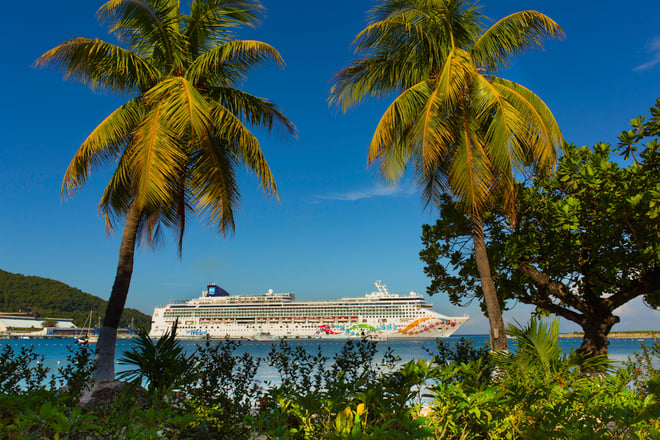 Curiosity finally gave way, and I decided to book our first family ocean cruise vacation. Our 11-year old twins would be on school break over Thanksgiving so we decided to plan for our holiday getaway out of a smaller port closer to our Nashville home. Norwegian Cruise Line has a ship that frequents the port in New Orleans voyaging to other fun spots in the Western Caribbean including Cozumel, Mexico then Honduras, Belize, and back to Costa Maya, Mexico before returning to New Orleans. We were also able to catch great flight deals, so the dates were all set. My personal travel advisor, who is a cruise specialist, completed the booking and answered all of gazillion questions to prepare us for this new experience. Below are my top five tips to ensure everyone in the family will enjoy their first ocean cruise vacation.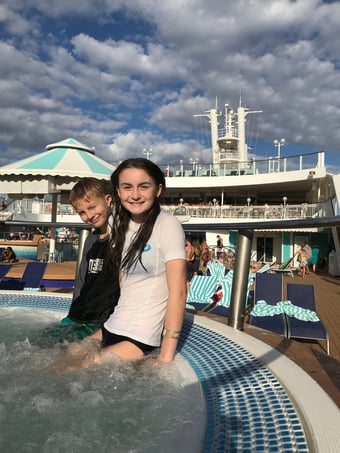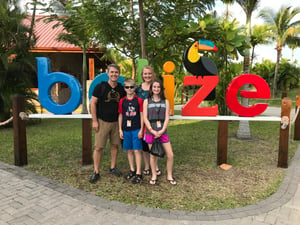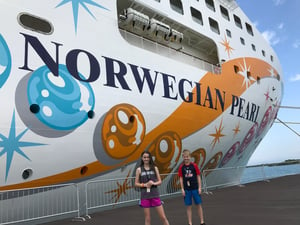 1. Determine if Cruising is Right for Your Family
Deciding to try something new with a family vacation can be daunting. You will have many questions and there are many options within the cruise category. An experienced advisor knows the right questions to ask to ensure a cruise is a great option for you and your family. They will also glean information to understand your preferences and make recommendations such as cabin placement, excursions, itineraries, port cities, ships and more. Taking the family on an ocean cruise was an easy way to enjoy the family vacation. Everyone can find food they like (always a family challenge with kids) and there are lots of new experiences and adventures to be had. We didn't feel we had to worry too much about the kids, once they learned their way around, and we all came home singing the happy
"Washy Washy" song
when it was time for each meal (you are serenaded and sprayed with hand sanitizer before walking into the dining room). My biggest piece of advice is to be sure to plan your family cruise with a knowledgeable cruise specialist. I can't stress this point enough.

2. Preparation is Key Before You Climb Aboard
As a newbie to cruising, I asked about the port and what the process was to check bags, go through security, what I could check in my bag, and how to get on the ship. I assumed it was the same as an airport, but it turns out cruising is quite different. There are still separate lines for those in preferred cabins (suites, VIPs, etc.), but the waiting process is much more of a holding area without options for shopping, coffee shops, etc. At least, that is the case at the port in New Orleans. It was much less formal and felt a bit more chaotic than the well-processed TSA in the airports I'm so used to. However, my travel advisor aptly prepared me for the experience so we were ready to work through it with little to no stress.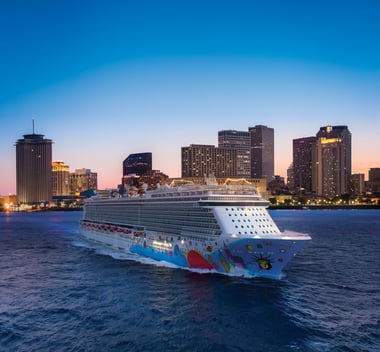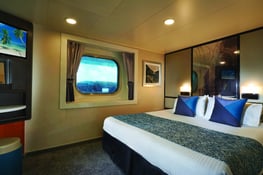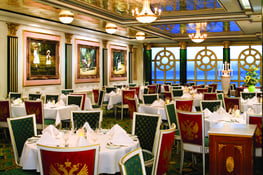 3. Early Bird Won't Miss the Boat
Speaking of stress, one of my strongest recommendations to reduce stress when taking a family cruise is to spend at least one full day and night in your departure destination and tour the port city. You have time to settle into your vacation with loved ones and be mentally ready to head out on a new adventure. We took the kids around New Orleans to explore the Big Easy. We enjoyed an amazing seafood dinner, stopped by Mister Apple Candy Store for ice cream and chocolate covered apples for dessert, then walked it off on our way back to the hotel. The next morning, we had breakfast at my favorite (and now our family favorite) breakfast spot, Two Chick's Café. It's near the port and has the BEST breakfast in the city so we could fuel up for the day and walk across the street to begin the boarding process.
4. Ensure Everything is Ship Shape
On board, we quickly settled into our Ocean View stateroom then set out to explore the ship, check on shore excursions, and confirm our specialty meal times. The Norwegian Pearl is a mid-sized ship with a guest capacity of 2,394. We specifically wanted a smaller ship than the giant new ones for our first trip, but the bigger ones have a lot more to offer and there is something to consider with a variety of options. For example, the mid-sized ship only has one pool area for everyone. For families, this means that the kids will be hanging at the pool with the "we're just here to party" folks. We didn't experience any problems, but for smaller kids, I recommend selecting a ship that has a family-friendly pool with a separate adult-only area. The Norwegian Pearl was newly refurbished in 2017 so the food, amenities, and common spaces were all nicely updated. By the time we reached day three, our twins were comfortable enough to have dinner in the main dining room on their own, so my husband and I enjoyed dinner for two in the French Restaurant with a gorgeous sunset and exquisite cocktails.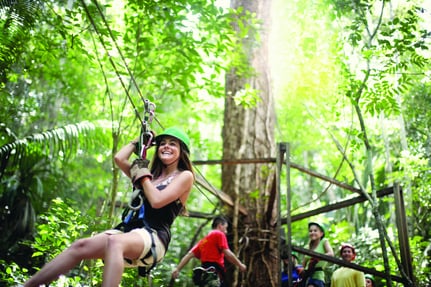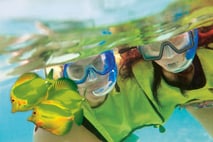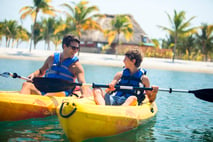 5. Vacation Success with Excursions They'll Love
Each destination has its own set of excursions to choose from, or you can wander and do your own thing. I've been to Cozumel several times, so we opted to stay on the ship and enjoy having most of it to ourselves while the other guests went to explore. Another tip to consider, I wish I booked a few excursions in advance rather than worrying about it on board. My travel advisor recommended it, but I elected not to because I wasn't sure what we would be feeling up to at the time. However, the most popular excursions fill up quickly and you'll have fewer options available, so I advise you work with your travel advisor in advance and book those experiences you know your family will really want to enjoy. Also, keep a close eye on the age limits for different activities. The twins were hoping to go snorkeling with sea turtles, but participants must be 12 years and older so my 11-year-olds had to choose something else.

As with any vacation, thorough planning is a must, but especially with an ocean cruise. However, once you've addressed the five points mentioned above, family cruising is a vacation that provides activity, adventure, and relaxation opportunities to enjoy. You will spend quality time with the family without hearing the dreaded "I'm bored" or without the stress of packing, unpacking, and shuffling kids around. The parents have the opportunity to enjoy the ocean experience as much as the kids, and your trusted cruise specialist travel advisor will ensure it's money and time well spent.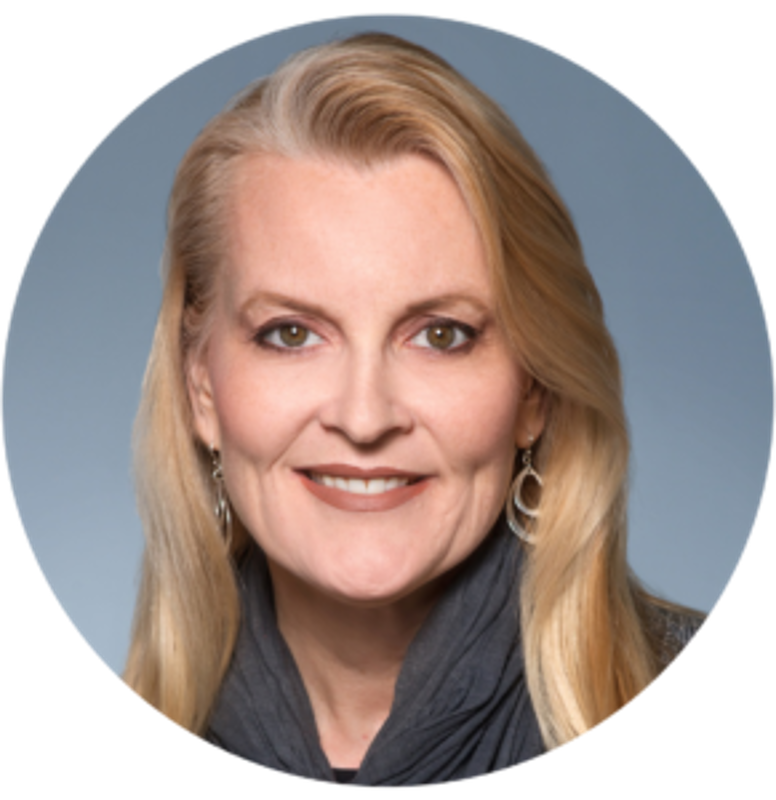 About the author
Sandy Schadler
Sandy is responsible for executing all marketing and advertising for Travelink and its sub-brands, Employee Vacation Programs and Privileged Journeys (luxury/VIP personal travel). In addition, she maintains a close relationship with American Express Marketing in New York and their Preferred Travel Suppliers globally to ensure all marketing and advertising channels are delivering the high caliber of results for which the American Express brand is well known. Sandy also holds an advisory board position for Travel + Leisure magazine and the German National Tourism Office in the USA.
Topics: Cruises, Family, Travel Tips, Vacations